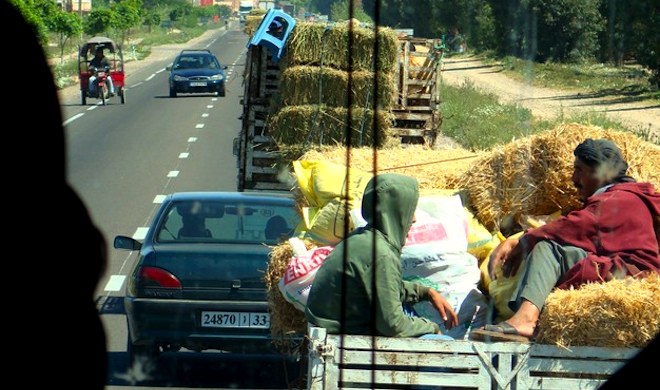 Last updated: 11 November, 2014
Harsh times for rural migrants in Morocco
"With high illiteracy rates in Morocco, rural migrants traveling to the big city are at risk of not finding a suitable job and ending up homeless," writes Abul-Hasanat Siddique in this urgent report from Casablanca.
I live in an affluent, middle-class area of Casablanca with a number of fancy 4x4s and sports cars. People who live here clearly have money. If you walk 20 minutes in one direction, you will reach Casablanca's "Knightsbridge," and if you walk 20 minutes in the other direction, you will arrive at the city's answer to the "Orange County."
Yet going back to where I live in Casablanca, it is striking that despite the flash cars and purchasing power of the town's many residents, around the corner from my apartment there are people living in what looks like a derelict construction site. They hang their clothes out to dry, sit around to eat and also sleep there — men, women and children.
PERHAPS THEY ARE rural Moroccan migrants who can't afford urban city accommodation prices and don't have a job. But, as I stated in a recent article, the disparity in social classes in Morocco — as with many countries in the developing world — is striking.
On the one hand, the danger that poor, Moroccan migrants face when moving to a metropolis is that they won't be able to afford the higher living costs — this is the same situation in the developing and developed worlds. On the other hand, moving to more urbanized surroundings has its perks in the quality of life indicators such as transport, health care and schools.
"…there are people living in what looks like a derelict construction site"
In fact, I recently met a young man from Fez on a train heading from Rabat to Casablanca. A small town man, he was looking to "reinvent" himself in the big city in search for a new job, and just needed to get away from the day-to-day life in the old city of Fez. We instantly connected and discussed a variety of random things from youth and entrepreneurship to The Matrix — a "Voyaj" or cultural exchange moment, as Yasmine El Baggari, a young, budding Moroccan entrepreneur, might call it.
In Morocco, rural migrants may be forced to endure poverty in small towns in the south, have inadequate access to basic services such as safe drinking water and live far away from suitable schools. In a globalized world where access to information is made easy with the Internet and satellite television, these migrants can see how people live in places such as Casablanca, Rabat and Tangier.
In fact, this is clearly the case with migrants from sub-Saharan Africa, who travel to countries such as Morocco, Tunisia and Libya, and illegally jump on a boat to southern Europe, swayed by the attraction of a better way of life in a distant land — and many of them die on the way due to overcrowding.
With high illiteracy rates in Morocco, rural migrants traveling to the big city are at risk of not finding a suitable job and ending up homeless. As early as 2011, Morocco's official adult literacy rate stood at only 67%, one of the lowest in the Arab world. While this statistic in itself is alarming, El Baggari's field research in Morocco suggests the figure may be even lower. As she states: "In 1960, the estimated illiteracy rate among the Moroccan population was 87%. Today, that number has, encouragingly, decreased to approximately 56%."
WHILE THE YOUTH literacy rate shows signs of improvement — despite a large gap between males and females — many children in Morocco fail to finish school. Education is free and compulsory from the age of 6-15, and 95% of children are enrolled in school. However, according to USAID: "Drop-out rates are still high and only 53 percent of students enrolled in middle school continue on to high school and less than 15 percent of first grade students are likely to graduate from high school." In a nation of 33 million people, over 400,000 Moroccan children drop out of school every year. This is striking for a country that carries so much potential in its youth.
As a Moroccan analyst recently told me, children in rural areas may have to travel as far as ten kilometers just to attend school. So when they are unable to go, they fall behind in their learning. Or if they are from a poor family, they are unlikely to finish school, since education is costly when it comes to learning material, travel and food. In the end, they may feel that school is a waste of time and drop out. Moreover, if their parents are unemployed, rural Moroccan youth may start working to make some cash and support their family — perhaps selling their wares down the street or shining shoes, as you often see around the country.
The young man I met on that train from Rabat to Casablanca received an education and I hope he finds a suitable job in the big city. But for other migrants who aim to hop on a train and travel to the busy urban boulevards, they must finish their education before thinking about moving to a metropolis. And, more importantly, they need better guidance from the government and civil society organizations, so they don't end up living in a derelict construction site in Casablanca.