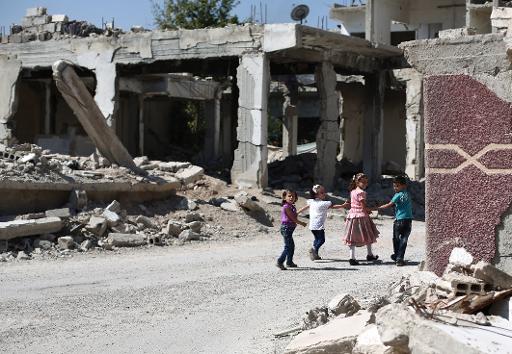 Last updated: 15 November, 2014
Hungry Syrians storm warehouses and clash with rebels over food insecurity
Armed clashes have erupted in the Syrian town of Douma after hungry residents stormed food warehouses belonging to an Islamist rebel group, a monitoring group said on Saturday.
The Syrian Observatory for Human Rights said the clashes on Friday began when residents of the town in Damascus province tried to storm depots belonging to a charity linked to the Army of Islam rebel brigade.
"Warehouse guards opened fire on the citizens, and some of them responded with fire," the Britain-based monitor said.
Several people were wounded in the clashes, which resumed on Saturday in parts of the town, the Observatory added.
It said individual fighters from several other rebel groups had backed residents as they stormed the depots, but guards had prevented them from entering or taking food.
"Residents are hungry, they are under siege, and they say the Army of Islam only distributes food and medical supplies to its fighters," Observatory director Rami Abdel Rahman told AFP.
Douma, a rebel bastion northeast of the capital, has been under government siege for more than a year, with residents facing dwindling food and medical supplies.
Also in Douma, the Observatory reported that a man was beheaded on Friday after being sentenced by a joint rebel court in the Eastern Ghouta region where the town is located.
Such courts are administered by several non-jihadist rebel groups.
The man was accused of "blasphemy, dealing with the regime, drug trafficking and adultery", the Observatory said.
Jihadist groups such as Al-Qaeda affiliate Al-Nusra Front and the Islamic State group have regularly carried out beheadings as punishment in areas of Syria they control.
But Abdel Rahman said this appeared to be the first time that a non-jihadist rebel court had sentenced an individual to death by beheading.