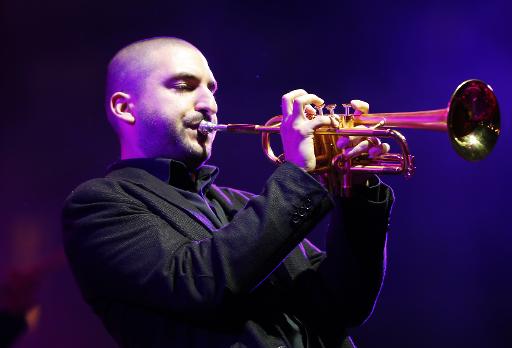 Last updated: 29 November, 2014
Trumpet star Maalouf fulfils silver screen dream
Lebanese-French trumpeter Ibrahim Maalouf is reaching beyond his classical and jazz roots to a more mainstream audience seduced by his unique musical style blending Arabic and Western influences.
The 34-year-old, who has worked with Sting in the past, also told AFP on a tour stop in London that he is finally fulfilling his "dream" of composing film scores — and has three more in the pipeline.
On the sidelines of a concert, Maalouf spoke of the "freedom offered by art" after the release of "Au Pays d'Alice" ("In the Land of Alice"), his musical take on the British classic fantasy novel "Alice in Wonderland".
The record mixes Franco-Malian hip-hop artist Oxmo Puccino with a classical orchestra and a children's choir — the kind of world music work that is winning Maalouf a growing number of fans.
"I don't just do Oriental music: I do my music. There's a bit of jazz, a bit of the Orient, a bit of rock, a bit of hip-hop: everything I love and listen to can be found in my music," he said.
"I see my albums as the soundtrack of daily life."
Maalouf, who has won a string of world classical music competitions, is increasingly at ease in London and New York and his British gig was sold out.
The musician said he was particularly pleased about composing the scores for three films this year: the biopic "Yves Saint Laurent" about the life of the famous fashion designer, as well as an Iranian art-house movie and a French teen comedy.
"This was a logical move. I worked for four years on my first album and for me it was a movie soundtrack that I wanted to present to directors," Maalouf said.
"It was my dream" to work in the film industry, added this son of a Christian family from Beirut who fled to Paris during the Lebanese civil war.
He first performed on stage with his father Nassim Maalouf, also a renowned trumpet player, as a young boy.
"I was eight or nine years old, I was playing, my father next to me, I was comfortable, it was fun. Once the concert was over, I went off to play marbles," Maalouf remembered.
Nervousness only came later, when he became aware that "there were people listening and watching".
– 'The adventure is worth it' –
Using a unique trumpet designed by his father, he is able to play the quarter-tones of Arabic music thanks to an extra fourth valve.
Maalouf's latest gong since getting his early start in the business was the Best World Music Album of the Year in February at France's top music awards, the Victoires de la Musique.
Among a bewildering variety of international musicians, he worked with Sting on the British star's 2009 album "If on a Winter's Night".
"He said he liked my sound. I don't know if it was to encourage me or if he really thought I would be indispensable to his album," Maalouf said.
His career has not all been plain sailing, however, and he was turned down by every record company in France before setting up his own label Mi'ster Productions in 2006, paving the way to success.
Maalouf's "Alice in Wonderland"-inspired record took three years to make and cost three times as much as an average album, he said.
But he added: "The adventure is worth it."
He said it was born after the Ile-de-France Festival commissioned him to create something "on the theme of wonders".
That led to a single concert with Puccino after which, Maalouf said: "We hugged and said 'We can't stop here'."
He thrives on that kind of spontaneous creativity.
Maalouf is planning a mass jam session in Paris in February with 1,000 artists — a way, he says, of sending out a message to music schools about the importance of improvisation in learning.