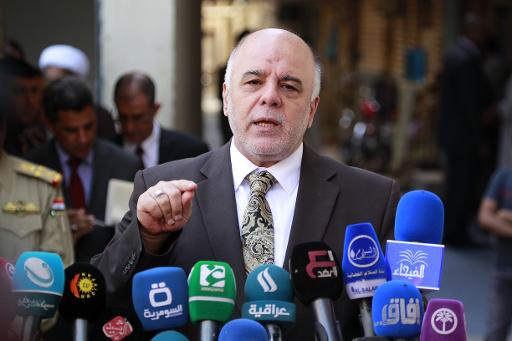 Last updated: 8 December, 2014
Iraq PM vows to fight graft even at risk of own life
Iraqi Prime Minister Haider al-Abadi on Monday said corruption was no lesser threat than terrorism and pledged to combat it even if that puts his life at risk.
Abadi took over at the helm of Iraq in September following an acrimonious process that saw his predecessor Nuri al-Maliki reluctantly step down after two terms.
He has since pledged to tackle a wide range of problems, including the system of corruption and patronage that observers say flourished during Maliki's two terms.
"We have started blowing some big fish out of the water and will go after them until the end, even if it costs me my life and regardless of the campaigns I will be subjected to, because corruption is no less significant than terrorism," Abadi told reporters in the holy Shiite city of Karbala.
On November 30, Abadi announced a preliminary investigation had uncovered the existence of 50,000 "fictitious names" on the military's payroll.
While he did not name Maliki, the public announcement and pledge to crack down on graft was seen as evidence Abadi was determined to hack away at his predecessor's legacy.
But Maliki said on Monday that the revelations on so-called "ghost soldiers" in the military were unfounded.
"This information is totally untrue. The army is free of ghost soldiers except for a few rare cases which are being followed up," he told AFP in answer to a question.
Likewise Maliki, who is now one of Iraq's vice presidents, did not refer to Abadi by name but directly challenged his words.
"We wish the source of information had been accurate and had investigated before making announcements, thus not creating confusion that is exploited by those who want to undermine the state and its institutions," he said.
Maliki said the many soldiers who fled the army when the Islamic State group launched their offensive in June and took over the second city of Mosul had been removed from the payroll.
"They should not be described as ghost soldiers but as deserters," he said, admitting that ghost employees were a problem in the interior ministry.
Maliki's critics say his sectarian policies and stranglehold on the security apparatus were partly to blame for the ease with which the jihadists took over swathes of Iraq.
Since he took office, Abadi has sacked or retired several senior security officials of the Maliki era.