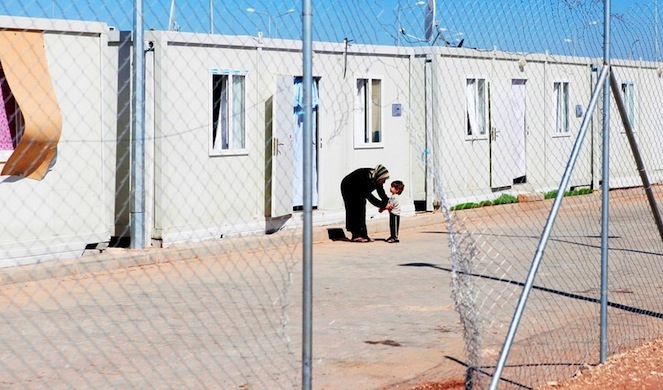 Last updated: 5 February, 2015
Abused, deported, and ruined. This is the journey of a Syrian mother and her little son.
They escaped the Jihadists but were torn apart by both smugglers and governments. This story is one you'll never forget.
I received an email saying that an Assyrian/Syriac woman from Syria was in custody in Tanzania with her three year-old son. The reason was that she was caught with a forged passport. I contacted her, asked a priest (Father Ashur El-Khoury) from Los Angeles to call and comfort her, and then asked my Facebook friends if anyone knew people in Tanzania who could help her. Rimista, as I chose to call her, had not a penny left and was totally exhausted. The response on Facebook was overwhelming. Help is on the way. Below is her story. And remember, she is but one of many women with similar experiences.
IN EARLY 2013, many non-Muslims were kidnapped in the city of Aleppo located in northern Syria. One of them was Eliyas. His family paid $25,000 in ransom to the jihadists who abducted him. He was one of few that survived terrorist captivity. Just a couple of hours after he was released, he paid smugglers a large sum to be taken to the more secure city of Erbil in Northern Iraq (Kurdish Regional Government area) with his wife Rimista, a dentist, and their two sons, ages three and ten years old. They were desperate; many of their neighbors, friends, and relatives had been killed in Aleppo.
When ISIS invaded Mosul, Iraq's second largest city, Eliyas bargained with smugglers to get his family out of the Middle East once and for all. He was convinced that Erbil would be invaded, too.
"He was one of few that survived terrorist captivity"
He couldn't afford to have the whole family smuggled; only two people. His wife didn't want her family to split, but, eventually, reluctant, she gave up and flew from Erbil to Istanbul, Turkey.
But nothing went their way. Now, Rimista and her toddler son are stranded in a UNCHR compound in Dar es Salaam, Tanzania in Central East Africa.
I have learned of her story through Viber, from a Turkish cell phone that she still has with her.
Rimista told me that she flew from Iraq to Istanbul with her younger son. In Istanbul, she lived on their savings in a rented apartment and tried, twice, to get to Europe, all with the help of smugglers.
The smugglers issued her and her son Ukrainian passports and tried to get them to Belgrade in Serbia from Istanbul. However, due to the current high alert situation in Europe, EU immigration police have placed stringent restrictions on Turkey, in which case, the forged passports would not be useful. The smugglers then told her to go to Tanzania and from there to Europe.
SHE AND HER SON landed at the Julius Nyerere Airport in Dar es Salaam, Tanzania, and from there, the smugglers tried to get them on a plane to Europe. But they were seized, arrested, and deported back to Istanbul.
She said, upon their return to Istanbul, they had been severely maltreated; their passports and belongings were taken from them and they were physically abused. During an unclear telephone conversation, plagued with static, Rimista recounts the moments after the arrest.
"When I refused to leave, the Turks hand cuffed me and took me out of the plane; they continued to interrogate me for hours. "
She continued her story through choked cries. When she asked the Turkish authorities to let her talk to UN counselors, the Immigration Police decided to beat her up instead. She said, that to this day, her face has been scourged by the way she was treated by Turkish airport police.
After all the beating and harassment the mother and son boarded a plane headed to Tanzania again. When they arrived at Dar es Salaam, the Tanzanian authorities also refused to accept them and they were sent back to Turkey. Rimista said:
"I was ten days in the air between Istanbul and Dar es Salaam. I have run totally out of money and was in the Tanzanian airport prison for many days."
"She said, upon their return to Istanbul, they had been severely maltreated"
Being without food for three days, they had fallen ill and are now completely powerless, once again in Tanzania. Rimista was carrying a mobile phone with her, which she managed to hide and on which we are in contact via Viber.
WHILE DETAINED at the airport prison, yesterday they were brought to another location where they were finally fed. UNHCR was informed about their case and, on Monday, sent somebody to bring them to shelter.
Then she and her son were sent to a UN compound in Dar es Salaam. Rimista told the entire truth to the UN personnel of her smuggling ordeal from Turkey. She and her child are currently waiting to see if the UN officers will give them refugee status and grant her entry to Europe. The UN personnel told her it would be nearly impossible for her to be accepted as a refugee. She is imminently ill with a chest infection and her son needs much nourishment, as well. Her last word are:
"If I must die, I rather die in my country."