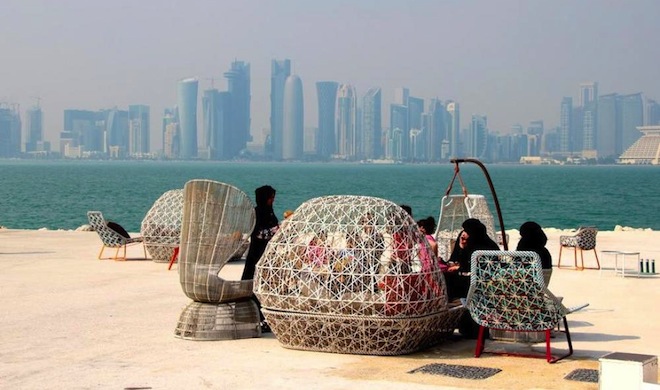 Last updated: 9 February, 2015
Social media's fruitful exchange with Gulf women
Sarah Elzeini discusses how new fashion trends in the online sphere are pushing Gulf women to innovate and challenge out-dated societal perceptions.
Many high-profile women in the Gulf have taken to social media platforms, from Saudi Arabia's Princess Ameerah Al-Taweel, a regional leader in women's education development, to the United Arab Emirates' Noura Al Kaabi, leading the region in digital business development. Where women's exposure was once shied away from, women role models are now making bits of their personal and public lives accessible to large audiences on Twitter and Instagram. With a mobile penetration of over 110% in the Middle East, people are increasingly engaging with social media, which has activated a key group: women.
The presence of leading Gulf women, in particular, has had a profound effect on society's perception, as these women set examples, defy stereotypes, and provide emotional support – especially because of their credibility and affiliation with government or royal families.
Social media has not only provided emotional support and increased outlets for women to work their way up, but has also pushed the interest of appearance, as following fashion accounts are among the leading trends in the Gulf region.
"The presence of leading Gulf women has had a profound effect on society's perception"
Many women have recently taken an interest in creating innovative fashion brands and abaya boutiques (the black cultural dress worn in the Gulf). However, to my surprise, having attended a number of conferences and lectures, there has been a high volume of criticism that women are not choosing paths (and startups) outside fashion, especially in the Gulf region.
From my point of view, this should not be a criticism, but if anything praise. A decade ago, it was taboo to innovate the simple design of the abaya. Today, flooding Facebook and especially Instagram, there are countless abaya boutiques, all with different designs, catchy advertisements, and professional models. Through years living in the Gulf, I witnessed first-hand the modernization of the abaya, from all black, to black embroidery, to belts accentuating the waist, to lace.
There is a correlation between women's innovation in fashion and their development, insofar as it has started to quash one of the greatest relevant debates in the Middle East, that appearance reflects spirituality. When in reality – as we've seen through acts of violence by people who wear religion on their sleeve – appearance does not determine spirituality. Gradually, societal shifts in the Gulf are taking place, and because this region has been a leader in influence in the broader Middle East for the past decades, due to wealth and networks, the capacity to set the record straight is in their hands. With this mature realization and evolution of the abaya, while still respecting modesty, in fact, women are changing societal perceptions.
In ways of soft power, as the region's growing sense of individualism rises, so does appearance, making it harder for oppressive groups to make people conform to their liking. Clothing choice is ones identity and it is clear that it has brought a degree of modernization as well as changing male perceptions in the society – all of this stimulated by the exposure to social media.
The international hype over fashion on social platforms not only impacted the Gulf region to modernize appearance and update perceptions, but inspired women to take on creative ways to find meaning in this penchant. I spoke with Shahd Al Shehail, a young Saudi entrepreneur and the Founder of JUST, a company that believes real change happens in the accumulation of all the small choices we make every day. In a time of human rights and manufacturing concerns, her mission is to ensure fashion designers and customers that garments are ethically made.
"Additionally, social media has helped us gather support and excitement about the startup – we were recently nominated for two awards that required a public vote. Because of supporters on social media like Ameerah Al-Taweel, our company reached even a larger audience bringing in over 10,000 votes," Shahd said.
"…her mission is to ensure fashion designers and customers that garments are ethically made"
Because of social media's capacity to spread information and penetrate audiences instantly, it has played a leading role in helping JUST come onto the map.
The allure and accessibility that social media brings has united women where civil groups, unions and physical mobility were previously obstacles. For the Gulf, the interaction with powerful women around the globe and instant information on today's most relevant trends has made social media an exciting community to grow businesses – "additionally, seeing successful entrepreneurial examples instills women with a desire to shape their own future," adds Shahd.
Social media has obliterated the current setback of physical mobility, opened up collaborative innovation, international exchange of ideas, advanced businesses, ignited women with curiosity, provided emotional support, and brought new emerging markets into the economy. Globally, digitalization has consumed almost every part of our life, but it will be particularly fascinating to follow the Gulf woman's creative utilitarian interaction and fresh energy with it. Their context and lived experiences are different from the rest of the world; often and always, different perspectives contribute to the greater good of society.