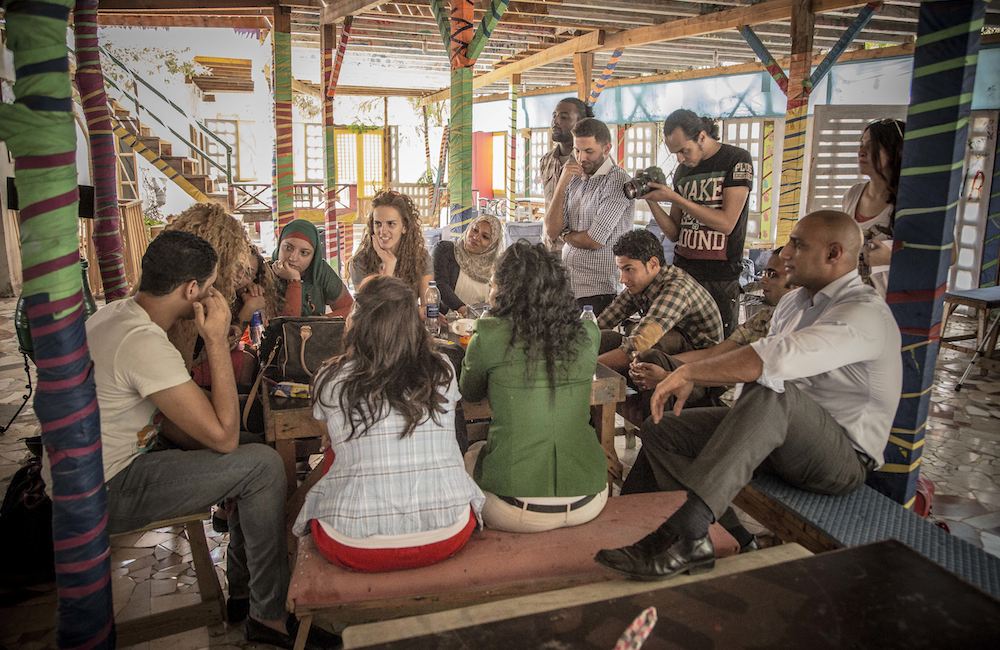 Last updated: 12 February, 2015
Millions of viewers follow Egypt's new generation of social entrepreneurs
Tired of reality TV shows focusing on Kim Kardashian or some other celebrity? Ever think reality TV could be a little deeper? Thankfully, you're not alone. A groundbreaking new "edutainment" reality TV show that launched in late 2013 in Egypt has skillfully harnessed the power of mainstream media to ask some bigger questions, like: How do you tackle social and environmental problems and make money at the same time?
Combining some of the best aspects of The X Factor, The Apprentice and Ashoka's Changemakers, El Mashrou3 (The Project, in Arabic) is the first-ever reality TV show about business and social entrepreneurs in the Middle East.
Produced by Bamyan Media, a nonprofit social enterprise that specializes in creating impact-oriented television shows for social change in the developing world, El Mashrou3 is an innovative and original formatted reality TV show that brings together 14 young contestants from different walks of life as they live together and work to find solutions to social and environmental problems that can also be sustainable, profitable businesses. With the concept of the show drawn up in the wake of the January 25 Revolution, El Mashrou3 seeks to highlight the renewed passion for social change among Egyptian youth.
Sponsored by heavyweight tech partners Samsung and Google, the reality TV show racked up tens of millions of viewers in Egypt following a successful first season. It created a large action-led social media community as part of its on-the-ground outreach effort to connect viewers with ways to practically start their own social enterprises and businesses. El Mashrou3 is now set for a second season in Egypt, as well as being adapted and localized for several other regions, including India, Jordan, Philippines, and Bangladesh.
In this interview, author and journalist Abul-Hasanat Siddique speaks to Asim Haneef, Bamyan Media's global director of development and the executive producer of El Mashrou3. Currently based in Cairo, Haneef is a former Al Jazeera English producer and journalist.
Siddique: In your experience, why do many people in the Arab world not know about social entrepreneurship?
Haneef: Well, people might not be familiar with the term "social entrepreneurship," which is still pretty new across the globe, but many are familiar with the concept of an ethical business created to make a financial return and be good for the community. This is what regular business used to be before the era of unregulated corporate casino capitalism under which profit was king regardless of social consequences. Social entrepreneurship is at least a label for the revival of this old concept that business can be a force for good and part of the solution to the social transformation required so desperately in society if we are to have a fairer and more just world for all of us.

© Bamyan Media

Historically, businesses were drivers for social, environmental and economic change — they cared about the communities they served. I believe companies like Cadbury's was actually started to wean people off alcohol and its negative effects — its remit was one of responsibility to people, not just to shareholders. It's only in the last 20-30 years that we've reached this point where profits are prioritized over anything else. And yet we all know that's not sustainable, so there needs to be more responsible businesses and entrepreneurs emerging, especially in the next generation of younger people — and they need to be encouraged and highlighted.
Siddique: Tell us about Bamyan Media.
Haneef: It's an attempt at a radical kind of media organization that's a significant departure from traditional media because we don't just create or aggregate content. We have a process of quantifying the impact the media has — working with universities, ratings agencies and specialist M&E (monitor and evaluation) experts and other bodies to measure the effect it has in terms of providing behavioral and real-world social changes.
We go beyond the TV show with our on-the-ground outreach work. Most shows are made to go on TV, people watch them and then end of story. But with Bamyan Media, we create huge, sprawling social media communities around our shows; we stay engaged with millions of people who are watching them; and we help them connect to vital tools and resources on-the-ground, so they can set up their own business projects. For example, if someone watching the TV show about entrepreneurship in Egypt has an idea about an agriculture start-up that they want to do but don't know how or where to start, Bamyan Media helps them to connect to an accelerator or incubator, and the potential funding organizations that will enable them to fulfill and realize the potential of their idea. It's a very different thing to conventional media. It's us saying: We're not just a media organization; we are on the intersection of media and social development — and the TV shows are just one part of the equation.
Siddique: Let's move on to El Mashrou3: What is the show about, and how has it helped the contestants and Egyptian society?
Haneef: The show, El Mashrou3, consists of 13 one-hour episodes. It's a competition-based reality TV show and you have 14 contestants from across Egypt, each with an idea for a sustainable business. We chose them, brought them together and filmed them over about two months. We set challenges in each episode that related to an entrepreneurial lesson — so it became almost like a boot camp for entrepreneurs. One of the ways I describe the show more broadly is: If The X Factor or American Idol are about people achieving their dreams through their talent or voice, then El Mashrou3 is a reality TV show about young people reaching their dreams and fulfilling their potential through their business acumen, brains and a whole lot of hustle.
EL MASHROU3 (The Project) – 2-min Introduction (English Subtitled Version) from Bamyan Media on Vimeo.
In every episode, you have two teams that are set a challenge often by one of the three main judges or a mentor — something related to a social problem Egypt faces. To give you an example, one of the biggest problems in the country is trash. So, the judges will say to the contestants: "One of Cairo's biggest problems is trash. We would like you, in 48 hours, to use the trash and waste to develop a sustainable business model and then go out and sell what you've made on the streets." In this particular episode, the two teams went to Cairo's biggest trash yard and worked creatively to turn the country's problem into a solution, by finding a way to create products, have a supply chain and sell the goods to market.
At the end of each episode, the winning team moves on to the next stage and one person within the losing team has to leave the show. There are elements of some other shows like The Apprentice, Dragon's Den and Shark Tank. But The Apprentice is just a job interview from hell — that's the tagline and it has nothing to do with social entrepreneurship or social innovation, and certainly isn't about tackling society's problems!
Siddique: Well, it's to do with money.
Haneef: Yes, exactly! So we have a totally different angle that's much more centered around "encouragement" rather than "humiliation" or laughing at people. Our contestants are not waiting to get a job; they are aspiring entrepreneurs from across Egypt learning to be even better leaders. They come from wildly different cities and from different backgrounds. One of the most important things on a show like this is to have a really wide cross-section of people that represent the authentic face of a country. So, we spent a long time finding those people through a casting roadshow across the country that lasted several months.
In the last three episodes of the show, the format shifts to become much more focused on the final three contestants' personal projects and businesses, and how to make these social enterprises successful. Everything becomes much more focused on them — their business plan and how they will raise capital and get their project off the ground. This is our way of taking our main audiences through an entertaining and fun ride into finally the heart of start-up world, where you need to have a business plan, know your numbers and be prepared for anything necessary to build your business.
Siddique: And has the show finished?
Haneef: Yes, the first season of El Mashrou3 started in late 2013 and finished in April 2014. The ratings were between 3-4 million per episode, making it the fifth most successful show for the TV channel, Al Nahar — and Al Nahar is one of the biggest networks itself in Egypt. In total, we worked out that we had over 30 million views and over 270 million impressions on Facebook, and that it had beaten a lot of other popular reality TV shows like Dancing With the Stars — becoming the first business, social entrepreneurship TV show to ever achieve that.
Siddique: It's very innovative, and I like the link to American Idol, Dragon's Den and The Apprentice, but from a social entrepreneurship approach. We don't even see shows like that in Britain, so I think that's absolutely brilliant. What does the winner get?
Haneef: Not sure why there's no equivalent in the UK — maybe we should make one! Regarding the winner, besides the $350,000 grand cash prize toward building their business, they also get a combination of support from the entrepreneurial ecosystem accelerators, incubators and mentors. A lot of these entrepreneurs desperately want to have advisors to help them get their idea to a point where they are able to scale. We have also helped several of the other contestants go on trips abroad linked to securing funding, and every single contestant also received a range of gifts provided by our sponsors, including phones, laptops, TVs, website development assistance and six-months incubation.