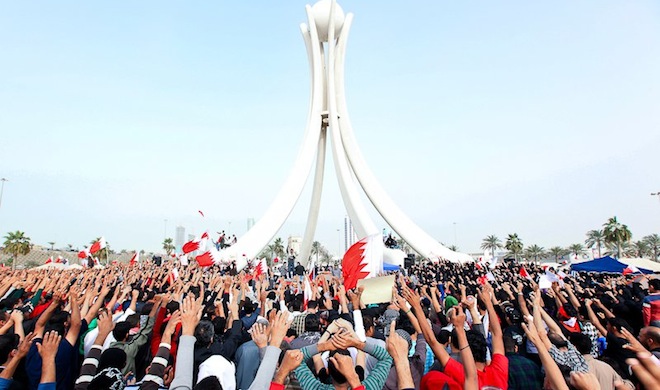 Last updated: 18 February, 2015
Bahrain, a Caribbean island?
"Their countries don't talk about Bahrain". Journalism student Faten Bushehri questions why so many young aspiring journalists around the world know so little about her native country.
"Is that in the Caribbean? Europe?"
"No it's in the Middle East, next to Dubai."
"OOOOHHHHH Dubai, yes ok."
That's a conversation I've had with many people when they ask me where I'm from. Bahrain is a tiny island in the Gulf region; you can barely see it on the map. It's very common that people know nothing about Bahrain. If they knew where it existed on a world map, the next thing they'd know is that it's a rich oil country and it stops there. But what frustrates me is not the fact that a lot of intelligent people know little about my country, but the reasons behind it.
Young journalists who are surprised to hear about the 2011 uprising in Bahrain and the continued human rights violations and political crisis has become an expected reaction. They're not surprised with what's happening in Bahrain, but with themselves for not knowing about it. Their countries don't talk about Bahrain, either because it's irrelevant to their people, or because it gets pushed down on the world agenda (if it ever made it to the list in the first place).
FOR THAT REASON, I took advantage of the incredible opportunity of being one of the Erasmus Mundus journalism students at Aarhus to share with young journalists from around the world the untold story of the Bahraini uprising, or as many Bahraini activists call it: the "inconvenient revolution."
At a documentary-screening event, attendees watched "Shouting in the dark", an award-winning documentary by Al Jazeera English. The documentary takes viewers back to February 2011 when the revolution started, and shows the events that happened in that year.
I sat all the way in the back both to see people's reactions and as an attempt to hide my tears. I saw them shaking heads at the comments made by Bahrain State TV, and how doctors were charged for not being able to save a man's life from the army's bullet in his head. I heard mocking laughter at how State TV censored the moment of the roundabout's collapse because the operation killed an Asian worker, and at America's hypocrisy when President Obama said, wherever people are fighting for freedom they can find a friend in the United States. In that moment, I felt they all became Bahrainis at heart, we all became citizens of the world, getting frustrated at the same things, shaking ours heads in disbelief, taking deep breaths to absorb it all. I knew that the message was delivered, and the story had been told.
I have received many messages from my fellow students thanking me for organizing the screening, and saying how they learned so much more in two hours about Bahrain than they ever did before.
Feilidh O'Dwyer-Strang from New Zealand confirmed my prejudices about people knowing only superficial information about Bahrain, and admits his knowledge of the revolution was limited prior to seeing the documentary.
"I sat all the way in the back both to see people's reactions and as an attempt to hide my tears"
"I was familiar with its location, that it was geographically small and also had a small population."
He also says he had watched news coverage about the revolution in 2011 and learned the basic facts as well as observing Saudi Arabia's intervention.
Like many of the other students who were present to watch, Feilidh says the documentary had a powerful effect on him.
"The people depicted protesting in the documentary, passionately loved their country and were seeking basic rights that people in other countries (including New Zealand) take for granted. Secondly, I was particularly horrified by some of the atrocities committed against protesting Bahrainis by the incumbent regime. It was shocking that some of the medical staff who treated wounded protestors were later prosecuted. Similarly, I was surprised to see there was an intense social media campaign by the regime and loyalists that vilified protestors after the protests had died down."
Marthe Vee from Norway says she is embarrassed to admit she knew nothing about Bahrain before the documentary.
"It has helped me understand how some conflicts are being neglected because of strong supporters, Saudi Arabia supporting the regime, and it is something that really made me upset, seeing how unfair the world is sometimes."
She says she was touched by the unity of the people despite the dangers they know they are subjected to.
ALTHOUGH this public event was not covered by the media or talked about elsewhere, our small initiative put Bahrain on the map for people representing more than 30 countries. People who showed support, interest, and compassion. Journalists who will one day become a force for change in their own countries, and end the media black out.