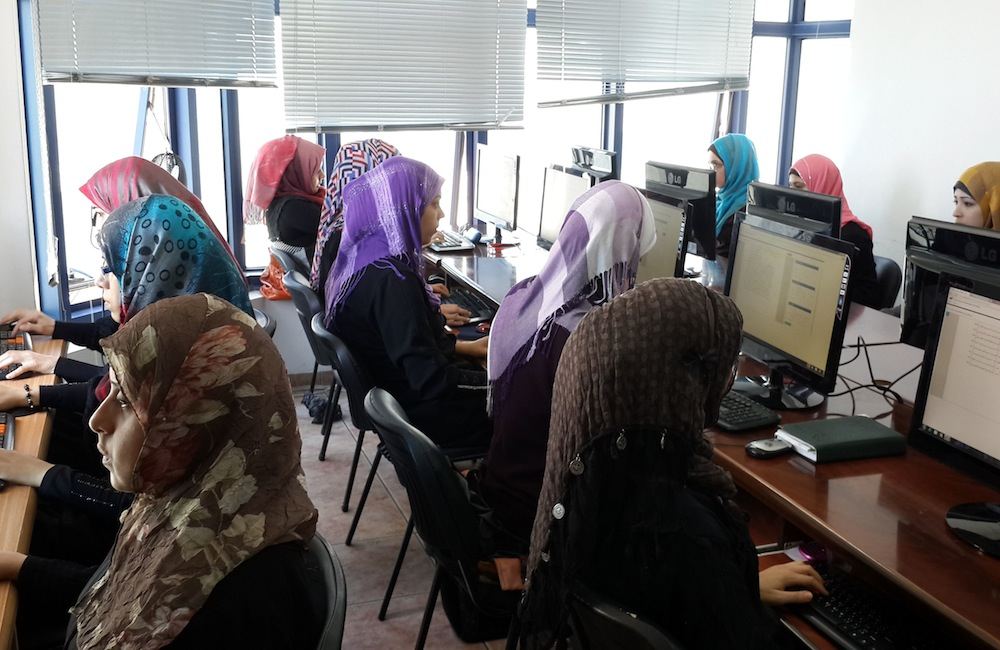 Last updated: 18 February, 2015
Big plans for Gaza tech startup
Launching a startup is never easy, add to that three devastating wars and strict military blockade and you might give up the idea altogether. Not Saady Lozon. The CEO of Gaza-based tech startup is used to difficulties.
From a small two-room office in Al-Rimal neighborhood in Gaza, Lozon and his partner Ahmed Abu Shaban co-founded Unit One as a self-funded software development startup in 2005.
"Back then, the culture of entrepreneurship wasn't there yet. So, we didn't have any governmental or non-governmental support, we invested all what we have in the company," Lozon recalls. "But four months after opening the company, we had all our computers stolen. That was the first setback."
And it was just the beginning. Months after opening up, the Palestinian Islamist group Hamas won power in 2006 and Israel decided to impose a blockade on Gaza restricting the movement of people and goods in and out of the Strip. The years that followed were filled with Israeli attacks and destructive wars on Gaza.
"From day one, we had to deal with many challenges including power disruptions, the shortage of computers and their spare parts and other equipment because of the blockade. That in addition to the difficulty in receiving money transfers from abroad," says Lozon who graduated in computer science from Gaza's Islamic University.
"We didn't have any governmental or non-governmental support"
"But step by step, we succeeded in overcoming all of these difficulties. At the end of the day, technology is borderless, so as far as we have electricity – we have power generators – and Internet connection, we always mange to get things done."
During the last nine years, Unit One grew to become a thriving business focused on software development, mobile apps and service and data outsourcing for clients in the United States, Europe and the Arab world. The company now employs 52 people; 30 of them are women.
But with a market still viewed by most companies and investors as risky, to say the least, Unit One had to go the extra mile to prove his company's ability to deliver.
"At the beginning we worked on small contracts, then people started to refer us to other companies and soon enough we signed with a Dutch company to provide data entry on global trademarks," explains Lozon. "We had 150 female employees working on this project. But after the latest war on Gaza, the contract was terminated and we had to reduce the number of the data-entry staff to 30."
WHILE the lack of access to capital is still one of the key weaknesses of the Palestinian startup ecosystem, Lozon sees the silver lining behind every challenge.
"Getting access to capital is a challenge, but on the other hand, we have a pool of well-educated, talented young individuals in Gaza, who are just looking for the opportunity to excel. I can easily hire one person everyday if I can afford to," he says.
While he is used to people puzzling about his optimism, given that 80% of Gaza's 1.8 million inhabitants are dependent on international assistance as a result of the Israeli siege, nothing is stopping Lozon from dreaming big.
"We have a pool of well-educated, talented young individuals in Gaza"
"Gaza needs trade not aid; aid destroys our economy and hurts our case, only trade will build the future," he says. "So, right now, my plan in the next five years is to launch Palestine's first Data Center Outsourcing Services, which will employ 1,000 specialized computer engineers."
With more than 10% of Palestine's GDP coming from IT outsourcing, according to Palestinian statistics, Unit One seems to be heading towards a brighter future.
Not only that. Lozon has his eyes on one of the world's biggest tech companies. After visiting Google's headquarter in 2010, Lozon took a special interest in the company's staff perks, which focuses on the wellbeing of employees, and he decides to implement the same model in Unit One.
"I believe that the talent and the skills we have in Gaza are as good as the one in Google, but it's all about opportunities," he stresses.
"Gaza is not only about wars, and the things you hear on the news offer just part of the truth about Gaza. We have the talent and the ambition, and we're ready and willing to compete with big companies."