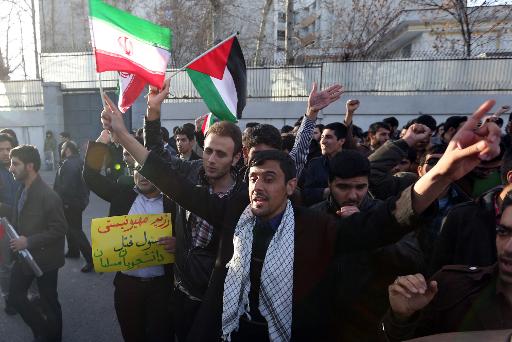 Last updated: 19 February, 2015
Iran students protest against US Muslim killings
Hundreds of Iranian students protested Wednesday in Tehran against the murder of three Muslim American students in the United States by a white neighbour last week.
Shouting "Death to America" 200-300 students linked to the bassiji Islamist militia demonstrated outside the Swiss embassy, which represents US interests in Iran, an AFP correspondent said.
Heavy security was deployed around the building in north Tehran and police kept the demonstrators at bay.
The murder of sisters Razan Mohammad Abu-Salha, 19, and Yusor Mohammad, 21, along with Yusor's husband Deah Shaddy Barakat, 23, had already been condemned by Iranian officials as "anti-Islamic".
They were shot dead on February 10 in their home in North Carolina, allegedly by neighbour Craig Stephen Hicks, 46, whose Facebook page espoused anti-religious views.
Hicks has been indicted on charges of first-degree murder.
Police said the attack may have been triggered by a long-running dispute between neighbours over parking, although they were not ruling out the possibility of a hate crime.
The murders have been condemned across Muslim countries.
The American embassy in Tehran has been shut and diplomatic ties cut since Iranian Islamist students stormed the mission in 1979 and took hostage 52 US diplomats and civilians, holding them captive for more than a year.