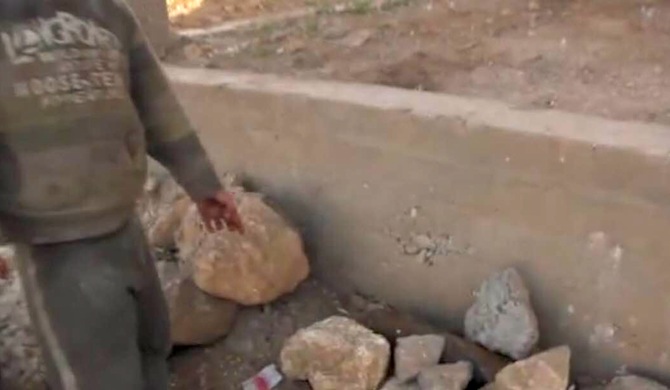 Last updated: 19 February, 2015
The other side of the Kurdish victory in Kobani
Celebrations were indeed in order when Kurdish forces kicked out the Islamic State from Kobani. But most locals are unable to return – and of those who do, many end up killed by deadly traps placed by ISIS militants.
The month of January ended with the positive news that the city of Kobani had been cleared of the last remaining Islamic State or ISIS terrorists after months of battle. Kurds celebrated the key victory in the city and across the border at camps in Turkey. However, weeks after its liberation, the small city and its environs are hardly free of the dangers created by ISIS. Kurdish fighters of the People's Protection Units, or YPG, may have completely driven ISIS out of the territory but the risk of explosive remnants of war remain. These dangers in addition to the destruction resulting from four months of siege means a long road ahead for the people of Kobani.
ACCORDING TO Enwer Muslim, head of the local government that administers the canton of Kobani, nearly 80 percent of the city has been destroyed and is currently uninhabitable. A recently reported analysis of satellite imagery by the United Nations confirmed that over 3,200 buildings in the city had been destroyed or damaged by the fighting. The majority of Kobani's residents are still stuck at refugee camps in Turkey and there is no clear timeline for their return.
"Weeks after its liberation, the small city and its environs are hardly free of the dangers created by ISIS"
Mr. Muslim recently called on the international community to provide assistance in the form of humanitarian aid, bomb experts, and materials to rebuild the city. Thus far, however, there have been no organizations or governments that have responded to these requests. The logistics of sending such help could be complicated by the Turkish government, which refuses to recognize the YPG and the political wing administering Kobani, known as the Democratic Union Party or PYD. This is due to the group's affiliation with the Kurdistan Workers' Party (PKK), which previously waged a war against the Turkish government demanding increased rights for Turkey's Kurdish population. While a peace process that includes negotiations between Turkish intelligence and the PKK has been underway for some time, there is still no end in sight and the Turkish government still lists the group as a terrorist organization.
Turkey's role in Syria has been complex and oftentimes contradicting. Turkey has been accused of providing weapons and aid to radical jihadists that allegedly include members of groups like al-Nusra and even ISIS, to fight Bashar al-Assad's regime in Syria. While Turkey did provide refuge to the tens of thousands of Kobani residents and even allowed Iraqi Kurds through its border to provide the much-needed heavy weapons to Kobani at the request of the United States, the Turkish government continues to hold a hostile position towards the PYD. Turkish president Recep Erdogan criticized U.S. airdrops intended to aid YPG/PYD against ISIS. In addition, Kurds alleged that Turkey restricted their movements across the border while only loosely guarding such passage for jihadist militants.
In an exclusive interview at his office in Kobani with this writer's colleague, Mr. Muslim acknowledged the difficulties his group is having with regards to its diplomatic relations: "There is a political element impeding the level of support we have received. We hope these (governments) reach out to us so we can show them that our administration's policy is one of human rights and democracy."
The tide may in fact be turning in favor of Mr. Muslim and his organization. Despite initial reluctance to help Kobani militarily, the United States did ultimately deem Kobani as being strategically important to its mission of degrading and destroying ISIS. Western government officials have gone on to praise YPG fighters for their bravery and their refusal to surrender the city to ISIS. Furthermore, in an unprecedented move that would likely annoy Turkey, French president François Hollande officially invited PYD representatives to his presidential palace in Paris two weeks ago. Analysts indicate that this invitation was a form of official recognition of the PYD's authority in Rojava or the north and northwestern areas of Syria they now administer.
As the political perplexities will likely continue to cause problems for Kobani for some time, hundreds of thousands of refugees await their fate in camps across the border. Thus far, only 15,000 refugees have returned to Kobani according to estimates provided by the administration office of Kobani. Those returnees consist mostly of families of YPG fighters as well as people informed that their homes had been spared much of the fighting. Despite their return, however, there is hardly a chance to readjust to life in Kobani. Mr. Muslim explained: "It is a dire situation here and is by no means calm or easy. We lack water, food, medical supplies, and doctors. There is also still a lot of danger."
"The tide may in fact be turning in favor of Mr. Muslim and his organization"
The danger, he explains, is not because of any imminent attack that might come from ISIS. The city and the surrounding villages are still littered with unexploded mortar bombs as well as deadly set-up traps placed in civilian homes by ISIS militants; a tactic the terrorist group has employed to deter people from returning to their homes. PYD faces a huge obstacle in clearing the city and villages of these bombs as the organization has neither the expertise nor the materials required to do so. Mr. Muslim explains, "In the past week alone, more than half a dozen people have died from these bombs." The total number dead is now up to twelve.
Most recently, in the nearby village of Koursh, two family members died while trying to enter their home as a result of explosives intentionally left behind by ISIS terrorists that occupied their village just a few weeks prior. Unexploded mortar bombs are also found everywhere. In one online video that calls for humanitarian aid, children are seen identifying such bombs along streets and near homes. With over 150 villages retaken by YPG forces recently, the ability to clean up each of the homes will be a long and complicated process that will require serious planning and expertise; resources that YPG/PYD simply lack at the moment.
The hope of Mr. Muslim and the thousands of refugees from Kobani is that the international community will reward his group's efforts against ISIS with humanitarian aid. Thus far, his organization has been the most reliable force on the ground against ISIS in Syria. The United States and coalition partners recognized this fact when they began assisting the YPG/PYD with airstrikes. Mr. Muslim hopes that the ongoing need for help will continue to supersede the political obstacles currently facing his group: "The U.S. airstrikes were helpful … Now, we need humanitarian help."