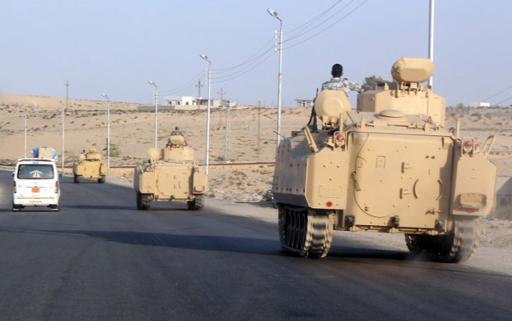 Last updated: 1 March, 2015
Egypt army: 172 Sinai militants killed in February
Egypt's army said Sunday at least 172 militants were killed in February in joint police and military operations in the restive Sinai where security forces are battling an Islamist insurgency.
The militants were killed in a series of security operations in the peninsula after a deadly January 29 attack by jihadists left 30 people dead, mostly soldiers.
The army said the militants were killed in the North Sinai cities of El-Arish, Sheikh Zuweid and in the town of Rafah that borders Israel and the Palestinian Gaza Strip.
Another 229 suspected jihadists were arrested in these operations, while 85 militant hideouts were destroyed last month, the army said in a statement accompanied by a picture of a suspected militant shot dead.
Egypt's army has poured troops and armour into the region to fight an Islamist insurgency since the ouster of president Mohamed Morsi in July 2013.
Most attacks are spearheaded by Ansar Beit al-Maqdis (Partisans of Jerusalem), the Egyptian affiliate of the Islamic State jihadist group that has seized territory in Syria and Iraq.
It says the attacks are in retaliation for a brutal government crackdown against Morsi supporters that has left hundreds dead and thousands jailed.
The group also claimed the January 29 attack in which two car bombs and a barrage of rockets hit a military base and an officers' residential complex in El-Arish.
That attack was carried out despite a state of emergency and curfew in parts of North Sinai and a buffer zone being established in Rafah to prevent infiltration of militants from Gaza.