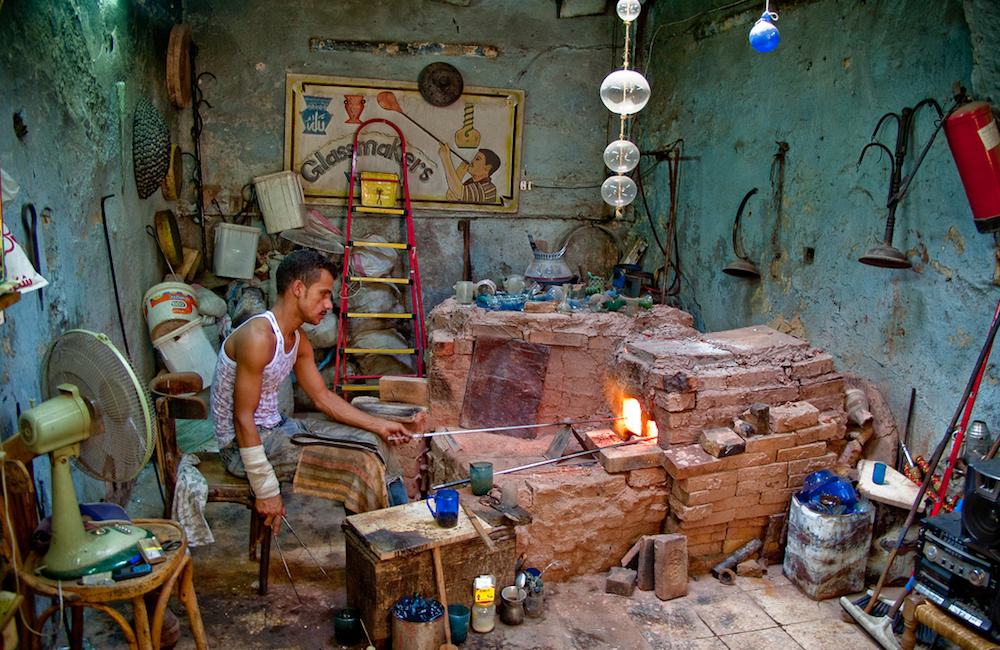 Last updated: 1 March, 2015
There's the slum, then there's Cairo's City of Dead (PHOTOS)
For those who cannot afford living in Cairo's slums there remains only one option: to live in the cemetery. According to official statistics, one and half million people are now living amid mausoleums in the desert.
The main street is full of parked cars. At the corner of the mausoleum there are workshops, cafés and small shops. Men smoke Narghile, play domino and drink tea. Through open doors you can see women who eat and talk to each other.
In the side streets of Al-Qarafa, the City of Dead, barefoot kids are playing between the small and simple tombs. Ducks and chickens are eating something from the ground, dogs are walking around and a billiard table without accessories is standing in a corner. For centuries, the houses in the Cairo desert only hosted the dead ones – it was built for life in the hereafter. Today the poorest of the poor from all over Egypt are settling down between its tombs to find a new home among the houses of the dead.
© Scott D. Harrow
In the sun a group of people are sitting on plastic chairs in front of a tomb. It is Nafisa's family, an old one-eyed woman with a friendly smile. She is wearing a worn-out Galabija, the wide sleeves are rolled up and the scarf only covers her hair. The grave room, where Nafisa is living, is divided into two parts: a corridor, where she spends most of her time, and a roofless yard with a few plants. The mausoleum stands on the right side, directly in front of Nafisa's bedroom.
On the left side of the mausoleum there are three doors near each other. A bathroom without a toilet – just a hole in the ground. The water comes from a tap near the ground. The kitchen is an almost empty, small, dark room. Because there is no electricity, the family uses a gas cooker placed on the floor. A hosepipe is hanging from the ceiling as they use the same room for showering. Beside the exit there is another door. "It is a modern bathroom with toilet, but it is not for us", the old women explains ashamed. "The cemetery's owner use it when they come here."
Nafisa was born and grew up in the cemetery. Her date of birth is unknown to her. After her parents passed away she got married to a courier who also lives in the cemetery. Together they got three children: the daughter and the elder son are married now; the younger one is in prison. "He was naughty. For two years he has made problems and someone died," Nafisa says and shakes her head sadly. It damaged her reputation in the area.
© Scott D. Harrow
Nafisa's husband is old and can't work anymore. He receives neither retirement support from the government nor any medical insurance. She sells sugarcane, and is getting now and then some financial support from her son and daughter, and she earns some money when the cemetery's owner comes for a visit or to bury someone.
Her only wish – as she says – is to leave the cemetery and to live in a flat. However she cannot achieve that on her own. For now she is telling everyone her story with hope that it would change one day.
The City of Dead is growing. Unofficial statistics show that one and half million people are currently living among tombs and graves. Refugees and migrants from the country (Upper Egypt and Nile Delta) and Cairo residents who cannot afford the rent cost in slums are coming to the cemeteries.
APARTMENT, ANY KIND OF APARTMENT
"I am forced to live here," Halima says. The old, thin woman is washing her clothes in a big bucket. The water comes from inside the simple cemetery through a hosepipe. Halima washes outside to throw the water on the sandy streets. Then she hangs the washing on the other side of the street.
Halima lives with her divorced son in Al-Qarafa, where there is no basic equipment. Instead of the toilet they use a "Transh", which is a closed box with a hole at its top. Halima must empty it regularly. "We bury everything far away from here," she says. But she is happy that they have got electric power; the owner of the cemetery supported the place with it many years ago. "I did not pay the bills of the last months. Hope they won't suspend the electricity."
"In the sun a group of people are sitting on plastic chairs in front of a tomb"
Life among tombs is quiet, totally different from the rest of Cairo, where smoke and high buildings form the cityscape. Here, there is clean air and trees. "Some people planted those here, just because his son died," Halima tells. "Even the big, beautiful tree was stolen."
At the age of 15, Halima got married in a poor village and moved with her husband to Al-Qarafa. That was 30 years ago. Her man owned a small kiosk in Cairo. Together they had three kids before he died. Suddenly Halima stood there alone with her children. "I had to work to feed them", she says. She avoids talking about her work, but many women on the cemeteries work as housekeepers to support their families.
Beside her work Halima receives a monthly 320 LE (Egyptian pounds) as retirement support and financial help from Al-Azhar Institute. While talking, she looks up at the illegal residence, which was built in the graveyard. "My financial situation is not as good as for these people. Even if I could pay the rent, they would not allow a stranger to live among them," she says. "I just want an apartment, any apartment. Not for me, at least for my son. I am old and not important anymore."
© Joseph Hill

A SHELTER FOR CRIMINALS AND DRUG DEALERS
Ashoor, a cage maker, lives with his family in a small flat in Al-Deweka, an illegal slum. "I don't have any other choice but to live there," he says with shame. The 43-year-old man has rented a small grave room for 80 LE per month.
Under some sort of gent, made of clothes, he works among the tombs. He often comes here with his wife and little kid on foot. The cemetery is 20 minutes away from Al-Deweka. His wife accompanies him to prepare tea and food. Ashoor looks to her with love in his eyes. He says they worry about each other, because the cemetery becomes a shelter for criminals and drug dealers. One day, two and half years ago, a drug user killed a person in a fight. Ashoor won't speak about it. "If you tell the police something about anyone, people would know here. That would cause many problems for me."
© Scott D. Harrow
Ashoor wishes to have his own workshop and a suitable flat. That dream seems to be impossible at the moment: "Everything is getting more expensive," he says. "A one thousand palm branch cost 300 pounds before the revolution. Now I pay 1,300 pounds for it." His wish for his son's future sounds simple: "He shouldn't be like me, (but rather) to finish his education and to have a good job."
Today, if Ashoor gets sick, he wouldn't receive any medical help, he says. "The government doesn't care at all about us," he claims. Ashoor sent his five kids to school. All of them left school with their own free will, except his little girl.