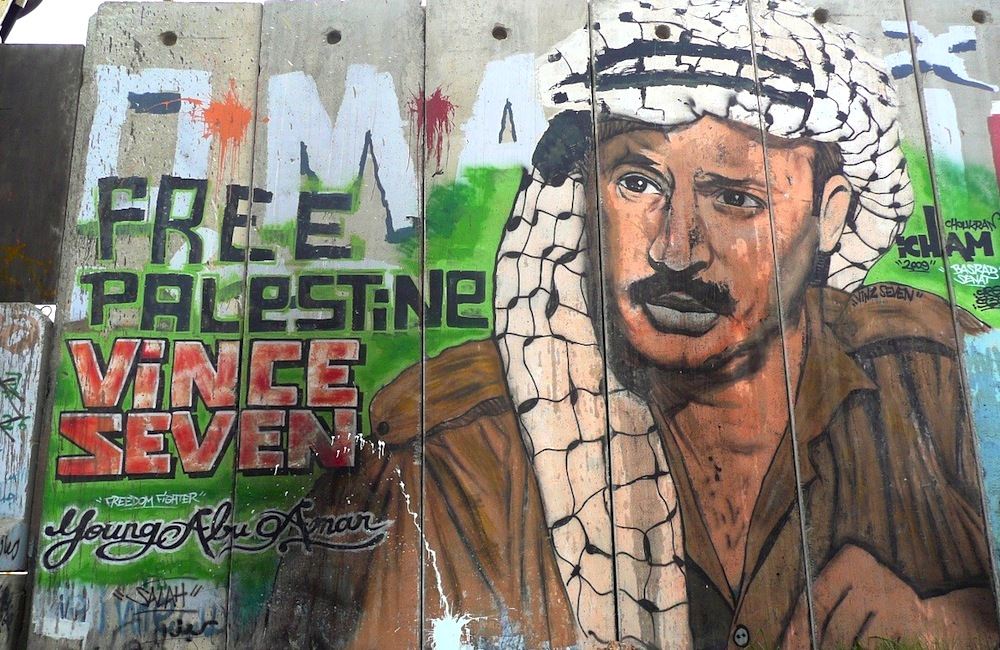 Last updated: 3 March, 2015
From national resistance to global movement – an intro to Palestinian graffiti (PHOTOS)
Is it 'ok' to draw on the Separation Wall? What do locals really think of Banksy? And how political has Palestinian graffiti become? Don't miss this exploration of graffiti in Palestine.
Judging by a quick Google search and perusal of Facebook and Twitter, the renowned British graffiti artist has managed to put Gaza and the plight of its inhabitants back into the international spotlight. Something badly needed given that six months after the longest and bloodiest round of fighting to date, Gaza has fallen off the international community's foreign policy agenda, even as the still devastated Strip slips towards yet another round of violence with Israel. Yet despite this devastation, or perhaps because of it, urban art has flourished there.
Gaza Graffiti Exhibition, Bir Zeit Univesity
Even before Banksy's recent trip to Gaza, Palestinian graffiti had already reached a high degree of aesthetic refinement. In fact, the development of graffiti in Palestine can be traced all the way back to the First Intifada where it was an integral part of the Palestinian national movement and the strategy of civil disobedience against Israeli occupation. Banksy and other foreign artists have though provided local Palestinian artists with a unique insight into the latest techniques and trends, creating a unique form of graffiti that mixes local and global aesthetics.

Israeli Wall at the Qalandiya Checkpoint, West Bank
The West Bank has steadily turned into one of the most established graffiti scenes in the Arab world, if not the whole world, offering stunning examples of the various forms into which graffiti can evolve.
CRAFTING A NATIONAL NARRATIVE OF RESISTANCE
Graffiti traces its origins back to the first Palestinian Intifada during which it was primarily used as a vehicle for the articulation of Palestinian identity. This was especially important due to widespread crackdowns on Palestinian nationalism by Israel as well as the banning of Palestinian flags and public declarations of allegiances to Palestinian political organizations.

Modern day graffiti in Ramallah
As a result, graffiti was one of the few uncensored channels of expression through which Palestinians were able to safely articulate their repressed Palestinian identity without fear of Israeli retribution.

Graffiti in Ramallah, "Your are Never Alone"
Following the end of the First Intifada, graffiti in the West Bank started to develop aesthetically beyond simple tags or scribbles to focus on more visually pleasing pieces. These nonetheless retained their value as didactic sub-texts that can be read and de-coded by Palestinian audiences.

Graffiti in Ramallah showing masked Palestinian holding a key and pencil
A major part of this visual aestheticization was the incorporation of popular Palestinian symbolism, such as the widespread use of the pre-1948 map of Palestine, the al-Aqsa mosque and the recurrent image of the key symbolising the right of return for refugees as well as the black and white kufiya representing Palestinian nationalism, and the olive tree depicting the Palestinian concept of sumud or steadfastness.

Graffiti in Ramallah showing "Handhala"
But without a doubt the most popular symbol is that of a ten-year-old boy named Handhala. First created by the Palestinian journalist Naji al-Ali in 1969, the character is typically drawn turned away from the viewer with his hands crossed behind his back. Since then Handhala has become synonymous with Palestinian non-violent resistance, and more recently a symbol of Palestinian "hip-hop" culture.

Mural in in the Aida refugee camp near Bethlehem
Part of the widespread appeal that such objects represent for graffiti artists is their ability to produce a deep emotional response through relatively simple imagery that is easily reproduced, even by those relatively unskilled. More importantly, these images are easily recognized and understood by Palestinians, both in Israel as well as in the OPTs and diaspora communities around the world, as they form an integral part of a common Palestinian cultural heritage. As such, these images constitute hidden transcripts capable of mobilizing Palestinians around a national discourse by creating an imagined community tied to a common spatial identity and forged through collective suffering and individual losses.
POLITICISING GRAFFITI

Political slogan celebrating the establishment of the DFLP
As the numerous political slogans adorning Palestinian walls attest to, graffiti has also been seized upon by Palestinian factions such as PFLP, DFLP, Fatah and Hamas who see in it an effective means of disseminating their own propaganda.

Mural celebrating the PFLP's leaders and martyrs in Bethlehem. Photo courtesy of the artist "Muhannad"
Graffiti murals glorify the leaders and martyrs of Palestinian groups, emphasising their historic role in the Palestinian struggle. Hamas in particular has played a major role in the advancement of graffiti through the creation of art academies where graffiti artists can obtain an 'ijaza or certificate allowing them to carry out graffiti commissions on behalf of the Islamist group.

Graffiti as propaganda for the Fatah and the al-Aqsa Martyrs' Brigade in Ramallah
Graffiti artists are often commissioned by factions to tag their names and symbols on town walls in order to mark their presence within Palestinian neighbourhoods. These "graffiti battles" are an explicit sign of the largely unseen power struggle occurring between rival factions at the grassroots level and helps define the spatial organization of power.

PFLP tagged over by Fatah
The sheer speed and effectiveness of tagging in hostile neighbourhoods has become particularly important to the political activities of "underground" organizations such as Hamas and Islamic Jihad which have been cracked down on in the West Bank by the ruling Fatah party.
GLOBAL COMMODIFICATION AND CONSUMPTION

Section of the Israeli wall in Bethlehem
Banksy's first visit to the West Bank in 2005 had a transformational effect on the local Palestinian graffiti scene. Although largely ignored by Palestinian artists, Israel's Separation Wall promised a rich source of artistic possibilities for foreign artists unequalled since the fall of the Berlin Wall, becoming in effect the world's number one graffiti destination.

Mural in Bethlehem by the "Palestinian-Castilian Brigade"
The imagery used by these artists also displays a sense of solidarity with Palestinians, as well as between the Palestinian and other national struggles across the globe. In doing so, they have played a leading role in the diffusion and coordination of artistic ideas and practices amongst an informal network of graffiti artists and activists in Palestine and abroad.

Tourist taking photo of artwork on the Israeli Wall in Bethlehem
International artists have anchored their work within the local aesthetic tradition by appropriating much of the imagery traditionally found within Palestinian culture. This has allowed them to re-package visual elements linked to the Palestinian struggle for the consumption of global audiences along with the hundreds of tourists flocking to Bethlehem.

"Girl and Balloones" by British artist Banksy
International artists also introduced visual themes found on the Berlin Wall in the 1980s, such as the concept of "escape" through the portrayal of ladders and escalators seemingly leading up and over the Wall. This theme was further developed by Banksy in his famous graffiti of a little girl holding a bunch of balloons, floating up above the Wall at the Qalandiya Checkpoint.

'Donkey and IDF Soldier' by Banksy, Bethlehem. Photo from www.santasghetto.com
By virtue of the social differences the re-appropriation of Palestinian symbols by global artists can however be interpreted in unintended ways by locals. A Banksy graffiti for example depicting an IDF soldier controlling a donkey's idea card created anger amongst local taxi drivers who thought the artist was comparing them to the animal.

Graffiti mural by foreign artists, Israeli Wall, Bethlehem
In the minds of Palestinian artists there still exists a real distinction between the factional graffiti traditionally found on Palestinian town walls and the more aesthetically pleasing "hip-hop" graffiti produced by global artists upon the Israeli Wall. Despite the technical and aesthetical achievements of such graffiti pieces, a sizeable chunk of the Palestinian art community as well as the general Palestinian public disagree with the choice of the Israeli Wall as an object of graffiti.

"Face to Face" by French artist JR on the Israeli Wall in Bethlehem
Palestinians argue that the Wall should be left untouched as an eyesore. As a local artist explained, "I don't draw on the wall. I'm against anybody drawing (on it). I will not help anybody draw on the Separation Wall. For me and for my ideas the Separation Wall is a very ugly wall, with a very ugly colour, it's a military colour. For us to draw, to put paint, and to put colour we will make the Wall different, we will make the Wall beautiful. It is not our job to make the Wall beautiful. The Wall is ugly; it's a military wall, a separating wall. We must leave the colour to shock people who come."

Section of Israeli wall in Abu Dis with collage of Palestinian poet Mahmoud Darwish
Only a small percentage of graffiti within the context of Israel's Separation Wall can be therefore attributed to Palestinian artists who continue to perform the bulk of their work in Palestinian towns and villages.
Perhaps this misses the true power of graffiti though. That by drawing on the Israeli Wall artists can hijack its intended role as part of a "panoptic" matrix of control (to build on Michel Foucault's thesis). And that by doing so artists have in effect transformed the Separation Barrier into an urban canvas perfectly suited for challenging Israel's occupation and subverting Zionism's overarching narrative towards the conflict.