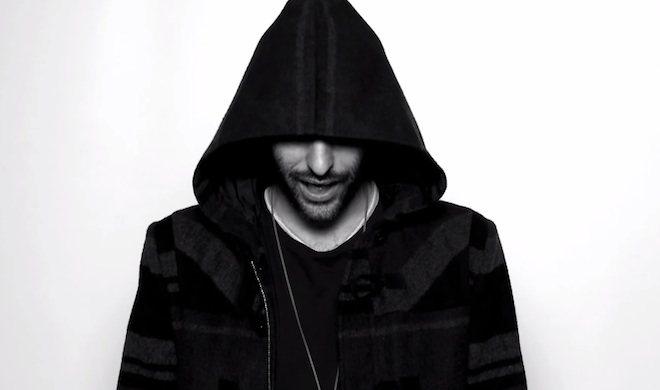 Last updated: 14 March, 2015
WATCH: Arab-Israeli hip-hopper raps in support of Joint Arab List
Ahead of Tuesday's elections in Israel, Palestinian (Israeli) rapper Tamer Nafar has released a rap song in support of the Joint Arab List, calling on Palestinian Israelis to vote and not boycott as usual.
Nafar's lyrics sum up very well the sense of (guarded) hope that has emerged amongst Palestinian Israelis, that this could be a turning point for their community, and that it is time for their voice to be heard.
Here's a rough translation of the lyrics:

In my life I have never voted for anybody, by Tamer Nafar

In my life I've never voted for anybody
In my life I've never voted for anybody
In my life I've never voted for anybody
We're almost March 17th (Israeli elections day)
The Arabs agreed to disagree like always
Like everyone else I was brought up with the same line
I heard it from my father, who heard it from my grandparents
I removed this from my heritage
I won't leave this for my children
I bought them a (new) notebook
They started writing
The Arab will agree despite their differences
Between us the world spins and the sectarianism becomes savager
Between us, Muslims, Christians, Druze, we are united
One goal, one passion, one tiredness
For one country
I won't boycott (elections)
Let my voice be heard
If the fig leaf is voted-in unity will be a thistle (reference to the Herzog-Livni electoral list)
15 seats, start counting
Let's stand up for our rights
From Teneh to Taybe, to Ramle, Jaffa, Akka and the Galilee,
One sound
From Haifa, to Nazareth, to the Negev, Wadi Ara, Lod and Sakhnin
One voice
In my life I've never voted for anybody, but
In my life I've never voted for anybody, but
In my life I've never voted for anybody, but
But I hope to see you on March 17th
*****
BACKGROUND Nafar and DAM:
In 1999 Tamer Nafar, an Israeli Palestinian from Lod and avid fan of Tupac Shakur, picked up a microphone and started to rap in Arabic for the first time. Irrespective of the content matter, the mere fact that a Palestinian-Israeli started to publicly project himself using the Arabic language in a predominantly Hebrew speaking country was extremely symbolic given that he was seen as re-asserting his Palestinian identity in the face of Israel's Jewish character. Gradually, Tamer was joined by his younger brother Suheil Nafar, and then by their friend Mahmoud Jereri. Together the three Palestinian-Israeli Rappers went on to form DAM (Das Arabian MCs), the first Arabic Rap group.
The group's subject matter is extremely critical of Israel and its treatment of its Palestinian citizens, describing the country as a "dictatorship with democratic decorations," and decries the endemic drug usage by Lod's youth. In another song the group loudly proclaims "I am not a traitor", criticising the regular depiction of Israel's Palestinian population as a fifth column within the country.
Perhaps DAM's motivation is best summed up in the groups own words: "we just opened the window and saw reality. It motivated our anger and led us to take the mic and write these songs. They are dedicated to all those who haven't found their window yet – their way out of political prisons, the social bars, the lies of the re-written history, the window that shows the way out of the refugee camps straight to the homeland."
What made DAM so versatile, and at that time unique, was the group's ability to rap in both Arabic and Hebrew. Many of their early songs were rapped in Hebrew, thus challenging its perceived sanctity as the exclusive language of Judaism. This lyrical bilingualism, as well as the group's unique position between two divided communities has enabled them to connect with both Israeli and Arab audiences.
At the beginning the members of DAM often performed at Israeli Hip-Hop concerts with Israeli-Jewish rappers, including on several occasions side by side with Kobi Shimroni, also known as Subliminal. Although from completely different backgrounds and representing completely opposite outlooks, there was hope that the two rappers might be able to unite Palestinians and Israelis through their music. This emblematic relationship even featured in an Israeli documentary entitled 'Channels of Rage' by Anat Halachmi.
The start of the second Intifada in September 2000 however fractured relations between the two rappers, mirroring the wider fallout between Palestinians and Jews in Israeli society. Since then Subliminal has gone on to become a symbol of Israeli Zionism with his famous shout-out at concerts "Whoever is proud to be a Zionist in the state of Israel, put your hands in the air! Hell yeah!" This whole episode still visibly irks Tamer Nafar who describes Subliminal as "a right wing extremist and fascist who thinks that Arabs are there to put Hummus on the table."
DAM'S BIG BREAK
The violence that followed the start of the Al-Aqsa Intifada and Israel's brutal response led Tamer, Suheil and Mahmoud to pen the song 'Meen Erhabi?' ('Who's a Terrorist?') which would prove to be DAM's big break. The Arabic lyrics are a sharp criticism of Israeli violence against Palestinians and challenges the narrative of Israel's victimization at the hands of Palestinian terrorists.
DAM's rising popularity eventually lead to a deal with the British record label Red Circle Music with whose support they released their first album 'Ihda' ('Dedication') in 2006. The albums massive success, as well as DAM's subsequent performances all over Europe and North America, has enabled the Palestinian trio to become spokespeople for the Palestinian cause and deliver their hard hitting words along with stinging criticism of Israeli policies to foreign audiences.
More on the emergence of Palestinian hip-hop culture and rap music in Israel and the Occupied Palestinian Territories can be found here.