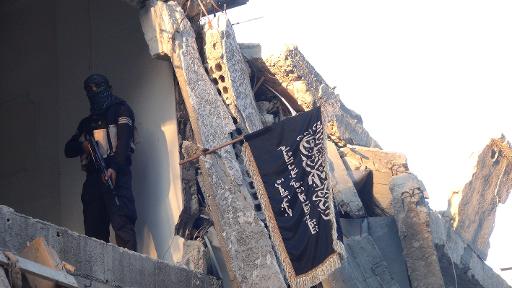 Last updated: 24 March, 2015
Jihadists and radical Islamists in new assault on Syria's Idlib
Al-Qaeda's Syrian affiliate and Islamist factions launched a multi-front offensive Tuesday against the regime-held northwestern city of Idlib, a monitor and activists said.
At least 31 regime and rebel forces were killed in the fighting by late Tuesday evening, the Syrian Observatory for Human Rights said.
"The attack has started from several directions; there are fierce battles," said Observatory director Rami Abdel Rahman.
The assailants had detonated at least two suicide car bombs at checkpoints outside the city in a bid to advance, and at least 20 regime troops were killed in clashes.
Another 11 fighters from Ahrar al-Sham, an Islamist group that has regularly coordinated with Al-Qaeda's Syrian affiliate, were also killed, Abdel Rahman said.
Earlier state television reported fighting around the city, saying regime forces had killed a number of opposition fighters without giving further details.
The offensive was launched by a new grouping bringing together Al-Qaeda affiliate Al-Nusra Front and smaller Islamist groups aligned with it, the Observatory said.
The new coalition, which calls itself "The Army of Conquest", warned of its impending assault on Idlib city and told civilians to remain in their homes.
A statement also called on Sunni Muslims among the ranks of the regime to desert, saying they would be granted a full amnesty.
An activist from Idlib told AFP clashes were underway on the edges of the city after several days of shelling.
"The Army of Conquest has taken a regime checkpoint on the city's western borders," said Khaled Hanoun, adding Internet services were cut in the city.
State television, citing a military source, confirmed the clashes but said opposition fighters had suffered heavy losses.
"Army units and armed forces blocked terrorist groups trying to infiltrate the city of Idlib," the station reported.
Most of Idlib's countryside is out of government control, but its capital remains in regime hands.
The province has become a stronghold of Al-Nusra, which in November expelled several Western-backed rebel groups from their positions and consolidated its grip in the region.
Meanwhile, the Observatory said 28 fighters from the Islamic State group were killed in clashes with the Kurdish People's Protection Units in Raqa province.
Kurdish forces have been fighting IS in the province, home to the "capital" of the jihadists' self-declared Islamic caliphate.
More than 215,000 people have been killed in Syria since the country's conflict began with peaceful anti-government demonstrations in March 2011.
After a regime crackdown, the uprising spiralled into a brutal civil conflict that has attracted jihadist groups like Al-Nusra and the Islamic State group.