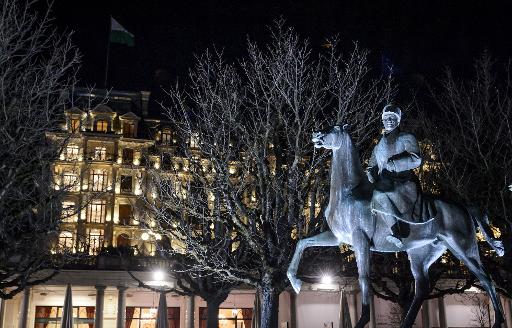 Last updated: 2 April, 2015
Iran nuclear deal 'historic mistake': Israel government official
A framework nuclear deal between Iran and world powers will be remembered as a "historic mistake", Israeli government officials said Thursday, briefing journalists on condition of anonymity.
A framework nuclear deal between Iran and world powers will be remembered as a "historic mistake" giving Tehran legitimacy in its bid to get the bomb, Israeli officials said Thursday.
"If an agreement is reached on the basis of this framework, it is a historic mistake which will make the world far more dangerous," said the government officials.
"It is a bad framework which will lead to a bad and dangerous agreement," they said on condition of anonymity in a briefing to journalists.
"The framework gives international legitimacy to Iran's nuclear programme, the only aim of which is to produce a nuclear bomb," said their written comments.
The outline agreement aimed at curbing Iran's nuclear drive was clinched after marathon talks in Switzerland and marks a major breakthrough in a 12-year standoff between Iran and the West, which has long feared Tehran wants to build an atomic bomb.
Israel has warned relentlessly against such a deal and Prime Minister Benjamin Netanyahu said earlier Thursday that an agreement would have to "significantly roll back Iran's nuclear capabilities".
He says that any potential for a nuclear-armed Tehran threatens the Jewish state's very existence.
US President Barack Obama said Thursday he would speak to Netanyahu to reassure him of steadfast US support for Israel's security.
Israeli Intelligence Minister Yuval Steinitz said earlier that all options were open for Israel.
"If we have no choice, we have no choice… the military option is on the table," he said.
The Israeli government officials slammed the emerging deal as "folding to Iranian dictates".
"It will not lead to a nuclear capability for peaceful purposes but to a nuclear capability for war," they said.
"Iran is not being required to stop its aggression in the region, its worldwide terror or its threats to destroy Israel."
The "parameters" for the accord between Tehran and six world powers are to be fleshed out into a comprehensive agreement by June 30 in an attempt to end more than a decade of tensions with the Islamic republic.
Failure may set the United States and Israel on a road to military action to thwart Iran's nuclear drive and keep Tehran out in the cold on the international stage.
The so-called P5+1 group — the United States, Britain, China, France and Russia plus Germany — hope that the deal will make it virtually impossible for Iran to make nuclear weapons.
Iran, one of the world's major oil producing countries, has always denied seeking the atomic bomb saying its activities are for energy generation and research.