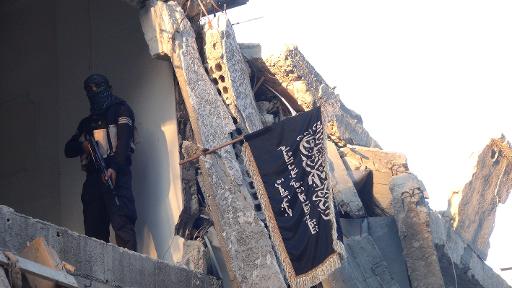 Last updated: 2 April, 2015
Palestinians push back IS in Damascus camp
Palestinian fighters and Syrian rebels retook control Thursday of large parts of a refugee camp in Damascus that had been seized by Islamic State group jihadists, a monitoring group said.
The Islamic State group regained control of sectors of the Yarmuk refugee camp in Damascus Thursday hours after Palestinian fighters and Syrian rebels pushed out the jihadists, a monitor said.
The Syrian Observatory for Human Rights said IS jihadists were still battling Palestinian fighters and Syrian rebels inside the camp in southern Damascus.
Earlier on Thursday, the Palestinians and their allies had reclaimed large parts of the sprawling camp which the jihadists had overrun the previous day.
"Syrian rebel groups entered the camp and helped the Palestinians push back IS in fierce clashes," Observatory head Rami Abdel Rahman said at the time.
Anwar Abdel Hadi, director of political affairs for the Palestine Liberation Organisation in Damascus, said IS had been pushed "to the periphery" of the camp.
He said Aknaf Beit al-Maqdis, a group loyal to Palestinian movement Hamas, had clashed with IS overnight leaving six people dead and 17 wounded. The Observatory gave a death toll of three.
But later Thursday IS launched a counter-assault, said the Observatory.
"IS is making a new advance into the camp," said the Britain-based monitor.
The jihadists had overrun Yarmuk on Wednesday, raising fears for thousands of civilians inside and giving IS a potential foothold only seven kilometres (almost four miles) from the centre of Damascus.
Syrian state news agency SANA said that the foreign ministry had sent a message to the UN Security Council calling for "urgent intervention" to drive the IS gunmen out of the camp.
The ministry accused Saudi Arabia, Qatar, Israel and Jordan of "financing and backing the terrorists".
State television said authorities had sent a letter to UN Secretary General Ban Ki-moon and to the president of the Security Council charging that IS was backed by Al-Qaeda's affiliate, Al-Nusra Front.
The UN agency for Palestinian refugees, UNRWA, said it was "extremely concerned" about the safety of civilians in Yarmuk, where 3,500 children are among 18,000 civilians living in the camp.
"The intense armed clashes put these children at risk of serious injury and death," UNRWA spokesman Chris Gunness said.
Yarmuk was once home to 160,000 Palestinians. The camp has been devastated by fierce fighting, and a tight Syrian army blockade nearly two years agon that created dire humanitarian conditions.
Last year, it witnessed scenes of desperation as thousands of people crammed into devastated streets to queue for food distributed by UNRWA.