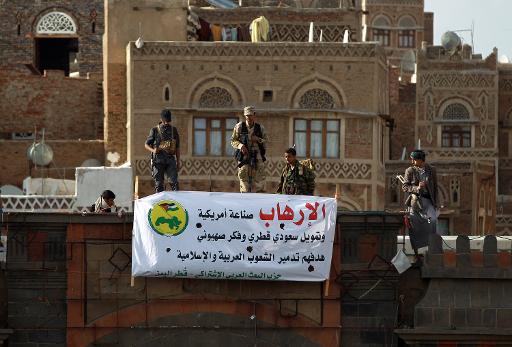 Last updated: 2 April, 2015
Yemen rebels push deep into Hadi's former refuge Aden
Rebels battled their way into the heart of Yemen's main southern city Aden where fighting raged Thursday in the former stronghold of President Abedrabbo Mansour Hadi, who has fled overseas.
Yemeni rebels seized President Abedrabbo Mansour Hadi's palace in his former southern stronghold Aden Thursday, dealing a symbolic blow to the self-exiled leader despite a week of Saudi-led air strikes.
As the war-torn country descended deeper into chaos, Al-Qaeda militants freed hundreds of inmates in a jailbreak.
The advance by Iran-backed rebels deep into Aden, the last bastion of Hadi supporters in southern Yemen, appeared to further douse prospects of his returning any time soon from neighbouring Saudi Arabia.
"Dozens of Huthi militia and their allies arrived in armoured troop carriers and entered Al-Maashiq presidential palace," said a senior security official who witnessed their advance.
Heavy clashes erupted afterwards between the rebels and their opponents inside the compound, a cluster of buildings perched on a hilltop accessible by a single winding road.
A defence ministry official in Aden confirmed the fall of the palace, saying it was now controlled by forces loyal to former president Ali Abdullah Saleh, which have allied with the Huthis.
But the Saudi-led coalition said the situation in Aden was "stable".
"Huthi militias are not in control of any government buildings in Aden," said spokesman Brigadier General Ahmed Assiri.
The rebels have seized swathes of the country including Sanaa.
At least 44 people — including 18 civilians — were reported dead Thursday in Aden.
"There are bodies and wounded in the streets and nobody dares to approach," said resident Khaled al-Shaie.
Hadi fled to Aden from Sanaa after the Huthi Shiite rebels seized power in February, and the palace came under fire from warplanes twice during his stay.
He went into hiding last week as the rebels bore down on what was his last stronghold, later surfacing in the Saudi capital as Riyadh launched an air war on the rebels.
UN aid chief Valerie Amos said 519 people have been killed and nearly 1,700 injured in two weeks of fighting in Yemen, adding she was "extremely concerned" for the safety of trapped civilians.
Saudi Arabia announced its first casualties since launching the offensive, with one soldier killed and 10 more wounded by gunfire from across the Yemeni border.
– Al-Qaeda escape –
In the coastal city of Mukalla in southeast Yemen, Al-Qaeda militants stormed a Hadramawt provincial prison and freed more than 300 inmates, including one of their leaders, a security official said.
Khalid Batarfi, a top commander with Al-Qaeda in the Arabian Peninsula known for his leading role in a 2011-2012 battle with government troops during which extremists seized large parts of the south and east, had been held for more than four years.
Two guards and five inmates were killed, the official added.
AQAP militants also clashed Thursday with troops guarding the local administration complex in Mukalla, a branch of the central bank and the police headquarters, the official said.
Fighting also broke out at the harbour and around a presidential palace in the city, security officials said.
The militants met no resistance as they seized the local radio headquarters, the officials said, adding broadcasting was interrupted.
Yemen has descended further into chaos since a Saudi-led coalition launched Operation Decisive Storm a week ago against positions held by Shiite rebels and their allies across the deeply tribal country.
Observers have warned that AQAP, classified by the United States as the network's deadliest franchise, could exploit the unrest to strengthen its presence in Yemen.
Before the latest chaos erupted, Yemen had been a key US ally in the fight against Al-Qaeda, allowing Washington to carry out drone attacks on its territory.
– Plea for civilians –
The coalition says its week-old air war is showing success.
The operation "has excellently achieved planned goals at all levels — air, ground, and sea," its spokesman said.
But rights groups have expressed alarm at civilian casualties, including in an air strike on a camp for displaced people and the bombing of a dairy. Dozens were killed in both attacks.
In the southern province of Dhaleh, Huthis killed 40 rebels who tried to desert after their commander urged them to lay down their arms because of the intense air strikes, military sources said.
Diplomats in New York said Gulf countries were locked in tough negotiations with Russia on a UN draft resolution to impose an arms embargo and sanctions on the rebels.