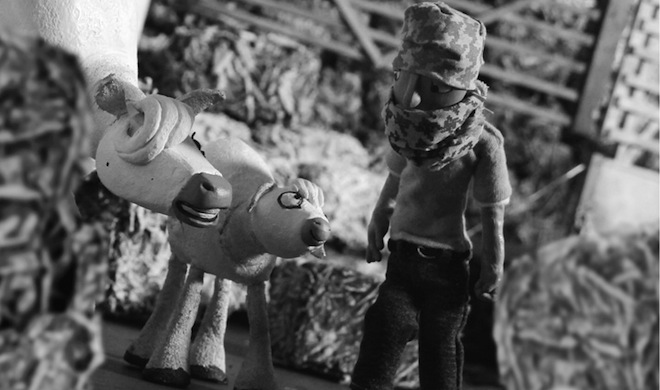 Last updated: 3 April, 2015
18 Israeli cows and one small Palestinian town
Who would imagine that a movie starring a herd of Israeli cows could (a) be made, and (b) have such appeal? This is The Wanted 18, a wry documentary co-directed by a Canadian specialist in docudramas, Paul Cowan, and a Palestinian interdisciplinary artist, Amer Shomali.
As this is the Middle East, it is far from being an innocent bovine tale. Instead it is an intense account of the Intifada in a West Bank town, seen through multiple perspectives – some comic, some tragic.
The allegory is based on a true story which took place in Beit Sahour, near Bethlehem, in 1988. Incensed by having to buy Israeli milk, the inhabitants decided to widen the boycott by investing in a herd of 18 cows from a sympathetic kibbutz. That represented one small step towards self-sufficiency and reclaiming power. From this quirky starting-point blossoms a compelling account of Palestinian resistance.
The humanized cows – in fact animated puppets – include Rivka ("the peacenik"), bespectacled Ruth, the oldest, who avidly reads The Jerusalem Post ("they don't wanna work! Palestinians would prefer to riot than work!), Lola, "a sexy cow and Madonna-fan", and sweet, big-eyed Goldie, the youngest.
Once the cows have become a village collective, and the Palestinians have learnt how to milk them, the Israelis declare they are "a threat to national security" – hence The Wanted 18. Shuttled from barn to barn like resistance fugitives, their bovine dialogues with New Jersey accents repeatedly inject humour, as well as give a neutral perspective on the violent struggle.
Their scenes are the pivot for a very clever series of clips: archival footage; reminiscences by protagonists of the era; reenactments by young Palestinians; drawings, and animation. Altogether it's a complex, beguiling mix.
Grassroots action is at the core with mass demonstrations and stone-throwing countered by heavy-handed IDF (Israeli Defence Force) responses and searches of the village. When locals recall this bloody period of their youth, you sense the pathos (many died, including a charismatic friend, Anton), but also the incredible adrenalin rush of the conflict. When Palestinian youth play hide and seek with Israeli soldiers, the latter are often short-footed.
The link to this surreal tragi-comedy was Shomali. After growing up in a refugee camp in Syria, he was curious to visit his father's hometown, Beit Sahour, in a country he had heard so much about but never seen. For him the result was a clash of reality and fantasy and, ultimately, this film, which was five years in the making.
33-year old Shomali now lives in Ramallah where he works in illustration, digital media and art. A footnote to the story and movie is that one of his artworks, "Pixelated Intifada" in the form of a cow made of thousands of cubes, recently sold at Christie's, Dubai, for $45,000. So the Israelis were right all along! There's empowerment in those cows.

***
Premiered at the Toronto Film Festival last September and a documentary winner at the Abu Dhabi Film Festival, The Wanted 18 has just been screened in in London at the Human Rights Watch Film Festival. It will show up next in Houston and Chicago. Produced by justvision.org