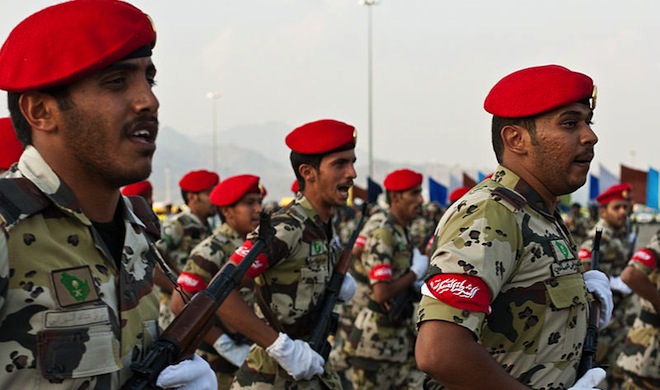 Last updated: 13 April, 2015
Saudi Arabia stands out in global military spending
When the think-tank SIPRI released its fact sheet on military spending, observers saw Saudi Arabia in a class of its own.
The three highest spenders after the US—China, Russia and Saudi Arabia—have all substantially increased their military expenditures in 2014, with Saudi Arabia's increase of 17 per cent making it the largest increase of any of the top 15 spenders worldwide.
SIPRI also looks at the Middle East specifically, noticing the following developments:
"Military spending in the Middle East amounted to $196 billion in 2014, an increase of 5.2 per cent over 2013, and 57 per cent since 2005. The largest increases since 2005 were by Iraq (286 per cent), the UAE (135 per cent), Bahrain (126 per cent) and Saudi Arabia (112 per cent). Figures for 2014 were not available for Kuwait, but its spending increased by 112 per cent between 2005 and 2013. All these countries are major oil producers, and their state revenues were boosted by high oil prices over the period. Military expenditure budgets of states in the region may be affected by the fall in the price of oil in late 2014, but any effects will likely be mitigated by the strong financial reserves built up by many countries following several years of high oil prices.
"IN CONTRAST, Turkey's spending grew by just 15 per cent since 2005, while Israel's military spending remained relatively stable throughout 2005–14. Based on data available, Israel's spending decreased by 8 per cent from 2013 to 2014; however, the final figure for 2014 is likely to be substantially higher as the current estimate may not fully cover the costs of the war in Gaza in 2014. The last available figure for Qatar's military expenditure dates from 2010 when it stood at $1.9 billion. However, Qatar started a major expansion of its armed forces in 2012 and announced orders for weapons worth $23.9 billion dollars in 2014, suggesting a substantial increase in its military spending since 2010."