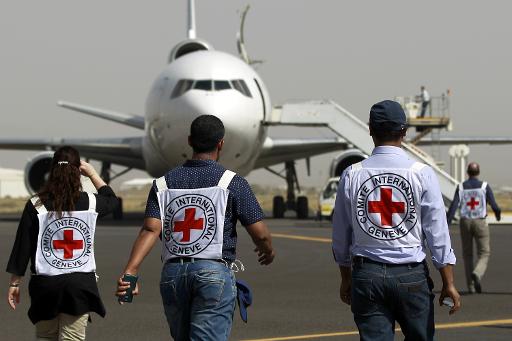 Last updated: 22 April, 2015
Yemen situation is 'catastrophic': Red Cross
The Red Cross Wednesday warned of a "catastrophic" humanitarian situation in Yemen, where Saudi-led jets resumed air strikes after a brief halt in the four-week bombing campaign.
Robert Mardini, who heads the International Committee of the Red Cross operations in the Middle East, said food supplies were fast depleting, hospitals and health centres virtually non-functional and vital medicines were unavailable.
"The humanitarian situation is nothing short of catastrophic," said Mardini, who arrived in Geneva Wednesday from Yemen's capital Sanaa.
"Sanaa has had no electricity for nine entire days," he said, adding that the situation was far worse in the rest of the country.
"The country is almost living on its reserves.. Fuel supplies have reached zero levels," he said, adding that there was an acute shortage of food and that food prices had soared 20 percent since the bombings began a month ago.
– 'Breaking point ' –
"The resilience of the Yemenis has eroded to a breaking point," he said.
"At least 50 people are killed and around 200 wounded every day, and the number of civilian casualties is dramatically increasing," he added.
Mardini spoke of horrific strikes and fighting in Sanaa and the country's third largest city, Taez, where Red Cross staff had to remain holed up in a safe room for three days as clashes raged outside their office.
"The day before yesterday, the capital Sanaa was shaken by a huge blast that shattered windows and shook buildings miles from the site of an attack in Faj Attan district," he said.
"We were having a meeting with our staff in our office three kilometres away. Our building was rocked as if we had a strong earthquake," he said, describing "a horrible moment of fear and panic."
Soon they were receiving reports of 50 killed and 400 wounded in town, with dozens of homes flattened.
"Some colleagues had family members or friends wounded or killed. That was a stark reminder of what many Yemenis endure every day across the country," Mardini said.
He said the Red Cross was in negotiations with the Saudi-led coalition and the forces on the ground — including those loyal to exiled President Abedrabbo Mansour Hadi and the Iran-backed Huthi rebels — to ensure respect for international humanitarian law and help facilitate the supply and distribution of vital aid.
"The conflict in Yemen is in dire need for a political solution," Mardini said.
"But in the meantime, … we urge the parties to take every precaution to protect women, men and children," he added.
Mardini said the Red Cross hoped to provide food aid to 20,000 of the most vulnerable families in the coming three months, as well as water to many more, and to help keep hospitals running.
To do so, the Geneva-based organisation said it would need 15 million Swiss francs ($15.5 million, 14.5 million euros) in addition to the 28.9 million francs it had already budgeted for Yemen this year.