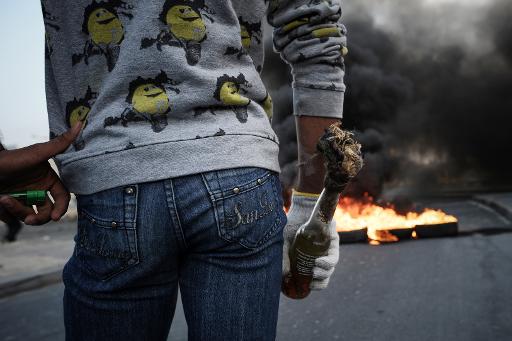 Last updated: 24 April, 2015
Bahrain jails Iraqi 'rioter' for three years
Bahraini authorities sentenced an Iraqi man to three years in prison on charges including rioting and joining an "unauthorised" protest in the capital Manama, official media reported.
The small Sunni-ruled kingdom has seen frequent unrest since 2011 when security forces crushed protests led by the Shiite majority demanding a constitutional monarchy and an elected prime minister.
The authorities in Bahrain, which is home to the US Navy's Fifth Fleet, accuse some of their opponents of ties with Iran and Shiites in Iraq.
The defendant, whose identity was not disclosed, was convicted Thursday of "taking part in an authorised rally" and setting fire, "alongside other rioters, to six garbage bins", the BNA news agency quoted prosecutor Ahmed al-Hammadi as saying.
He was also accused of "endangering lives" and "possessing flammable materials".
The High Criminal Court ordered his deportation once his sentence is served, BNA said without giving further details.
At least 89 people have been killed in Bahrain in clashes with security forces, while hundreds, most of them Shiite, have been arrested and put on trial, human rights groups say.
Shiite opposition leader Sheikh Ali Salman is on trial for allegations of trying to overthrow the regime.
His arrest on December 28, shortly after his re-election as head of the main opposition party Al-Wefaq, has sparked protests in Shiite villages.
A new hearing in his trial, which opened on January 28, is expected to take place on May 20.