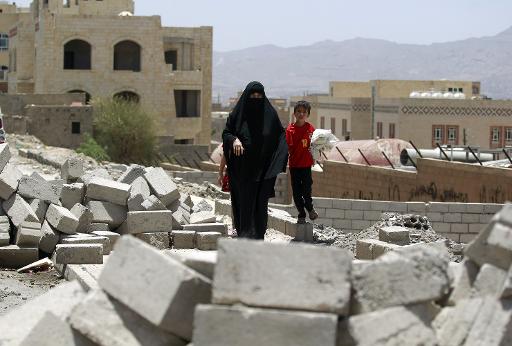 Last updated: 28 April, 2015
Dozens dead in Yemen as Iran, Saudi step up war of words
Fighting between Shiite rebels and loyalists killed dozens of people across Yemen Tuesday as Iran accused Saudi Arabia of using Cold War-era tactics by airdropping leaflets warning of "Persian expansion".
A Saudi-led coalition carried out air strikes for a seventh straight day since announcing a halt to its aerial campaign, an AFP correspondent and witnesses said.
They destroyed the rebel-held Sanaa airport runway after an Iranian plane "defied" a blockade on Yemeni airspace and its pilot dismissed calls to land at a Saudi airport to be searched, coalition spokesman Brigadier General Ahmed al-Assiri told Al-Arabiya news channel.
This showed there was "something not right" about the plane, he said, denouncing "irresponsible actions" in "defiance of blockade measures".
The conflict has exposed deteriorating relations between the Middle East's foremost powers, Saudi Arabia and Iran, which are increasingly seen as vying for supremacy in the region beset by bloody turmoil.
On Tuesday, at least 70 people were killed in fighting between the Iran-backed rebels and pro-government forces in several parts of Yemen, sources said.
Stepping up a war of words, a security chief in Shiite Iran hit out at the Saudi-led coalition of Sunni Arab states over the leaflets airdrop.
"Dropping these leaflets, as untrue as they are, has the goal of frightening the Yemeni people," said Ali Shamkhani, secretary of the Supreme National Security Council.
The leaflets were dropped for two weeks during Operation Decisive Storm — the air campaign which officially ended on April 21.
They said in Arabic: "My brother of Yemen. The real goal of the coalition is to support the people of Yemen against the Persian expansion," a reference to Iran's language and ancient name.
But Shamkhani, a close adviser to Iran's supreme leader Ayatollah Ali Khamenei, countered by saying Tehran was helping in Yemen by opposing the air strikes and providing aid.
He described the leaflets as "simplistic" and accused the Saudis of backward thinking.
"This is a technique that Western governments used to frighten people in the Cold War era," he said.
Iran's Revolutionary Guards chief General Mohammad Ali Jafari said on Monday that Saudi Arabia was verging on collapse and accused it of following "in the footsteps of Israel and the Zionists" by bombing Yemen, the Arab world's poorest state.
– 'New stage' of campaign –
A Sanaa airport official told AFP coalition warplanes bombed Sanaa airport pon Tuesday afternoon after three planes carrying aid landed at the facility in the morning.
Assiri confirmed that aircraft carrying aid from Doctors Without Borders, the International Migration Organisation and other aid groups had landed in Sanaa Tuesday.
But with the runway now destroyed, there can be no further aid flights until it is repaired by the rebels who control the airport, as well as the capital itself.
Witnesses reported other strikes on the rebels and their allies in oil-rich Marib province, east of the capital, around third city Taez and in the Red Sea port of Hodeida.
A spokesman for the armed forces who have sided with the rebels said the anti-government fighters had lost 200 combatants — 112 soldiers, 43 policemen and 45 Huthis — in five weeks of coalition air strikes.
In a statement carried by the rebel-controlled Saba news agency late Monday, Brigadier General Sharaf Luqman accused Riyadh of "moving into a new stage" of its air war, not ending it as promised.
The Huthi rebels and their allies, meanwhile, advanced in the heart of Yemen's second city Aden in heavy fighting that killed at least 20 people, medical and security sources said.
Forces loyal to exiled President Abedrabbo Mansour Hadi were pushed back in the city's central district of Khor Maksar as the rebels overran Hadi's family home and the German and Russian consulates, an official said.
In the adjacent province of Lahj, 14 rebels and 11 Hadi loyalists were killed in battles for the coast road linking Aden to the strategic Bab al-Mandab strait, military sources said.
Farther northeast in Marib, 17 rebels and two pro-Hadi fighters were killed, tribal and medical sources said.
In Abyan, another southern province, six rebels were killed in two attacks on their positions, an official said.
The United Nations says more than 1,000 people have been killed in fighting in Yemen since late March, when Riyadh assembled the coalition in support of Hadi.