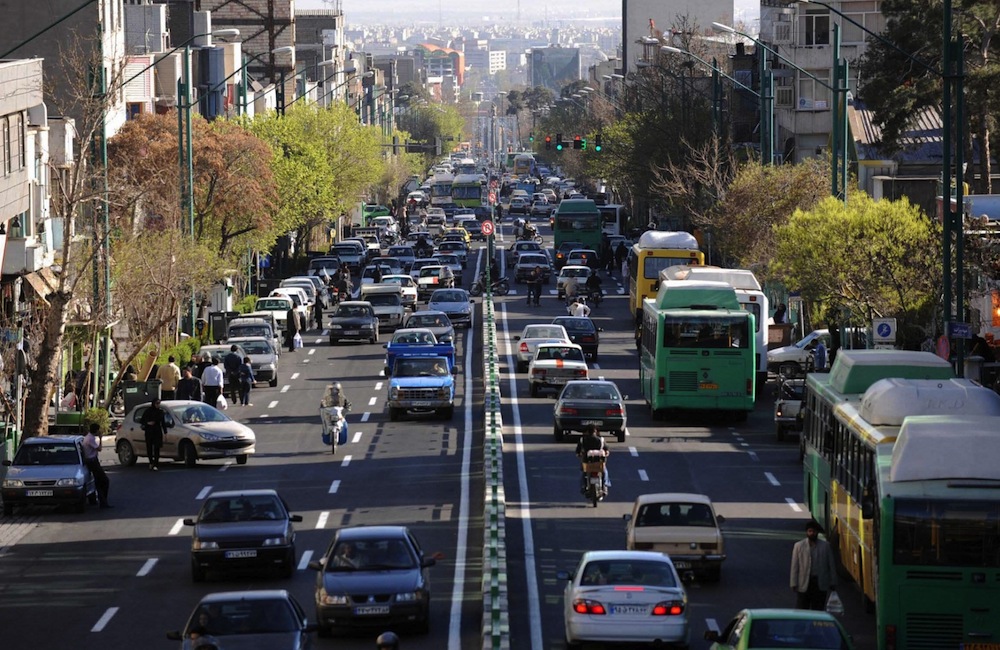 Last updated: 4 May, 2015
Iranians prepare for post-sanctions era
President Rouhani and his team are paving the ground for a "new economic atmosphere" as the Islamic Republic approaches a final agreement on the nuclear issue. Maysam Bizar reports.
On April 2, after 8-days of 'difficult and complex' talks between Iran and the P5+1 group (China, France, Germany, Russia, the U.K., and the U.S.), it was finally announced that a historic political framework has been reached. The agreement is meant to pave the way for a final comprehensive agreement by June 30.
As the agreement became the top headline of news outlets across the world, some in Iran were busy planning the next possible steps. Just three days later, on April 5, Iranian President Hassan Rouhani chaired a meeting with his economic team. Pointing to the "new economic atmosphere" that has been created following the recent political agreement on the country's nuclear program, Rouhani ordered his economic team to facilitate investment and active participation of the private sector in fields with high economic priority.
Mohammad Bagher Nobakht, the spokesman of the Iranian government has also announced that the budget for the current year has two scenarios. Nobakht said the second scenario, which he referred to as "shadow budget", will be implemented (with more budgeted for infrastructure projects) if the sanctions are lifted.
EVER SINCE the announcement of the important political breakthrough over Iran's nuclear program, many experts and analysts have been forecasting what the post-sanction era will bring about both for Iran and other countries.
"Rouhani ordered his economic team to facilitate investment and active participation of the private sector"
But with Iran's geo-political importance in one hand, and its 80 million population with strong spending power on the other, the financial and economic aspect of the final nuclear agreement and removal of all nuclear-related sanctions against Tehran has been one of the major topics of discussions and speculations in recent weeks.
Although the government has not clearly stated what measures it is taking to prepare the country's economy for the day when economic sanctions are lifted, there are reports that modifying the current legal terms and applying new monetary policies to avoid a possible increase of inflation rate are expected to be on the agenda, among other efforts.
But the recent political agreement has also resulted in a dramatic increase of business delegations that are traveling to Iran.
A senior official at Iran's Civil Aviation Organization says most European airlines that already have routine flights to Iran are demanding to increase the number of flights while other airlines from countries like Portugal and Greece are looking to establish routine flights to Iran.
The Head of National Iranian Gas Export Company has also announced that for the first time, the country has been invited to join a project by Nobuko International Company aimed at transferring gas to Europe through a gas pipeline.
Iran's oil and gas sector, which is among the industries hit hardest by years of sanctions, is said to be one of the most exciting fields of investment for foreign companies.
As preparations are underway for the 20th Oil, Gas, Refinery and Petrochemical Exhibition (Iran Oil Show) to be held on May 6-9, reports say a package worth $40 billion of projects is to be unveiled for investors during the show.
This comes as the world's oil giants like Italy's Eni and the multinational oil and gas giant Royal Dutch Shell are mulling a return to Iran once the sanctions are lifted.
RUSSIA'S second largest oil company, LukOil, has also announced its interest in returning to Iran as soon as the sanctions are lifted. The company has already re-opened its office in Iran and is busy studying geological data.
But other than the energy sector, Iran's financial market, industries like automobile, tourism, medicine, food and pharmaceutical goods are also among top sectors with high potential for attracting foreign investment.
SOME EXPERTS in Iran's financial sector say securitization is the key to promote more liquidity in the country's capital market. In a recent article, Seyed Ahmad Araqhchi said providing investors with "transparent and reliable information as well as reliable platforms for transacting securitized projects and investments could be a key in absorbing foreign investments."
But the government of Hassan Rouhani has in fact been taking steps to pave the ground for foreign investment before the April 2 agreement.
In October 2014, as the first Europe-Iran Forum was held in London, Mohammad Nahavandian, President Rouhani's Chief of Staff, issued a letter of support for the event.
"This letter allowed Iranian private sector business leaders to feel empowered in participating in a business conference in London. They knew that the current administration placed importance on building trade ties overseas and signaled their commitment, making the Iranian companies more credible partners for foreign firms," Esfandyar Batmanghelidj, a Founding Partner of BHB Emissary, told Al-Monitor.
The second Europe-Iran Forum is scheduled for September in Geneva.
"Russia's second largest oil company, LukOil, has also announced its interest in returning to Iran"
Some economic experts say the same "win-win" approach that Rouhani and his diplomatic team embraced during the nuclear negotiations is now being applied to business.
Ever since Rouhani appointed Nahavandian, former head of the Tehran Chamber of Commerce, as his chief of staff, many considered it as Rouhani's enthusiasm to directly influence the development of the country's new trade.
But despite a remarkable increase in the number of foreign delegations traveling to Iran (sometimes covering as tourist groups), some say many of these groups, which are mainly coming from West, are leaving the country with empty hands.
A FORMER official at Iran's Ministry of Industry, Mining and Trade says most of these businessmen have little knowledge about the capacity of our industries.
"They have no idea that Iran is among the world's top 5 cement producers, world's top 15 steel producers and top 15 automobile manufacturers. They get surprised when they hear that we are among the leading countries in nanotechnology and stem-cell research," he said.
The former official who did not want to be named is currently working as a senior consultant to some industrial companies.
He stressed that the current view of Western companies is partially a result of Iran's negligence in showcasing the country's real industrial capabilities to the world. The senior consultant also urged the companies who are interested in entering the Iranian market to conduct a thorough market research before visiting Iran. This he said will help them to come up with business proposals that Iranians are interested in.