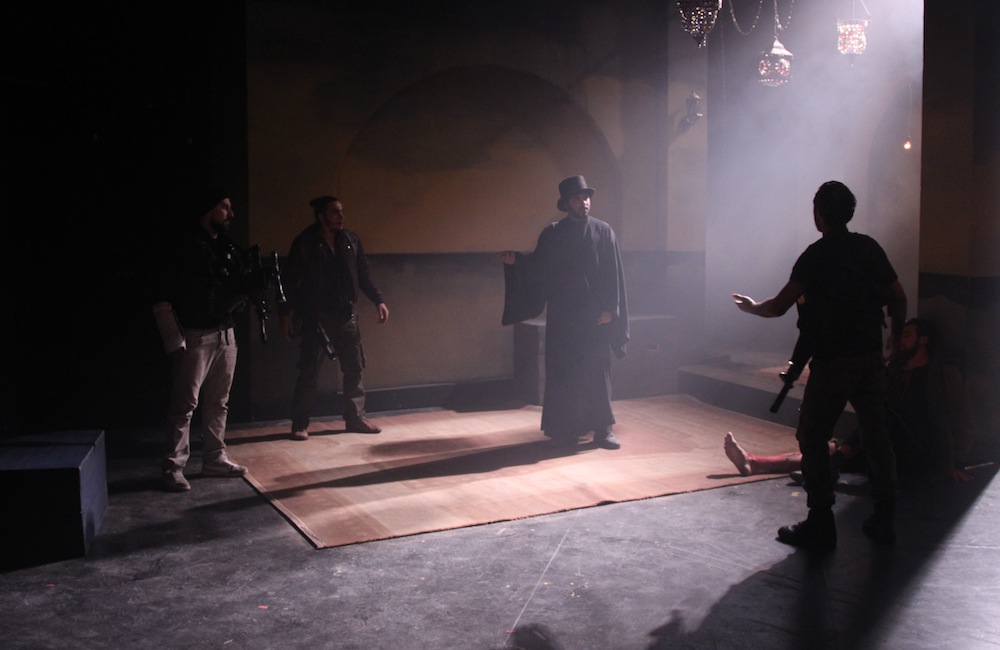 Last updated: 21 May, 2015
True story behind Freedom Theatre's 'The Siege'
Fiona Dunlop has seen the latest – purely political – production from the renowned theatre company in Jenin.
It seems nothing about Palestine ever escapes heated reactions, not least the Freedom Theatre's latest production, The Siege. Conceived for a UK tour, the first in Britain by this dynamic theatre company from Jenin, it premiered in Manchester before opening in London on May 19th. In front of the venue, the Battersea Arts Centre, theatregoers were greeted by a Zionist group demonstrating and leafleting against the play. Yet again, the basic right of Palestinian freedom is threatened.
The Siege is based on the true story of Palestinian resistance fighters who sought refuge in the Church of the Nativity in Bethlehem during the Second Intifada, in 2002. Alongside five armed fighters, one of whom is badly injured, are some 200 priests, nuns and civilians, clearly not seen in the play but represented by a priest who agrees to shelter and initially feed them.
Massed around the church outside is the full force of the Israeli army, conveyed to the audience through real film footage and, equally affecting, by the terrifying sounds of grinding, screeching tanks, loud explosions, gunfire and amplified calls to surrender from the Israeli army. The entire city has ground to a halt due to the curfew – a paralysis that will eventually produce the end game of surrender after 39 long days of imprisonment.
Meanwhile, as conditions deteriorate inside the church, wounds turn to gangrene and calls from family are made on mobile phones while the protagonists talk, argue, sing and even play dominoes. Their only water comes from a dirty well, forcing them to filter it through their clothes. Food soon runs out – leading them to eat leaves from the courtyard trees while they humorously fantasise about maqloubeh, that substantial Palestinian dish, chocolate cake and of course cigarettes.
(I shall add here that when visiting Bethlehem in 2008, six years after the Second Intifada, I talked with Ashraf, a taxi-driver and university student who had been among the besieged civilians. He told me then about surviving on leaves and dirty water during his 40-day long experience).
In order to create the play and its composite protagonists, co-directors Nabil Al-Raee (artistic director of the Freedom Theatre) and Zoe Lafferty (a British director) interviewed many of the surviving fighters who are now scattered between Gaza and Europe. Because in the end, although they were quite ready to die for the cause, a call from a Palestinian mother convinced them to make a Faustian pact with the Israelis in order to restore peace to Bethlehem. What an irony, as this involved agreeing to exile – just another form of imprisonment.
Today, 13 years later, these hapless Palestinians have sacrificed their roots, in one case including a son that was never seen, and are denied citizenship in their countries of exile. Three of them are actually personal friends of the playwright and co-director, Nabil Al-Raee.
The tight drama works effectively, with limited resources yet powerful acting from Ahmad Al Rokh, Faisal Abu Alheja, Milad Qunebe, Ahmed Tobasi, Hassan Taha and Rabee Hanani, three of whom were born in the Jenin Refugee Camp, so know all about infringement of basic liberties. The main dialogue is in Arabic, with English surtitles, although there are occasional interventions by an English-speaking 'tour-guide' in peaked cape and spectacles, who addresses the audience as if they were a tour-group visiting the church today. This clever ploy creates distance on the main drama, gives context and injects some light-hearted Palestinian irony.
It is pure political theatre, yet also branches out into a form of existentialist questioning: "Why are we here?" is repeatedly asked as they try to agree on their fate, while the concentrated historical focus actually symbolises a much broader, on-going issue. Memorable lines such as "You are in front of the Israeli information machine, which is in many languages, and this machine reverses the facts, makes black white and white black, makes the oppressed the oppressor and the oppressor oppressed" are, sadly, all too true today.
In an enlightening post-performance discussion, actor and director Samuel West highlighted "the claustrophobia of the siege as a microcosm of daily life in Palestine. They crave normality – just like today." Next to him, one of the actors, Faisal Abu Alheja, when asked what was special about Jenin (a city which was almost totally destroyed during the Second Intifada), replied, "People in Jenin will never give up. Now there is an intifada, but there is no intifada. By day we are under the P.A., by night under the IDF. We can't grow water-melons anymore, but we can make theatre!"
So Palestinian freedom does exist – if only in the mind.
­­­­­­­­­­­­­­­­­­­­­­­­­­
­­­­­­­­­­­­­­­­***
The Siege is the largest tour ever mounted by a Palestinian theatre company in the UK. The full tour is: The Lowry, Salford (13 & 14 May); Lakeside Theatre, Colchester (16 May); Battersea Arts Centre, London (19-23 May); The Hub, Leeds (26 May); St Mary in the Castle, Hastings (28 May); The Merlin, Frome (30 May); Birmingham Rep (4-6 June); Nottingham Playhouse (10-11 June); The Cut Arts Centre, Suffolk (13 June); The Tron, Glasgow (17-20 June).