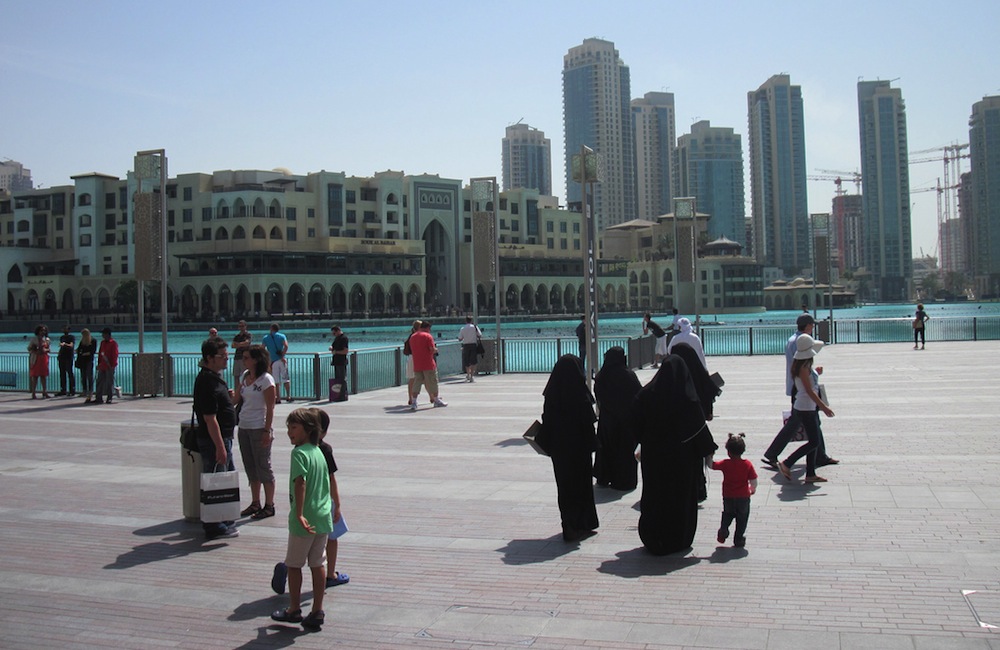 Last updated: 25 May, 2015
Beyond the making and unmaking of stereotypes in Dubai
Over the last decades the United Arab Emirates (UAE) has seen a massive change. Dubai holds a booming business life, architectural wonders including the world's tallest building, an indoor skiing resort and seemingly everything that money can buy. Not so obvious for an outsider is the cultural transformation that is taking place of which women are holding a central role. I recently attended a program where the aim is to break down stereotypes and encourage interaction between Emirati and foreign female students in Dubai. The experience left me with some impressions regarding stereotypes, technology and social media as a bridge and a barrier between people.
"Insight Dubai" is a six day long program where female students from 30 different countries attend programs with and get to know Emirati students at the HCT Dubai Women's College. Participants spend time at the college's campus to learn about global challenges such as trafficking, political Islam, Emirati society and culture, Sharia law and the advancements of and challenges for Emirati women in the UAE. Students got to intermingle and get to know each other over meals and excursions. Common for many of the participants, Emiratis and foreigners alike, was an extensive use of mobile phones to document nearly every moment of the program demonstrating information sharing and an international way of communication.
One topic that was frequently mentioned during those six days was the change that has taken place in the UAE since finding oil in 1966 and the forming of the seven Emirates in 1971, whereof Dubai is one. According to one of the guest speakers – Ammar Shams, Regional Head of Corporate Sustainability at HSBC – a major change has taken place especially during the past ten years where the national leaders have granted all Emiratis rights such as equal pay for equal work and encouraged women to study abroad and enter managerial positions. Women are viewed essential to the development of the country and the ongoing "Emiratization program" which aims to reduce dependency on foreign workers and encourage Emiratis to play a bigger role in the national economy. Still, as Gallant and Pounder (2008) among others have found, the incidence of national female participation in the UAE workforce is still as low as 14,9 % (Gallacher, 2009).
Gallant and Pounder state that although official policies encourage women to work, the society is patriarchal and strongly family-based. While many men would agree that women in general should study and work, this does not necessarily apply to their sisters and wives. The same authors note that strictly defined gender roles and expectations that women are responsible for the household make many women refrain from a career that requires a high degree of commitment and potential family-work conflict. Hence, women often choose professions such as education and office work, which are deemed more suitable for women than professions such as mechanical engineering.
Earlier this year, on the global women's day (8th of March), the government established the "Gender Balance Council" headed by Sheikha Manal, President of the Dubai Women's Establishment. I asked some of the students at DWC if they had knowledge of the council, to which one replied that it is one of many strategies the government is doing in order to help women to not only enter the job market, but also to facilitate for more women to become leaders. A common view among the students I talked to was that women in the UAE are central parts of a wave of change. Indeed, the concept of change seemed to be on everyone's lips, and an active part of their self-perception as presented to me as a foreigner. A response to my questions would typically contain a reference to "nowadays", for example when I asked a student what she would like to do upon graduation, and she answered: "You know, nowadays there is no limit to what women can achieve, and I would like to be a film producer." Similarly, many I talked to wanted to work with something media related, and had chosen DWC because it is one of the most practical colleges in Dubai offering studies in media, communication and arts.
On the final day of the program three young Emirati women from the DWC faculty had been invited to share their stories regarding choice of education and career. Present in their talks was challenges they had experienced and overcome related to convincing their surroundings about the importance of education; and how identifying one's passion and developing one's skills makes it easier to make the right priorities both when it comes to career and balancing work and private life.
Basmaa, a faculty member and teacher at DWC, delivered a speech about how she pursued her education despite obstacles along the way and how her family, colleagues and academic supervisor inspired her in different ways throughout her career. She stressed the importance of finding inspiration in others and that people tend to inspire each other without even being aware of it. She ended her talk by engaging the 60 students in the audience by asking: "Are you going to make a difference to someone today?" Her question had an immediate effect because, for a moment or two, many faces turned up from the screens they had been looking at. It was clear from the expression on some faces that the speaker herself managed to make a difference that day.
The next speaker, Fatima, a graduate in media production and now a successful film producer, had always been encouraged by her family to study and described how she in turn even inspired her mother to start studying. It appeared that a number of women at DWC have begun studying at a mature age balancing full time studies, marriage and several children. Basmaa and Fatima agreed that the opportunities are there for UAE women, and in order to be able to make use of them women should make sure to chose the right husband – one that supports his wife in her decisions to study and work.
"I heard they are oppressed by their men." Nada, the third of the speakers from the faculty recited a comment in a conversation she overheard between two strangers on the street. After giving a brief introduction to the concept of orientalism, she explained to the audience how she perceives comments like this; how it to her resembles the melody of "I come from a land, from a faraway place, where the caravan camels roam, where they cut off your ear if they don't like your face, it's barbaric, but hey, it's home." The contradictions of encountering this sort of comments while being a young woman, successful in her career and thankful for her privileges as an Emirati citizen, has made her post her reflections on social media, and through that she has stirred discussions on stereotyping and identity. In fact, her story about the comment did not surprise me. During my weeklong stay I heard similar remarks from tourists on the street and at the airport, commenting women in their abayas (the long black dress worn by UAE women) and their assumed level of religiosity. I have for a long time heard comments from people who visited Dubai not having one single meeting with an Emirati but still holding strong ideas about who they are.
"It appeared that a number of women at DWC have begun studying at a mature age"
As we left the room, I enthusiastically asked one of the local girls what she thought about the talks, to which she replied: "It was good, but I already forgot what they said." "How come?" I asked surprised. The girl had already picked up her phone when she replied: "You listen to it while in there, but then it's over and you leave the room and forget." I wondered if this was the case also for others who seemed to pay extensive attention to what happened on their phone. I also could not help but reflecting on how much of someone's appearance and presence is lost somewhere between sender and receiver due to a recording device in between.
There is no doubt that this and similar programs have an important mission as it encourages meetings and communication between students in order to break down stereotypes. The majority of the international participants, mostly undergraduates from universities in the US, China, South Asia, Europe and Australia, admitted that they had perceptions about Islam and Muslims challenged. During the last day one of the Chinese participants shared with the three Emirati speakers: "Before I came here my teacher told me that Emirati women are not allowed to work, study or drive. He obviously proved to be wrong, and I don't think I can listen to what he says anymore." The audience laughed and applauded. I found myself thinking that while the student's comment about her misguided teacher made the audience laugh, the statement carries in it an idea that women are either this or that; oppressed or not, victims – or agents of change.
My conclusion from attending the program is that from spending six days together, sharing meals, going on excursions, discussing culture in a way that might make anthropologists concerned, but also by dancing together to pop-music under the desert sky, taking selfies and chatting online as well as face to face certainly makes people meet. Arranging interaction like this breaks down barriers between people who would otherwise never have met. In this case stereotypes were challenged as many participants learned that women in the UAE are not necessarily victims or restricted by something vaguely defined as religious law. We need counterweights to forces that live and act on stereotypes, expressed in terms of fundamentalist movements or the saviour-victim paradigm, and it is necessary to continue developing and supporting initiatives that has the potential to bring such change.
Still, maybe we can learn even more from these kinds of meetings? In order to aim a little higher than disconfirming stereotypes, I would encourage organizers and participants of this and similar initiatives to further encourage and develop thinking and curiosity about complexities in the Arab world and beyond, with regards to class, economic development, gender and education. Finally, when it comes to breaking down barriers and stereotypes, an interesting topic for discussion could be how we use technology in interactions and how it may function both as a bridge and a barrier between people.