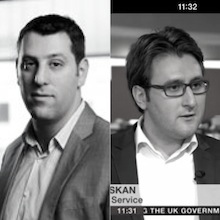 Last updated: 7 June, 2015
"The media, the last beacon of accountability, has been silenced through a climate of fear"
Emre Caliskan and Simon A. Waldman, authors of the coming book 'The New Turkey and its Discontents', argue that the AKP government has established a wide-ranging culture of corruption.
It is almost certain that the Justice and Development Party (AKP) will win Turkey's general elections, held today, on 7 June. The only real question is by how much. Most opinion polls put the AKP at around 40 to 45 per cent of the vote. This seems likely even if one bears in mind that predictions have been off the mark ahead of the British and Israeli elections this year.
This election will be the final vote in Turkey for the next three years. Last year there were both Presidential and local elections. And with this year's general election, the outcome would give the ruling party, most likely the AKP the ability to do whatever it wants until the next round of voting takes place.
While this may not seem out of the ordinary for anyone living in a liberal democracy, circumstances are considerably different in Turkey.
Under the AKP, Turkey has a culture of unaccountability and corruption. For example, on 17 December 2013 the country was rocked by corruption allegations with arrests over bribery, money laundering and even attempts to circumvent sanctions on Iran. Although this led to the resignation of four cabinet ministers, allegations did not stop there and soon reached the inner circle of Erdogan including his son. This was followed by a series of leaked tapes including alleged telephone conversations between Erdogan and his family members where he apparently instructed them to hide vast sums of cash.
As more leaked tapes emerged in early 2014 alleging further corruption, it was not the accused parties who were targeted by the government, but rather those involved in investigations. Under the pretence that a "parallel structure", code word for the Hizmet movement of US based Turkish preacher Fetullah Gulen, was trying to topple the government prosecutors and members of the police were dismissed or reassigned and replaced by government sympathisers. Adieu to any serious investigation and public accountability.

In today's Turkey, there is no clear separation of powers. Courts are open to government manipulation as the government has sway over the appointment of judges with increasing powers given to the ministry of interior. Again this means little accountability. The Court of Public Accounts (Sayıştay), for example, whose main responsibility is to inspect state spending, has become an ineffective body. Its audit reports of public institutions for parliamentary inspection have been obstructed. Its functions are now practically useless.
Meanwhile, Erdogan and his loyalists have considerable influence over the issuing government contracts and tenders. In other words, companies who support the AKP agenda, win lucrative contracts. Just recently, for example, the Dogan Holding, was suspended from bidding for tenders just days after Erdogan accused the owner of the conglomerate of being a "coup lover" and labeling journalists of the holding's media arms as being "charlatans". Hardly an investigation has been made into such blatant cronyism.
"In today's Turkey, there is no clear separation of powers"
Meanwhile the media, the last beacon of accountability,
has been
silenced through a climate of fear.
By 2012 over 100 journalists had been arrested over nebulous allegations that they were part of a "deep state" conspiracy. According to Reporters Without Borders, Turkey is the world's leading jailers of journalists. Freedom House now deems Turkey "Not Free". Journalists are regularly threatened and even arrested. Meanwhile social media such as Twitter, Facebook and Youtube have been, at different times, targeted and taken down forcing users to bypass restrictions through VPNs. Some have even been arrested and tried for tweets deemed too critical of Erdogan or considered "insulting" to the President.
Direct accountability to the people? Forget it. There have been clampdowns on freedoms such as expression and assembly. Demonstrations against the government are routinely suppressed. Think the Gezi Park protests of 2013, commemorations of those killed during the protests or even May Day celebrations. Tear gas, police batons and water cannons are the norm.
To make matters worse, Erdogan and the AKP are hoping to gain a bigger majority in parliament so that they can change the constitution and give the president even more powers. But there is fly in the AKP's ointment in the form of the Kurdish problem oriented People's Democratic Party (HDP). Led by the charismatic Selahattin Demirtas, the HDP has a very strong chance of passing Turkey's notoriously high electoral threshold of 10 per cent of the popular vote. If successful in gaining ten per cent of the vote, their seat allocations will reduce the AKP's share.
Not only will this dash the AKP's dreams of new constitution, but if the other parties can scrape together an extra few votes in they might squeeze the AKP out of its majority in parliament, meaning that the AKP would need a coalition party form a government. Perhaps this scenario might be the first brick back to the road of accountability.
MORE ON HDP: New politics of the new Middle East: Turkey's radical democratic party