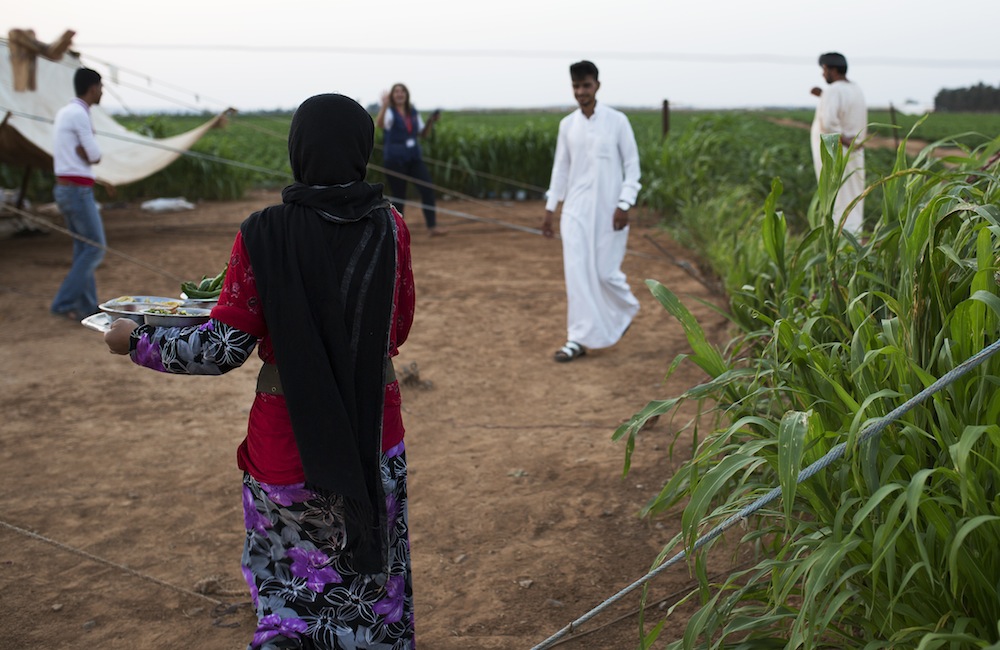 Last updated: 15 July, 2015
Ramadan at the farm: Syrian refugees found a way to survive (PHOTOS)
Multimedia journalist Rosie Lyse Thompson spent time during Ramadan with a Syrian refugee family living and working at a farm in Irbid, Jordan. Follow her – and the family's – journey in this personal photo essay.

Abu Khalid, 47, his two wives, five sons and six daughters and two grandchildren fled from Idlib, Syria in 2012 and now live and work at a farm in Irbid, Jordan. The family farm everyday and receive a small income as well as vegetables to sustain themselves.

Abu Khalid's children play on the farm's tractor.
Abu Khalid's youngest son Ali, 6, rides his bicycle through the farm.

With the farm far from a nearby school, the children no longer attend school but instead work on the farm. The whole family works from early morning to dust. "My biggest fear is for my children, there is no future in this society for them without an education. They used to go to school in Syria but they haven't been since the crisis started," said Abu Khalid.

Ali and Abu Khalid's grandson play while the rest of the family work on the farm.

Abu Khalid's grandson and daughter.

Ali walks back to their tent.

"My sons were going to have to join the army and the war started to become more intense. Life was hard and we struggled to survive," Abu Khalid recounts why the family fled to Jordan in 2012.

Abu Khalid and his granddaughter. A former truck driver, Abu Khalid lived a comfortable life back in Syria before the war. "We used to have a beautiful life, we lived in a house and the children all attended school."

Abu Khalid's daughter prepares food for Iftar. "The only way we can live is by being on this farm – we work and we can support ourselves with the food we get" said Abu Khalid.

One of Abu Khalid's daughters picks vegetables from the farm.

Abu Khalid's daughters prepare the family's Iftar meal. This is their third Ramadan in Jordan. "Ramadan was such a special time for us in Syria, the whole family would come together and celebrate. I really miss that," said Abu Khalid.

Abu Khalid's wife peals potatoes in preparation for the family's evening meal.

Umm Khalid and her youngest granddaughter, Thumeen (Precious in English).

Abu Khalid's sister prepares her evening meal.

Abu Khalid's second wife waters her vegetables outside her tent.

Thumeen and Abu Khalid's youngest daughter play before their evening meal.

The family's Iftar meal sits ready for sunset.

Thumeen and her father sit and watch a Ramadan series. "We spend our evenings watching Syrian Ramadan shows, it helps us remember the good old days back in Syria," said Abu Khalid.

Abu Khalid's daughter brings the families Iftar meal to the tent.

Abu Khalid's nephew helps carry the food to the tent.