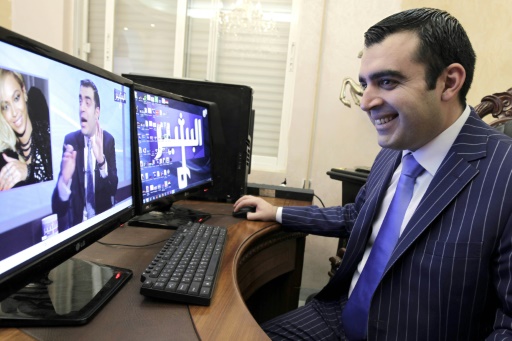 Last updated: 2 August, 2015
Iraqi comedian combats jihadists with satire
Defying death threats, an Iraqi television comedian is fighting the Islamic State group with biting satire aimed at lifting the aura of fear that is one of the jihadists' strongest weapons.
Two men with fake beards walk into a bar and ask for orange juice and "halal" water, with a wink and a smile to the barman who promptly serves them two glasses of alcohol.
"This round's on the caliph, to mark the first anniversary of the occupation of Mosul," the waiter says before a bomb blast cuts short his reference to IS leader Abu Bakr al-Baghdadi and the capture of the northern Iraqi city.
Ahmad al-Basheer, who has been likened to renowned US political satirist Jon Stewart, says he aims to "break the image" of the jihadists and their declared puritanical enforcement of sharia Islamic laws.
Millions of Iraqis tune in weekly for "The Basheer Show" and its diet of irreverence and no-holds-barred humour.
"Weapons are not the best solution for Iraq," he says at his studio in Amman, capital of neighbouring Jordan.
"We fight IS with satire. After all, its members are only human. We can fight them by making fun of them."
Basheer says his programme shows IS leaders for what they are, rather than religious paragons.
"Their halos drop and they become simple human beings. That's why it's very dangerous for them," he says.
"We make fun of everyone who is bad for our country, starting with government officials who make mistakes and fail to do their jobs, then corrupt and bad politicians, or those who exploit religion for political ends, and finally extremists, sectarian stirrers and militias."
– Time to leave Iraq –
Basheer is an ex-journalist who worked for several different Iraqi television stations until 2011 when he narrowly escaped injury in a bomb attack at a festival in the western city of Ramadi that cost the lives of seven colleagues.
He decided it was time to leave his violence-wracked homeland and resettled in Jordan.
Frequent death threats are a consequence of his new business of poking fun at targets including IS jihadists who have occupied large parts of Iraq and Syria, where they are accused of widespread atrocities.
"Most of the threats come from IS or people loyal to the militias… through social media like Twitter or Facebook but also by post or SMS on our mobiles," he says.
"We've got used to it. New threats come in after every episode."
The 30-year-old runs a modern studio in Amman and heads a 24-member team, mostly fellow Iraqis, including a unit which follows all the latest news from back home.
One of the latest shows poked fun at the contradictory statements coming from Iraqi officials on how Mosul is to be recaptured from more than a year of IS control.
While Prime Minister Haider al-Abadi says the battle for Mosul has already been under way for three months, Vice President Iyad Allawi goes on the air to admit he doesn't know when Iraqi security forces backed by militia allies will finally launch the operation.
In another scene, an IS standup comedian tells "jokes" to an audience who know they risk death unless they show their appreciation.
"What was the name of the first suicide bomber who blew himself up and went to paradise? He was called 'Boom'," quips the comedian.
A member of the audience bursts into laugher, only to be ordered to stand up and is gunned down in a burst of Kalashnikov fire.
"That wasn't a joke. That was a test. How can the martyrdom of a brother make us laugh?" was the cautionary message from the performer.
"We're just trying to make Iraqis laugh so they can live a normal life and forget their troubles for a while," Basheer says.
"Laughter is the best way to unify people the world over. It's smiling that makes us all human."