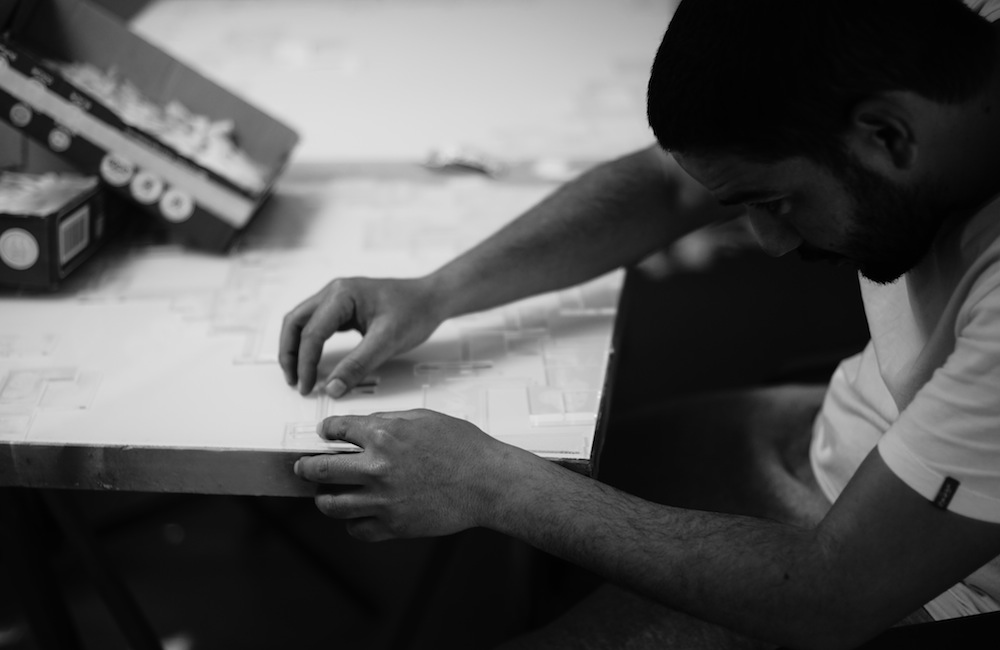 Last updated: 13 August, 2015
The essential artist of the urban scene in Morocco (PHOTOS)
Morran Ben Lahcen is one of Morocco's pioneering street artists, and has helped to increase the genre's visibility and popularity in the North African country. But he is now also leaving a big mark on the contemporary fine arts scene.
A self-taught artist, Ben Lahcen demonstrated his ability for drawing at a very young age. While growing up in a Berber village located on the Atlas mountain range, he discovered his creative fiber through a fascination for the environment's natural shapes and colors.
Though beginning his career illicitly, he is now widely sought after to re-appropriate urban spaces, transforming blank architectural features into works of art. Ben Lahcen calls himself a multidisciplinary artist, presenting sculpture and works on canvas employing industrial materials in his signature cross shape, which represents the horizontality and verticality of human life.
I met Ben Lahcen in May, when he was in Marrakesh for a residency at David Bloch Gallery. He had moved there after being occupied with fellow artist Jules L'ATLAS Dedet in a series of exhibitions, installations, and lectures at the Villa des Arts in Casablanca, as well as some urban interventions in Moulay Al Hassan Square and the Villa des Arts in Rabat.



Workshop at Mafoder, 2013. Photo by Raphael Liais, Studio IWA

From Streets to Gallery
Ben Lahcen began his graffiti career in the '90s. "In Morocco, everything was more difficult, we did not have the proper tools, no support, and for most people this represented more vandalism than art. You had to be passionate, search, invest and above all be patient. No Internet, still few movies and magazines … it was watching an old VHS tape of the movie about New York that I've had my trigger for the free expression of art."
Ben Lahcen still remembers the excitement derived from drawing in the streets: "Pure adrenaline", he repeats. "I had so much energy and felt the ability to practice" a new visual culture in the public space. Then, he adds: "I have always had much respect for the first masters of graffiti, like Basquiat. For the revolution they were able to launch when art was asleep on itself", he concludes after distancing himself from the modern street art movement and the mediatization of the phenomenon.
In 2012 and 2013 he led a street art project in Casablanca. The owner of the MAFODER foundry gave him a 'carte blanche' to redesign the plant of the factory. Not only did Ben Lahcen perform different interventions in a (sort of his signature) multicolor cross shape, but on this occasion he had also organized other artists' work.

Mafoder foundry, Casablanca. Photo by Rachid Laaguid
The Material and its Secrets
Ben Lahcen's obsession for practicing art developed over the years. First, he used the artistic technique of graffiti. But it is through canvas and sculpture that his art really took off. Fascinated particularly by urban art, he follows its evolution in the international scene. He chose to follow the path of research into materials and techniques, from screen-printing to metal architecture.
"I am constantly searching. My art is constantly changing, whether in material, color or just the style. I look at the artwork for days and days, wondering if it is finished or not, looking for the final touch… I use different techniques, different tools, spray paint stencil, painter airbrush gun. All tools are good and all provide a different yield."

From Morran Ben Lahcen's first solo exhibition at David Block Gallery in Marrakesh, 2014. Photo courtesy David Bloch Gallery
The meeting with gallerist David Bloch was crucial for his development as an artist. "I met Morran for the first time in 2010 before opening my gallery. He was still living in Marrakesh," says David Bloch in an interview via email. "We quickly became close. I think he was seduced by an artistic direction featuring artists from the graffiti scene. We soon decided he could contribute in a collective exhibition scheduled for December 2010, The Chamooo Theory, exhibiting a dozen of international and Moroccan artists invited to re-interpret an artwork of local designer Younes Duret."
BEN LAHCEN contacted David Bloch again in the fall of 2013, with a brand new concept of sculptures based on the notion of horizontal and vertical. It encompasses the human being's multidimensional nature in which the verticality opens up the way for spirituality. In doing so, he was inspired by a text from an Islamic Sufi order. "It was a genuine artistic project, which was diametrically opposed to his graffiti background, and we set an exhibition for May 2014," David Bloch says. "This first exhibition – and a residency in Marrakesh – was also an opportunity to develop a potential new concept for future artworks, that still keep Morran busy nowadays."
For Ben Lahcen, art is about knowing the material and its secrets. His work today consists of canvas and sculptures employing industrial materials. In his latest piece, the material (plexiglass) creates volumes, from the horizontal dimension of a canvas, and is forged to shape the labyrinthine scenography of a cloud city. The use of monocolor is natural and usually reflects that of the material.

"Cloud City #006" (2015), 30×30. Photo courtesy David Bloch Gallery
Today, Ben Lahcen – a man of few words (sometimes) – has truly developed his own graphic signature and is now recognized as the essential artist of the urban scene in Morocco. He has the merit not to give into the calls and easy options from the Moroccan market. "He waits for valuable artwork approaches, something meaningful to him", says David Bloch, thus opening up a broader artistic career for himself, much larger than if he would have locked himself in a graffiti or street artist position.

Morran Ben Lahcen, sculpture, private collection, 2015. Photo courtesy David Bloch Gallery

Workshop at Mafoder, 2013. Photo by Raphael Liais, Studio IWA