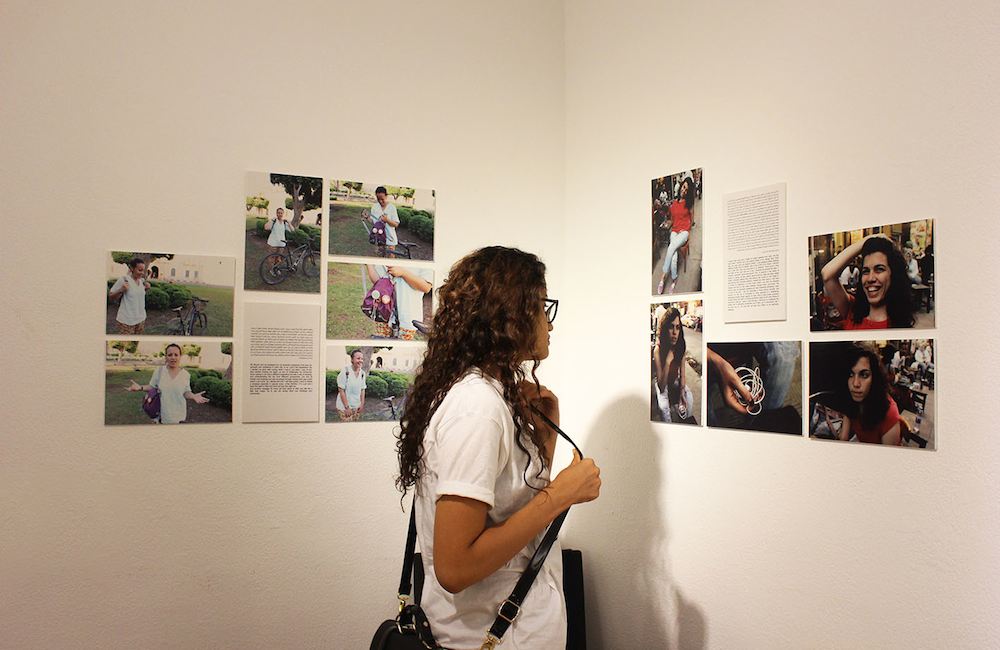 Last updated: 23 September, 2015
Making Egyptian "Sidewalk Stories" part of the global anti-harassment discourse
A new photo exhibition empowers women in Egypt and abroad to confront the issue of sexual harassment.
Exactly one year ago, I arrived in downtown Cairo, the heart of Egypt's dusty capital. Its veins – the crowded streets of the metropolis – and its arteries of small alleyways spread densely on a map, waiting to be unfolded. As an exchange student, I had traded these streets with those of a small German university town by the name of Marburg, and I was ready to figure out my way around the city for the upcoming eight months. Only a few hours after my arrival, my basic knowledge of Arabic had already been 'enriched' by words like '3sal' (honey), 'moza' (banana, but in this case, sexy girl), '7alawa' (candy) or simply 'agnabeyya' (foreign woman), as various men would call me.
On the one hand, the university's mandatory course by the promising name of 'Intercultural Competences' did not teach me how to respond to these comments. On the other hand, they did not surprise me either: reports on the growing epidemic of sexual harassment in Egypt and state violence towards women following the events of the 2011 revolution and its aftermath had become a source of international media, political, and public interest for some time now. I had done my homework, so of course the number 99.3% would ring a bell (number of Egyptian women who have experienced sexual harassment according to UN statistics from 2013) and I certainly would not mistake the term 'girl in the blue bra' for an ad for one of the numerous lingerie stores downtown.
Only a few days before my departure, a clip entitled, Creepers on the Bridge, had been uploaded online in order to crowdfund a documentary by The People's Girls. Surely, I was aware of the extent of sexual harassment – a phenomena not only happening in Cairo by the way, as I myself had experienced it firsthand by the age of eleven in my German hometown – but I had completely underestimated the impact it would have on my daily moods and movements once being in Cairo, to the point where I could not even count the number of incidents each day. Sexual harassment comes in many forms ranging from looks, whispers, and sounds to public yelling and touching either in secret or openly, which at its worst can turn into sexual assault and rape. Needless to say, at the end of each day, I still felt unprepared.
Fortunately, a growing number of activists, initiatives, and NGOs have been raising awareness and addressing the issue from different perspectives for many years now. During my stay in Egypt for example, Nazra for Feminist Studies released its first Shakmageya (jewelry box) comic strip, which focuses on sexual harassment. Among others, Nazra had lobbied for a legal punishment and legal definition of sexual harassment for a long time. Under the rule of Adly Mansour, the President of the Supreme Constitutional Court of Egypt, the amendment of article 306 (a) had been made and article 306 (b) added to the Egyptian penal code in June 2014. However, Nazra and its fellows were not satisfied with the result. Other state responses, such as the assignment of female police officers during this year's Ramadan celebrations probably serve more harmful state propaganda than good to Cairo's women. Nevertheless, their actions caused a controversy on social and public media, especially after a video showing the arrest of a young harasser had gone viral.
Still, the access to the city's male-dominated public space is limited to women and many more stories need to be told. Harassment works intersectionally; we all experience it differently and therefore prepare in many ways to confront it. These were the assumptions my fellow students Maria Neubert and Eliza Friederichs made when we worked on the concept for a workshop called 'Sidewalk Stories – Women in Cairo's Public Spaces' which aimed at bringing together women from different communities to freely exchange their experiences and strategies. In May 2015, we executed the workshop twice without funding in cooperation with WenDo Egypt (self-defense for women by women).
Sexual harassment is only one form of harassment and only one of the topics we discussed. We all know the core of the problem is a simple and tough one at the same time; gender dynamics and the concepts of femininity and masculinity within patriarchal societies. To give an example, a case went public of a young man who was beaten by a group of males because he appeared to them as 'looking gay and too feminine.' The assumption that harassment is only a 'women's issue' is just as wrong as saying that all harassers are male strangers. As one of the 25 women from Brazil, Egypt, Germany, Poland, and USA who participated put it: "My worst physiological trauma never came from random, unknown misogynists on the streets of Cairo, but from people who knew me; ones who dealt with me in closed premises like work, college, family or friends."
The phenomenon of being approached and touched by other women for example, in the women's underground section (with two women cars as part of every Metro) to 'correct' or 'comment' on one's looks and clothing is very common, according to Sarah Seliman, who also took part in the workshop. She is a visual artist who has been working in photography, video art, and installation since 2009. By discussing feminism through expressionism and storytelling techniques, she approached the Sidewalk Stories team seeking cooperation in a potential art project related to the workshop's topics. Together, we developed the idea of a photo exhibition which portrays 17 women (partly from the workshop, but also including others) at their favorite public space in Cairo. Cairene visual artist Seliman has experienced harassment in many ways herself and she asked these women which items or things they use, wear, or apply in order to feel safer and more self-confident in Cairo's public spaces.
Focusing on the storytelling aspect of the photos, Seliman arranged the pictures in combination with a statement by each woman, telling her story, thoughts, experiences, and/or strategies from her life in Cairo's public spaces. The exhibit was first presented in Cairo at the Tahrir Lounge@Goethe Institute, and is planning to move to different cities in Egypt, starting on the 1st of October in Qena, Upper Egypt. At the same time, the exhibition is taken to an international level, with plans to be displayed from October 28th to December in Marburg, Germany. We see this work as a small contribution to the worldwide discourse of street harassment, as displayed in Ten hours of walking in New York as a woman and its adaptions. To further this discourse, we are currently working on having the exhibition travel to many other cities and countries so that more and more people will start sharing their Sidewalk Stories in one way or another, no matter where they live.
Nine of the women portrayed in the exhibit are already part of a documentary entitled Bent Bemeet Bent, also filmed by Sarah Seliman and co-produced by Tahrir Lounge@Goethe. No matter how hard it might be at times to talk about these very private issues, I promise you won't find a single tear in the movie and actually, most women in the exhibition are smiling in their pictures, as well. This is because on the one hand, Sarah Seliman made them feel comfortable and on the other hand, speaking out is a very empowering and therefore positive experience. I know this because I am one of the 17 women, myself.
If you want Sidewalk Stories – Women in Cairo's Public Spaces to be displayed at your gallery, university, or co-working space, please get in touch via sidewalkstoriescairo@gmail.com.