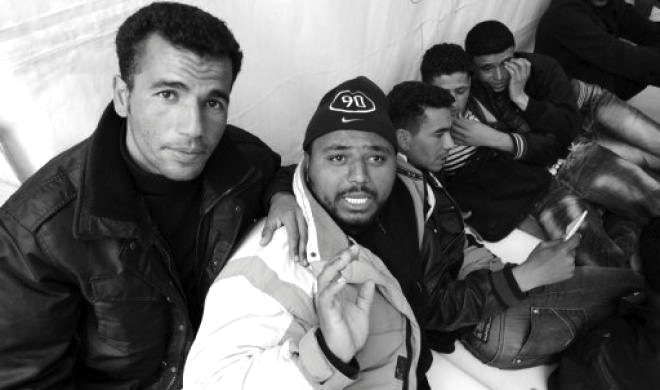 Last updated: 30 September, 2015
The real roots of Tunisia's revolution
When trying to explain the Jasmine Revolution, Western pundits usually focus on a single event: Mohamed Bouazizi's self-immolation. In reality, of course, the build-up to 2010-11 had been going on for many years. And there's one episode in particular that stands out among the rest: the 2008 rebellion.
The impoverished Gafsa region in southern Tunisia is known for its crucial mining industry. Many locals count on the state-run Gafsa Phosphate Company (CPG) for work. Many others are unemployed. Today, however, Gafsa is widely known for its tough stance against corruption and repression under Ben Ali. After the fall of that authoritarian regime in 2011, one union leader confessed to Laryssa Chomiak, an expert on Tunisia, that "the real roots of the January 14, 2011, Revolution were the 2008 events in Gafsa."
When locals took to the streets in early 2008 in the mining towns of Redeyef and Métlaoui, as well as in the nearby city of Gafsa, they were protesting against unfair hiring practices by the CPG. They suspected systematic nepotism between a small number of families, the CPG, and the local branch of UGTT, Tunisia's largest labour union. According to an essay by Chomiak in the anthology Taking to the Streets, protestors believed that jobs had been distributed unevenly among union members and their families. As a result, a protest movement was born that spread far beyond the area. A nationwide campaign in support of the miners soon erupted, with followers of the Parti Communiste des Ouvriers de Tunisie and the Parti Socialiste de Gauche joining in. Certainly, they also used the grievance-based protests in Gafsa/Redeyef as leverage for a broader political activism against Ben Ali's regime.

Courtesy of Nawaat
The police unsurprisingly reacted with force. In Redeyef, protests happened regularly with police brutality as a common response. Activists and former members of UGTT were arrested. "Within months, wives of unemployed miners, school teachers, and local union members joined the protest movement, resulting in Ben Ali's move to send in police forces to curb the protests, arresting and jailing hundreds, and eventually fatally shooting two protesters," writes Laryssa Chomiak.
While oppositional Tunisian media had a difficult time covering events due to censorship and persecution, the French television channel France 24 picked up on what was going on, thus enabling the diaspora in France, particularly from Toulouse, to become increasingly involved in the struggle. While the regime crackdown inflicted serious harm on the movement's ability to continue with sit-ins and street-based protests, many left-wing activists and students refused to let go. They instead went online, using various tools like Facebook, Twitter, and Vimeo. And between August 18 and September 3, Ben Ali banned Facebook, likely due to increasing activity among activists involved in the Gafsa cause.
So what happened next? Well, the next large-scale mobilisation in the country did not occur until May 2010, when six young activists involved in the nationwide Gafsa campaign set out to host Tunisie en Blanc (Tunisia in White), a non-violent protest organised entirely on Facebook. A flash mob was to appear on Tunis's main boulevard fully dressed in white, while sipping on coffee at the many cafes along Avenue Habib Bourguiba. The idea was that an "entire avenue in white" would be much more powerful as an expression of dissent than a traditional confrontation with the police.
In her essay, Laryssa Chomiak has managed to capture the links between the mining protests in Gafsa, the planned flash mob in Tunis, and, ultimately, the Jasmine Revolution of 2011:
"Activists, bloggers, and oppositional journalists were supporting and covering any attempt to transgress and contest the Ben Ali regime. Their mobilization became more sophisticated, linking cyber-activism with street-based protest or supporting street-based rebellions with online activism. The catalyst was not only the increase in internet usage from 6 percent in 2003 to 36 percent in 2010 but also the anonymity of online profiles. Activists were generally under police surveillance, but Tunisian youth, students, and those growing increasingly disgruntled with the regime became the consumers of mounting critiques and new forms of activism. Nowhere is this clearer than in the linkages between the 2008 rebellion in the mining region and the 2010 planned flash mob in Tunis – the overlap in activists, mobilization strategies, and outreach techniques. What remains distinctive in these moments as well as during the buildup to the 2011 Revolution is that Tunisian activists were willing to absorb any issue, from the plight of unemployed miners to internet freedom, that challenged the dominance of the Ben Ali regime."
We all know what happened next.