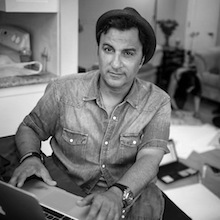 Last updated: 1 October, 2015
"Entire families have gone missing, as if they have gone up in smoke"
Nuri Kino has reported on people smuggling for 15 years. He has acted as a refugee, wanting to be smuggled, and he has pretended to be a smuggler in order to understand this billion-dollar industry, which is now expanding because of the wars in the Middle East. This time, Nuri has traveled to the border between Serbia and Hungary, and then onwards to Turkey to meet with refugees who are on their way to Western Europe through smuggling networks.
The first thing he did upon arrival at Arlanda (Stockholm's main airport) was google search "Syriac Orthodox Church." He then phoned the church, asking if anyone could help with accommodations and registration at the migration office. Let's call him Fadi.
A few hours later, we are both in my kitchen. He's carrying a lot of luggage: two big suitcases, a smaller one and also a guitar. Back home, he is a famous musician, but now he is a refugee. As a wealthy man, he is at greater risk to be kidnapped, and as a Christian, he faces greater chances of being killed, solely due to his religion. His main concern is for his sister, his only sibling. Let's call her Ilham. He hasn't heard from her in nine months; she's gone missing. I write about Ilham in the global chat we use for A Demand For Action (ADFA), hoping that someone might have heard of her whereabouts. I receive some links leading me to Facebook pages set up for missing Syrian refugees. In most cases, relatives in search of their family members post their photos.
Fadi's first reaction is to post a photo of his missing sister, but then he hesitates. "What if the terrorists come across these Facebook pages. What if they see that I'm looking for her and she is kidnapped? Maybe they'll ask for ransom or kill her because I revealed who she is. Maybe she told them another name." We decide not to post her name and photo.
Ninos, one of the working members of ADFA, finds Ilham's Facebook page. We contact her friends, the ones she was last in contact with on Facebook. One of her friends replies that she fled and is now in Skåne. She doesn't know where Ilham is, but she believes she fled to Turkey. We also approach Ilham directly but without response.
The next day, my friends and I sit in a café in Södertälje south of Stockholm. We talk about missing Assyrians/Chaldeans/Syriacs, refugees from Syria. In some cases, entire families have gone missing as if they have gone up in smoke. We search some of their Facebook pages.
Recently, photos and information has been spreading on Facebook about cynical refugee smugglers taking advantage and scamming people. Among them are two Swedish citizens, one known to be particularly obnoxious. This is one of the comments about him on Facebook: "He is charming, pretends to be heaven sent, tricks you into paying him in advance and then continuously asks for more money. Then he reports the refugees to the border police, gets them arrested and claims he cannot do anything to help."

"What if they see that I'm looking for her and she is kidnapped?"
The next photo shows a couple, believed to be Turkish citizens. They approach refugees posing as volunteer aid-workers. They claim to be able to provide visas for families with an urgent need to flee the Middle East.

The UN refers to these vulnerable people as "special cases." They are embassy staff members, translators, etc. — persons who are of special interests for terrorists. According to the information on Facebook, this couple specializes in organ theft. They drug refugees and steal their organs.

The list of smugglers with bad intentions is long. One is selling fake life jackets, another is drugging girls to rape them, and a third is selling boats so poor in quality that they always sink. There are also lists of smugglers known to do what they can to make sure you reach Germany or Sweden.

Last week, a delegation from A Demand For Action travelled to Serbia. We interviewed and aided refugees before traveling to Istanbul.

In one of the poorer parts of Istanbul, a city ghetto, 19 men are living in a one-bedroom flat. Nine of them agree to talk to us – they are in between the ages of 20 to 30. When asked questions about escape routes and smugglers they get angry and profane. But if smugglers are bastards and filthy thieves, how come so many choose them as an option instead of applying for visas?
"There are no other options. All other ways are closed for people like us," one of the men replies.
Some of the 19 men have stayed in the flat for two years, others a few weeks. They have all been in contact with smugglers. One of them says he lost 1,200 euros in the first attempt to be smuggled and another 1,200 dollars when trying a second time.
He made it to the Bulgarian border but was abused by the police with batons before they made him return to Turkey.
Another tells us the police took all his money before sending him back.
According to these men, the UN is not registering them, neither in Istanbul nor in Ankara. One of them, however, has been granted resettlement. The UN will help him resettle in another country. He got registered two years ago, when it was still possible. He doesn't want to go to the U.S. In his opinion, the Americans are the ones ruining the Middle East, but that is where the UN found resettlement for him, so that is where he is going.
"No embassy is open for applying visas. We can bad mouth smugglers all we want, but the reality is that they are our only option to get to Europe. Not all of them are bandits, some are professional," one man says.
Another gets upset and raises his voice: "How can you say they are not bandits?! They lack humanity, they scam us and take our money!"
Several refugees have been forced to swim back when the rubber boats taking them from Turkey to Greece sink. One of the men says he was in a truck where several people suffocated, because there was no oxygen.
"Christians sometimes get thrown overboard, because on some boats there are Islamic fanatics and terrorists."
One of them says in very low voice, "Yes, but Muslims are also fighting each other on the boats. It's hell. Everything. War in Syria. War in Iraq. Everyone is fighting everybody, and there is no way out."
Another guy shows us ads put up by smugglers, in which they offer their services and guarantee safe passage. "We guarantee you will not be scammed. We will charge you some in advance and you pay the rest upon arriving in the country of your choice."

Let's go back to Södertälje, at the café where my friends and I are researching the cynical smuggler pages on Facebook. I receive a note on Ilham's whereabouts – one of her friends writes to me, tells me that she is hiding in Turkey. She might be one of the UN's special cases because of her work in Syria – which I am told not to reveal – and is waiting for resettlement.
Later that day I see Fadi. His legs fold beneath him when I tell him that I have located and spoken to his sister. She is alive and wishes to speak to him.
I receive a text message: two sisters who fled ISIS in al-Qaraytain, Syria have been washed ashore in Rhodos. A surviver tells her story and sends me photos.
They are both English teachers. A warning is sent out: beware of the persons smuggling them.
Is this situation something the Obama Administration, UN and EU might consider to discuss?