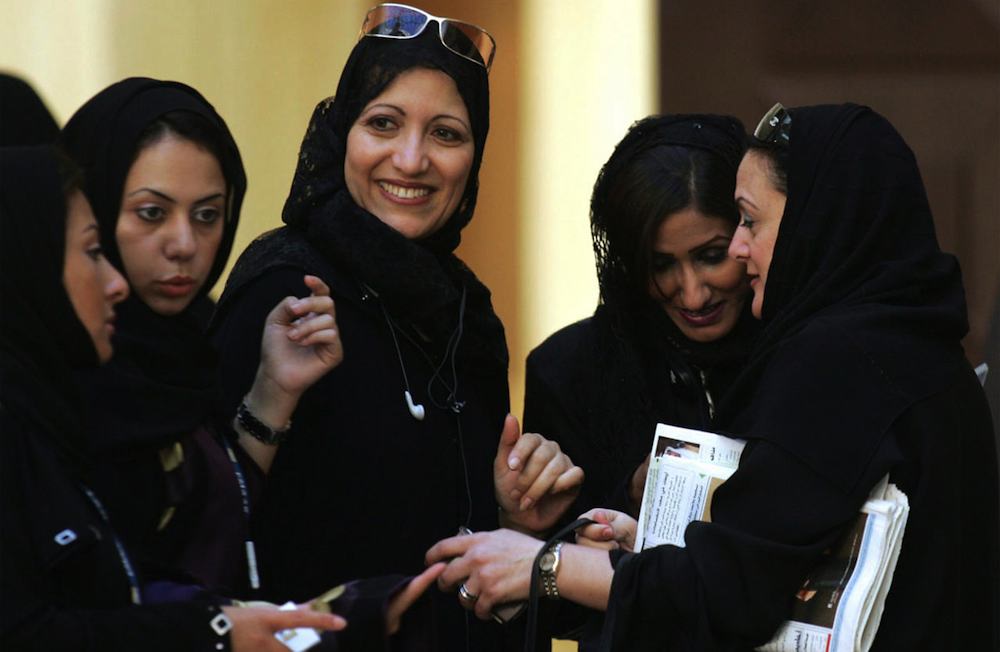 Last updated: 5 October, 2015
Empowered through education: a word with a Saudi feminist
An interview about Western misconceptions and the feminist scene in the conservative kingdom.
When it comes to Saudi Arabia and the role of women, for some the glass is half-empty, for others it is half full. While some deplore that Saudi Arabia only ranks 130th out of 142 countries in the World Economic Forum's Global Gender Gap Report 2014, others highlight that the Kingdom was in fact one of the countries that improved the most in that report.
For Aisha Bint Abdullah (an alias), Saudi Arabia has rapidly developed socially and culturally in the last 10 to 20 years. "Although from the outside it seems that nothing has changed," Aisha told me via email, "I can tell you that there have been many changes that have influenced the role of women in Saudi society in a positive way."
Aisha lives in Jeddah with her husband and three children. She grew up in cultures (both Western and Middle Eastern) outside of Saudi Arabia for a significant part of her childhood and adolescent life, which makes her a so-called third culture kid (TCK). Aisha works in the field of education as a lecturer and is currently finishing a PhD in Europe. She considers herself a feminist. In Aisha's definition this means that women should be given the opportunity to achieve their full potential and contribute to society.
I was able to interview Aisha Bint Abdullah about Saudi Arabia in the year 2015 from a woman's perspective. (Do forgive my ignorant questions; Aisha luckily makes up for it with clever answers).
VA: What is the role of women in Saudi Arabia's society? How does the Saudi society, or Saudi men, expect Saudi women to contribute to society?
ABA: Firstly, I think it is better to understand that we cannot, and should not, view Saudi women as a collective in that they all share the same social role within society. Saudi women, like any women around the world, have different social identities and roles and contribute differently to their respective society.
Also, when you ask about the Saudi society and then you add 'Saudi men', it seems to indicate that you think that Saudi men are in control of the social roles of women. Again, I feel it is unfair to group Saudi men together in that manner. From my perspective, it would be more rewarding if we free ourselves from the notion of Saudi men vs. Saudi women.
50 years ago, women were expected to stay at home and take care of family while men were expected to work and provide for the family. However, much has changed nowadays, and this is due to many reasons which could be traced to the economic growth and social change of Saudi Arabia.
Uninformed Westerners often know only two things about women in Saudi Arabia: they are neither allowed to drive a car nor to do sports. How do you react to this simplification of women's lives in Saudi Arabia?
To be honest this is the case with informed and uniformed Westerners, mostly because most do not really want to know much about Saudi life. They are more comfortable in believing that their Western way of life is better and superior to any non-Western life.
First of all, it is not true that women are not allowed to do sports in Saudi Arabia. Consider Sarah Attar who participated in the London 2012 Olympics. There are women-only gyms around the country. There are sports in private schools. The only place where women are not allowed to do sports are Saudi public schools. State universities, on the other hand, encourage sports for women.
As for driving, yes we are not allowed to drive, but this does not mean that we are not allowed to leave our house and participate in social life. I take my kids to school every morning, go to work, and pick up kids from school. I take them to their drama, football and Zumba classes on the weekends. I meet up with friends in restaurants and cafés. I attend different social and academic events. In other words, I engage in similar social activities that any woman in the West or other parts of the world engages in, the only difference is that I have a driver to take me to these places.
Mind you, there are many Saudi women who prefer this, as they believe it is a more privileged lifestyle. Women's driving in Saudi Arabia is more about the right to 'choose' than it is about the right to 'drive'.
What is the biggest misconception Westerners usually have about women and their lives in Saudi Arabia?
Basically, I believe that misconceptions stem from Westerners not accepting other ways of life. In other words, they believe that women in Saudi Arabia are restricted and unable to participate in social life.
However, this view assumes and in many ways accepts Saudi women as weak and feeble creatures. The fact is that women in Saudi Arabia understand the different social systems to which they belong to, and their understanding and knowledge allows them to navigate through the many challenges and obstacles that might face them. Women are active members of Saudi society, actively working to make Saudi Arabia better, not only for women, but for all members of society.
Why is women driving cars such a disputed and sensitive issue in Saudi Arabia?
I think a better question would be why the focus is so much on women's driving. A few years ago, women were denied health care without consent from their male guardians, now this is no longer the case. Also, women were not allowed employment without the consent of the male guardian, now they are free to work without consent. Yet these two major triumphs for women's rights have gone unnoticed by the Western media.
I agree that the issue of driving is important; however, we also need to acknowledge other contributions that women were able to achieve.
A statement by a Saudi woman that I have read: Saudi men lack "respect – above all respect" towards women. What is your experience?
I have been raised by a man who gave me the same love, attention and respect as he did to his sons. My three brothers also have treated me with love and respect. I am also married to a wonderful man, who treats me and our daughters with love and respect.
Generally, I do not hold the man vs. woman view that many others do. I believe that both men and women in my country are forced to conform to certain sociocultural categories. However, there are a growing number of men in Saudi Arabia that are strong activists for women's rights. Some would even consider the late king Abdullah as one of them, based on his many pro-women royal decrees.
It is said in Robert Lacey's book Inside the Kingdom that Lesbianism is "not hard to find" in Saudi Arabia. Because women can only get from other women what they don't get from Saudi men: tenderness, sharing, trust, honesty, support, respect. Can you comment on this?
I have read this book and I have to say that it is a highly biased view of Saudi life. To say that lesbianism correlates with the lack of tenderness from men is highly inaccurate and quite foolish. I am sure any Western lesbian would be offended by such assumptions.
Someone said that "social conservatism is the glue that holds the Saudi Kingdom together". Yet 'social conservatism' very often has a negative impact on women, in any society.
It depends on your definition of conservatism. Unfortunately, there is an underlying assumption that conservatism in Saudi is related to extremism, meaning that both come from the same school of thought which views women in a demeaning manner. However, this is not accurate.
I believe that the glue that is holding the kingdom together is Islam. It is the basis of all the sociocultural elements in our society. Saudis are very protective of their religion, regardless of their level of conservativeness. In many ways, it is what defines us as a nation, especially since it is in these lands that Islam came to existence.
What is the influence of the Internet and social media on Saudi women in particular? How has it changed their social interactions?
The significance of the Internet and social media, as I see it, is in the fact that women are able to voice their own opinions and share their own personal experiences with the world.
Moreover for women, it is not the rather uncomplicated contact with men on social media that is significant; it is the contact with other women around the world who share the same struggles of sexism and oppression and the ways to overcome these challenges.
In Western eyes Saudi Arabia comes across as a very rigid society where it is all about appearances and 'face'. Is there an underground scene in Saudi Arabia where young Saudi men and women party, dance, drink alcohol and have fun together?
It is not 'appearances and face'. As I have mentioned previously, Saudis take Islam and Islamic values very seriously considering the historical and geographical significance. Any society has an 'underground' scene that is created as some form of rebellion.
However, what is more exciting now is the feminist scene, or rather movement, that is by no means underground. Although facing severe criticism, many Saudi feminists are voicing their opinions through social media and social gatherings to raise awareness and promote social justice. However, like feminism around the world, there are different perspectives on feminist thought in Saudi Arabia. There are different feminist activists who take different approaches to feminism in Saudi Arabia. Souad Al-Shammari is part of the Saudi liberal movement, and on the other hand you have a more Islamic feminist perspective like that of Aziza Al-Yousef. There are also activists who do not necessary identify as 'feminist' as they believe it is a word too immersed in Western thought, but nonetheless, are strong activists for women's rights in Saudi Arabia. For example, Dr Samia Al-Amoudi has been a strong advocate for women's health rights in Saudi Arabia.
As a woman: do you prefer living in Saudi Arabia or in the West?
That is a very complicated question. Even though life in Saudi might be challenging for women, I feel a sense of excitement and hope (thanks largely the pro-women political and social changes during the reign of King Abdullah and to the current feminist movement). As a practicing Muslim woman (who is visibly identified as a practicing Muslim woman thanks to my Hijab) life in Europe and the US is very difficult due to the wave of Islamophobia which is not only tolerated but also passive-aggressively encouraged by governments.
As for the challenges for women in Saudi Arabia, I think they differ depending on what each woman would find difficult. For me, I find the idea that an adult, educated woman like myself needs permission from a male guardian for some basic aspects of my life humiliating. I have to say though that my male guardian, my husband, has never objected or even considered to object to anything I would like to do; it is the idea that I officially need his consent that bothers me. This is because I understand that even though I am fortunate enough to not have any problems with my guardian, such is not the case with many Saudi women.
However, to answer your question, at this time of my life, I would prefer to live in Saudi Arabia.
How do you want to contribute personally to the development of the Saudi society and state?
Education!!! I believe in education for women, I believe that education empowers women, and I am very pleased with the great advancement for women's education in Saudi Arabia and I wish to be part of that.
Note: "Aisha" is using an alias out of personal reasons.

EDITOR'S PICK A Saudi prince has women racing