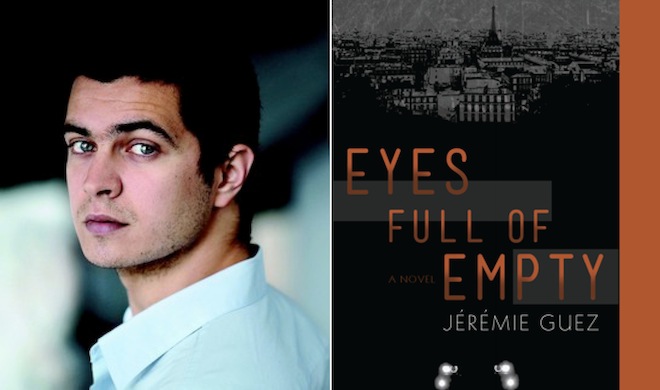 Last updated: 7 October, 2015
Algerian and French crime fiction – crossings and inspirations
'Eyes Full of Empty' ('Du vide plein les yeux') is Jérémie Guez's third crime novel, his first to be translated into English. When Algerian literary critic Nadia Ghanem reads Guez's writing, she can't help but feel that it belongs to both sides of the Mediterranean.
In this novel, Paris and its suburbs set the scene, a cartography for crimes present in the author's first two novels (Paris la nuit and Balancé dans les cordes). Guez's main characters are young, wounded, and they progress through the pages toward an end that seems inescapably violent and dark, in a world exclusively male. Women are noticed by their absence, and when they appear, they are only shadows, silent and unapproachable. Confinement is also a constant in Guez's stories, whether prison, the suburbs, or a fate that was chosen, not predestined.
And in the background, Algeria and the Maghreb are hinted at, with main characters born in France from foreign parents, a reference to origins and backgrounds that Guez nets into his stories to weigh on his main characters in Eyes Full of Empty and in his two previous novels.
It is not the first time that a French author creates a hero with Algeria in mind and through this, participates in the making of Algerian crime literature. French writer Roger Vilatimo, aka Youcef Khader, was one of the most prolific writers of Algerian crime novels in the 70s. His series marked the birth of the genre in Algeria with Mourad Saber, his polyglot hero from the Aures region, a martial art expert who works for Algeria's Security Services and who in La vengeance passe par Gaza heads for Palestine to investigate and break the bones of every Israeli saboteur and murderer he meets. Recently, Antonin Varenne in Le Mur, le Kabyle et le Marin (The Wall, the Kabyle and the Sailor, 2011) also found inspiration in Algeria, and discussed torture, the crude violence of street fights, with the boxing world in parallel as in Guez's novels. Varenne's story is much more developed and complex than those of Guez however. But Jérémie Guez writes noir crimes, hardboiled, in a style whose charm are characters that are, although caricatural, endearing, with investigations whose undercurrents are vengeance and the settling of scores.
Algerian authors also got inspiration from Paris as a location for crimes with fast-paced investigations in slang. Ahmed Gasmia's Ombre 67 (Shadow 67, 2007) follows Karim in a run against death and the machine to find his cousin Rachid, kidnapped by a sect set up like the Assassins of the 11th century, and whose headquarters is located in Paris' suburbs. In 1991, Algerian author Mohamed Benayat had reversed passports and locations also with Fredy la Rafale, a deeply tragic but full of humour noir novel, where Fredy, a young French guy, half righter-of-wrongs, half bandit, and entirely alcoholic, is hired by a young woman to help her investigate and avenge a murder in 1961 Paris.
"And in the background, Algeria and the Maghreb are hinted at…"
But let's go back to Eyes Full of Empty. Idir is spending his 24th birthday in prison with Tarik, his cellmate. Tarik will end up looking after him during his 6-month imprisonment and will remain one of his closest friends once out. Ten years later, Idir, whose mother passed away early on, no longer tries to get on with his father, a doctor and proud Algerian Berber who had tried so hard over the years to raise his son alone. Between his wealthy school friend's lifestyle and his neighbourhood's drug dealing and car thieving mates, his childhood companions, Idir has built a hybrid life post-jail.
He specialises in giving a fright, hitting or beating up people he's never met on behalf of wealthy kids and businessmen who don't want to bloody their knuckles. When his next job calls, the commission turns out to be a proposal slightly different than usual. Idir is asked to find a missing person. Oscar, the missing man's brother, is also the man who had sent Idir to jail 10 years ago. Curiosity bites hard, and Idir can't help but to take on this investigation. He will end up on a very different course than the one he'd set for himself, avenging death and making an unexpected acquaintance pay an old debt.
Guez's novels are a new addition to the noir genre inspired by Algeria, its children or nationals, and Eyes Full of Empty will join the English translations of Amara Lakhous's detective novels Clash of Civilizations Over an Elevator in Piazza Vittorio and Dispute over an Italian Piglet, and of Yasmina Khadra's classic Inspector LLob series (Morituri, Double Blank, Autumn of the Phantoms, and Dead Man's Share). His novels belong to both sides of the Mediterranean. The publication of Eyes Full of Empty will continue this young author's trajectory and lead him and his readers into the sphere of English and American crime fiction.

Eyes Full of Empty by Jérémie Guez, is translated into English by Edward Gauvin and will be published on 10 November 2015 by Unnamed Press.