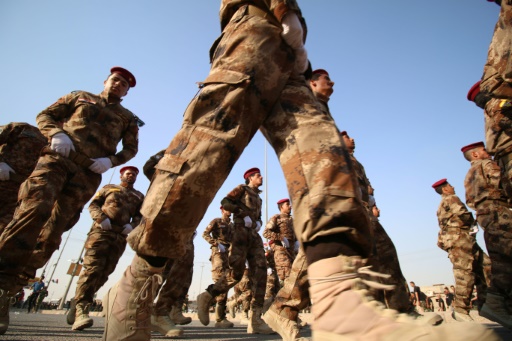 Last updated: 7 October, 2015
Iraq forces retake areas around Ramadi
Iraqi forces have retaken several areas north and west of Ramadi as efforts to close in on the Anbar provincial capital seized by jihadists in May intensify, officials said Wednesday.
An operation involving 2,000 troops backed by air strikes from the US-led coalition led to the recapture of several neighbourhoods from the Islamic State group.
A brigadier general from the Anbar operations command said those included Zankura, Albu Jleib, Al-Adnaniyah and parts of Albu Risha and an area known as Kilometre 5.
"The Iraqi security forces also took control of the main road west of Ramadi and they are now using it to support the forces positioned to liberate Ramadi," Adhal Fahdawi, a member of the provincial council, told AFP.
According to the US-led coalition's daily tally of air strikes in Iraq and Syria, a total of 27 strikes have been conducted in the Ramadi area since the start of October.
"The coalition's air support has played a big part in this progress," Fahdawi said. "If operations continue at this pace, I expect the liberation of Ramadi to be possible by the end of the month."
Ahmed al-Assadi, spokesman for the Hashed al-Shaabi paramilitary organisation also involved in the operation, even predicted it would happen "in the next few days".
Iraqi officials, including Assadi and Prime Minister Haider al-Abadi, had said immediately after IS fighters blitzed the security forces out of Ramadi in mid-May that a reconquest would be a matter of days.
The Iraqi forces' advance has been sluggish however, sparking mounting criticism of the US-supported effort to train and equip Iraqi fighters in Anbar.
Colonel Steve Warren, the Baghdad-based spokesman for the coalition, admitted last week that the Ramadi operation had essentially been on "pause" for some time.
He said that the sheer amount of improvised explosive devices laid by IS around Ramadi had required extra training and added that US advisers on the ground were now encouraging Iraqi generals to complete the task of retaking the city.
"We are all urging them to begin with the utmost haste to finish this fight in Ramadi," he said. "It's a very important fight and it needs to be finished."