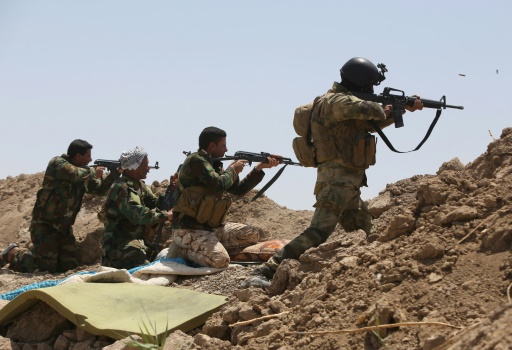 Last updated: 13 October, 2015
US to Iraq: Time for 'final push' into Ramadi
The US military is encouraging Iraqi forces to make a final push to recapture Ramadi from Islamic State jihadists who seized the Anbar provincial capital in May, a spokesman said Tuesday.
Colonel Steve Warren, the Baghdad-based spokesman for the US-led coalition that has been bombing IS in Syria and Iraq, told journalists that Iraqi security forces were well placed to recapture the city, which is located about 70 miles (110 kilometers) west of Baghdad.
"Iraqi ground forces recently trained and equipped by the coalition have been deployed around Ramadi in time for the decisive phase of this operation," Warren told journalists in a video briefing at the Pentagon.
"We now believe that battlefield conditions are set for the ISF (Iraqi security forces) to push into the city."
Warren two weeks ago conceded that the fight to reclaim the city had been on an "operational pause" for the summer, in part because of record high temperatures and the strength of IS defenses, which include minefields.
But in recent days, Iraqi F-16 jets and coalition planes have provided support to security forces on the ground.
"These strikes have killed hundreds of fighters, destroyed mortar positions, vehicle-bourne IEDs (Improvised Explosive Devices), explosive facilities, heavy machine guns and even sniper positions," Warren said.
"Aided by our strikes, Iraqi ground forces have advanced 15 kilometers over the last seven days and we have seen some encouraging developments."
Last week, Iraqi officials said local forces had retaken several areas north and west of Ramadi.
Warren estimated between 600 and 1,000 IS fighters remain in Ramadi and suggested the city might come to be viewed as a high-water mark for the group.
The jihadists "have not gained an inch of territory in Iraq since Ramadi," he said.
"All they have done is hunker down and watch while their friends get killed from the air or from the ground. So I think we are having an impact."