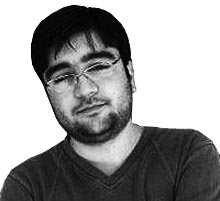 Last updated: 30 October, 2015
"Zarif became a national champion; some reformist newspapers even compared him to Mosaddegh"
Iranian journalist and commentator Kourosh Ziabari explains why hardliners are afraid of Javad Zarif's popularity.
To millions of Iranians worn out by almost a decade of economic sanctions imposed on them over the country's controversial nuclear program, Mohammad Javad Zarif appears like a treasure; he was basically unearthed by Hassan Rouhani, the pragmatist, moderate cleric and former diplomat who won the June 14, 2013 presidential elections owing to the promise he had made to the nation that he would put an end to the nuclear standoff and relieve the economic pressures the people were suffering.
Upon his election, it was initially Rouhani's plan to appoint either Mahmoud Vaezi or Sadegh Kharrazi as the Minister of Foreign Affairs. The former is a U.S. and Poland-educated electrical engineer and political scientist who had worked closely with Rouhani while he was the President of Expediency Council's Center for Strategic Research, and the latter is one of Iran's top diplomats who has served in various positions, most notably as ambassador to France from 2002 to 2006. However, Rouhani's final choice for the Foreign Ministry turned out to be the plus point and anchor of his cabinet, and one of the most popular politicians Iran has ever seen in its contemporary history. Mohammad Javad Zarif, a university professor, political scientist and indubitably a social media connoisseur whose tweets get hundreds of retweets every time he says something online, is the man whom many Iranians talk of proudly and laud as a hero who rescued the country from economic and political depression.
Following his nomination, hullabaloo erupted in Iran's parliament (Majlis) over Zarif's American ties, his long years of residence in the United States and accusations that he has held a dual Iranian-American citizenship.
In his address to the parliament to defend his plans and records on April 14, 2013 – the day half of Rouhani's ministerial nominees lined up to deliver their customary speeches to get a vote of confidence from the MPs – Zarif made riveting and thought-provoking remarks. He lamented that Mahmoud Ahmadinejad kept him confined to his apartment when he was still prepared to serve his country – as he was ousted from Iran's permanent mission to the United Nations in New York. He was not even tolerated at the School of International Relations in Tehran, where he was teaching the textbooks he had authored himself. He was cast out of the school and former students began teaching his textbooks as new instructors. It was one of the points which he deplored the most; as an academician who had received invitations from the universities worldwide to join their board of academic staff, proposals he rejected altogether so that he could find new chances of staying and working in his home country.

Javad Zarif was the Permanent Representative of Iran to the United Nations from 2002 until July 2007 when Ahmadinejad removed him from his post less than two years after being elected president. However, he had been working with Iran's mission to New York since 1982, the same year he graduated from San Francisco State University with an MA in international relations. Having lived in the United States since he was 17, Zarif developed a remarkable English fluency and made many contacts in the political and diplomatic circles of the United States, and the Iranian mission to New York, seeking to absorb young interns and junior diplomats with revolutionary mindset – Iranians had just dethroned the U.S.-backed monarch Mohammad Reza Pahlavi in their popular uprising in 1979 and installed an Islamic Republic in Tehran – would graciously welcome a recent International Relations graduate who spoke English as proficiently as his mother tongue.
The young Zarif made important contributions to the undertakings of Iran's representative office in New York. He was one of the main architects of the UNSC resolution 598 that ended the 8-year Iraqi offensive on Iran and resulted in a ceasefire between Iran and Iraq following the war that started on September 22, 1980 and claimed thousands of innocent lives.
However, Zarif told the parliament on the day of hearing that following his removal from the position at the UN, he immediately returned to Iran, and never thought of leaving the country for a single moment. A University of Denver's School of International Studies alumnus, Zarif has reportedly been described by the former U.S. Secretary of State Henry Kissinger as a "respectful enemy" in an autograph the veteran American diplomat left on his 1994 book "Diplomacy". Yet, certain Iranian MPs grumbled that an official from a "hostile" country had termed Iran's Foreign-Minister-to-be "respectful" and so he was not adequately foe-hated to assume the ministerial post… Somehow overlooking the "enemy" part.
On September 26, 2013, Javad Zarif became the first Iranian politician to officially sit at the negotiation table with an incumbent American government official after the Islamic Revolution 36 years ago when he met the U.S. Secretary of State John Kerry on the sidelines of the 68th UN General Assembly in New York. The meeting marked the highest-ranking public encounter between the officials of the two countries since 1979.
Subsequent to this rare reunion, in which Zarif and Kerry agreed to resume the negotiations over Iran's nuclear program – halted under President Ahmadinejad – the two foreign ministers conferred on several occasions in Vienna, Geneva, New York and Muscat and developed an intimate personal relationship, which was quite unprecedented for two Iranian and American politicians and aroused the envy of Zarif's many opponents in Iran, and even abroad.

Iran's diligent foreign minister worked literally day and night for two years to seal a robust and viable agreement with the six world powers: an agreement that would assure the international community that Iran's nuclear program will remain entirely peaceful, and in return, salvage Iran from the economic sanctions that were not only devastating its economy, but tormenting its people on a daily basis. Even at the worst moments of disappointment, when every circumstance would portend the total collapse of the talks, Zarif continued haggling and proposing inventive solutions, and ultimately the negotiations ended in Iran and the P5+1 signing the historic Joint Comprehensive Plan of Action on July 14, termed by many nuclear experts and diplomats as a moment of triumph for global nuclear non-proliferation and a victory of peace and diplomacy over war and conflict.
The U.S. Vice-President Joseph Biden, who had met Zarif in his Senate days, once told the noted American journalist and New Yorker contributor Robin Wright that he believed the Iranian diplomat is "a tough advocate, but he's also pragmatic, not dogmatic."
As Wright revealed, Javad Zarif, as Iran's then-ambassador to the UN, was granted a rare exemption from the 25-mile travel limit on Iranian diplomats in New York by the Bush government to travel to Washington D.C. and pay a courtesy call on the Capitol Hill and deliver a farewell speech to the Congressmen as he was leaving New York following the involuntary end of his mandate as Iran's UN envoy.
According to a State Department official, in about 2.5 years as the Secretary of State, John Kerry has spent more time one-on-one with Javad Zarif than with any other foreign minister. In January 2015, amidst the intensive, tough talks between the Iranian and American delegations over the nuclear dossier in Geneva, and when there was still a great deal of suspicion and uncertainty floating in the air on whether a nuclear deal would be possible at all, John Kerry invited Zarif for a stroll in downtown Geneva along the Rhone River so that the austere atmosphere of the talks could turn into a more friendly, relaxed one. Zarif accepted, and the two diplomats walked together for 15 minutes while drawing a large cohort of photographers and journalists, and of course security guards behind them. The releasing of the photos showing Javad Zarif and John Kerry sauntering around – and sometimes laughing together – irked the hardliners in Iran and was enough to compel the arch-conservatives in Majlis to summon Zarif to give explanations on the reasons he hung out with the "evil" so casually.
Through the course of negotiations between Iran and the six world powers (Britain, China, France, Germany, Russia and the United States), Javad Zarif turned into a national champion for Iranians who for years had missed such a political protagonist. Thanks to his charming smiles – a rarity for Iranian diplomats usually known for their sternness, his persistence on making logical arguments, his indefatigability – sometimes, the reporters covering the nuclear talks would air live interviews with him from Vienna or Geneva at three or four o'clock in the morning. Zarif soon became a national icon, to the extent that some pro-reform newspapers compared him to Mohammad Mosaddegh, the former Prime Minister of Iran who nationalized Iran's oil industry and was deposed through a foreign-engineered coup d'état in 1953. Posthumously, Mosaddegh is praised as an idol of Iran's democratic movement and national resistance against the foreign powers.
Javad Zarif's dedication to his people is lauded by friends and foes alike. The Democratic Senator Dianne Feinstein extolled him as "thoughtful" and "real."
"He doesn't produce incendiary sentences (…) He wants to help his people and lead them in a different direction. That's important to me in my measurement of a person," she once told Robin Wright.
Now, as Iran and E3/EU+3 have reached a final solution over the nuclear standoff, and after the legislative bodies in the United States and Iran – both occupied by hardliners – gave a reluctant nod of acceptance to the nuclear deal under the pressure of the public, Zarif's popularity is on a dramatic rise. Facebook and Twitter are awash with comments and messages by Iranian users praising Zarif and his diplomatic finesse. Iranian citizens have come to recognize the Foreign Minister as the man who saved their country from the possibility of a military confrontation with the United States and tossed the sanctions into the dustbin of history. This is something the hawks in Tehran are not convenient about. That's why they're resorting to new techniques to demoralize the country's top diplomat.
It was reported that the U.S. President Barack Obama and Iran's FM Javad Zarif accidentally stumbled upon each other on the sidelines of this year's UN General Assembly in New York on September 28, shook hands and exchanged a few words of greeting – an encounter which lasted less than one minute according to a U.S. Department of State spokesperson. Yet it was enough for Zarif's innumerable opponents, especially in Majlis, to unleash a series of verbal attacks on him and even threaten him with impeachment over his leniency with the "Great Satan". One MP from the city of Borujerd openly insulted Zarif in a parliamentary session with derogatory words, before his microphone was turned off by the deputy-speaker of the parliament who was presiding over the session and warned him to beware of his language. A few days later, a hardline MP threatened Zarif and the head of Atomic Energy Organization of Iran Ali Akbar Salehi that he will execute and bury them in cements at the heart of the Arak heavy-water nuclear reactor! Their rationale was that Zarif and his team of diplomatic and nuclear experts made excessive concessions to the United States during the nuclear talks, and thus merited death.
Regardless of what the peace-haters say, even though they have the loudest voice and possess countless megaphones to promote enmity and hatred, Javad Zarif has done his job of making peace brilliantly. He will be remembered today by the young Iranians whose aspirations were crushed under the burden of sanctions and hazy, tarnished relations with the community of nations, and the future generations who will reap the rewards of his hard work and artistic diplomacy and enjoy more dignified lives. Besides, the international community will praise him for his efforts to preclude war and establish peace. He was able to clinch a deal which is literally unparalleled in the contemporary history of Iran. Now, this goal has been achieved, and it's less likely that the U.S. and its partners fallaciously treat Iran as a pariah state. An imminent normalization of trade ties with Europe and a thaw in the diplomatic relations with the U.S. herald a new beginning in Iran's foreign policy. And although he was not awarded the Nobel Peace Prize 2015, for which he was a top contender, Iran's Foreign Minister Javad Zarif deserves respect and admiration, even if he is simply a "respectful enemy."

READ ALSO One comedy show challenges norms on Iranian state TV with "culture of laughing"