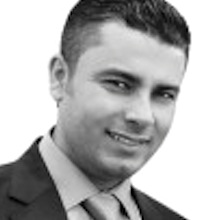 Last updated: 16 November, 2015
"National reconciliation must be put into practice one day, so why not start from Shangal?"
Aras Ahmed Mhamad lists five pragmatic steps towards forming a coalition partnership and creating unity in Shangal.
After 24 hours of intense fighting from dawn on Thursday, November 12, 2015, Kurdish forces, with the support of US-led coalition airpower, liberated Shangal (Sinjar), home to the Kurdish speaking Yazidi minority, in northwestern Iraq. The occupation of Shingal by the Islamic State of Iraq and Sham (ISIL/ISIS/IS) on August 3, 2014 forced thousands of Yazidis to flee their homes to seek refuge in Kurdistan, while thousands of them were trapped on Mountain Shangal for days until the Syrian Kurdish forces affiliated with Kurdistan Workers' Party (PKK) rescued them.
IS barbarism, sexual enslavement and massacre of the Yazidis was apparently the key factors for western intervention and bombardment of the IS military base and command facilities. Some 7,500 Kurdish peshmerga from west and east of Mountain Shangal and around 2,000 Kurdish fighters from Syrian Kurdistan from the north participated in "Operation Free Shangal". They launched a ground assault and successfully liberated the city. This is the second huge blow to the IS militants at the hands of the Kurds as they were also defeated by the Kurds in Kobane in January 2015.
The scattered Yazidi youth have been trained by both Barzani's Kurdistan Democratic Party (KDP) and PKK's affiliated groups in Rojava. Many Kurdish fighters took part in the offensive but KDP's Zeravani and PKKs' guerrillas and its military wings from Rojava have divided Yazidi support on who should run the affairs of the city. It was reported by numerous media sources that the KPD forces fled the city when IS attacked, allowing the terrorists to inflict horror on Yazidi males and treat the women and their possessions as spoils of war.
Soon after the recapture of Shangal where the Yazidi Shangal Defense (YBŞ) took part, PKK guerrillas and its affiliated groups removed IS flags and replaced them with their own, having Abdullah Ocalan's PKKs' jailed leader and founder, appear on them. They also state that Barzani went through three YBŞ checkpoints to make his statement in Shangal. In his statement, Barzani said that the only force that took part in the liberation of Shangal was "peshmerga". Both moves added fuel to the fire of internal division among the Kurdish political parties who also played an important role in the process.
Patriotic Union of Kurdistan's media, the Gorran Movement's reporters and private NRT TV crew have expressed their concerns about KPD restricting and preventing their reporters from entering Shangal to cover the developments on the ground. On October 10, 2015, the KDP forces captured NRT and KNN journalists and their offices shut down in the areas that are controlled by the KDP. If the Kurdish forces and political leaders do not agree to administrate Shangal mutually, based on respect and understanding but instead resort to political and media outbidding, the worst will happen in the near future, which is internal division and civil war.
The Kurds are the only people who could defeat IS twice. The People's Protection Units or People's Defense Units (Kurdish: Yekîneyên Parastina Gel) with the support of the western airplanes, peshmerga forces and aids from some elements of Free Syrian Army (FSA) drove out IS from Kobane on January 26, 2015. Kobane was under the control of IS for around five months; likewise, IS besieged Shangal for around fifteen months. The recapture of these two strategic places will detach Mosul from Raqqa and therefore dislodge IS funds and supply routes from Syria to Iraq.
In order to learn from past mistakes and avoid brother-killings, "Brakuzhi", the political parties need to form the administration of Shangal based on coalition partnership.
Isolating any party would eventually face a backlash from its members. Here are a few pragmatic steps towards forming a coalition partnership and internal administration of Shangal:
First: National reconciliation must be put into practice one day, so why not start from Shangal? The defeat of IS is a symbolic gesture for all the Kurds worldwide as Kurds from other parts have taken part in the process of humiliating and crushing the barbarism of IS. The most impactful step for achieving national reconciliation is to sit around a table, start negotiating and silence the weapons in order not to regret this great achievement. This will also be a grand step for cutting off any kind of external intervention.
Second: Kurds can put an end to their political differences and disagreement of oil and natural resources and work shoulder to shoulder on reconstructing the city. This way we will prove to the international community that their support did not go in vain.
Third: Political parties need to channel their shadow media positively and stop their biased coverage. Acting responsibly during times of war and sensitive situations will add to the credibility of the achievement of all the Kurdish forces that were on the ground. It will shut down any attempts of accusing the Kurds of being terrorists.
Fourth: Shangal is the best opportunity for establishing a nationalized Kurdish army where all the components of Kurdish society can feel that they are part of a well-organized and institutionalized Kurdish troop.
Fifth: Should any of the Kurdish political parties go for a partnership with any outside force, there will be no guarantee of keeping the city safe from future attacks. The Kurds themselves need to reach a middle ground in order for the civilians and all the Kurdish fighters to win the war against IS and retaliate any threats in the future.
IS will resort to retribution and media propaganda in order to get some instant satisfaction as their defeat has mortified their cruelty. Kurdish media should act reliably and not propagate any kind of IS video or image that would affect the morale of the Kurdish forces. Meanwhile, allowing the citizens of the city to decide for themselves is a key factor for the stability of the Kurdistan region and prevents the city from descending into violence and chaos. Should the Kurds want to promote democracy, preserve cultural diversity, protect distinct ethnic groups, and uphold social justice, win the war and ultimately degrade IS in other areas, they need to unite their efforts as coordination and solidarity among Kurds have proved to be stronger and more effective in the face of threats and war.