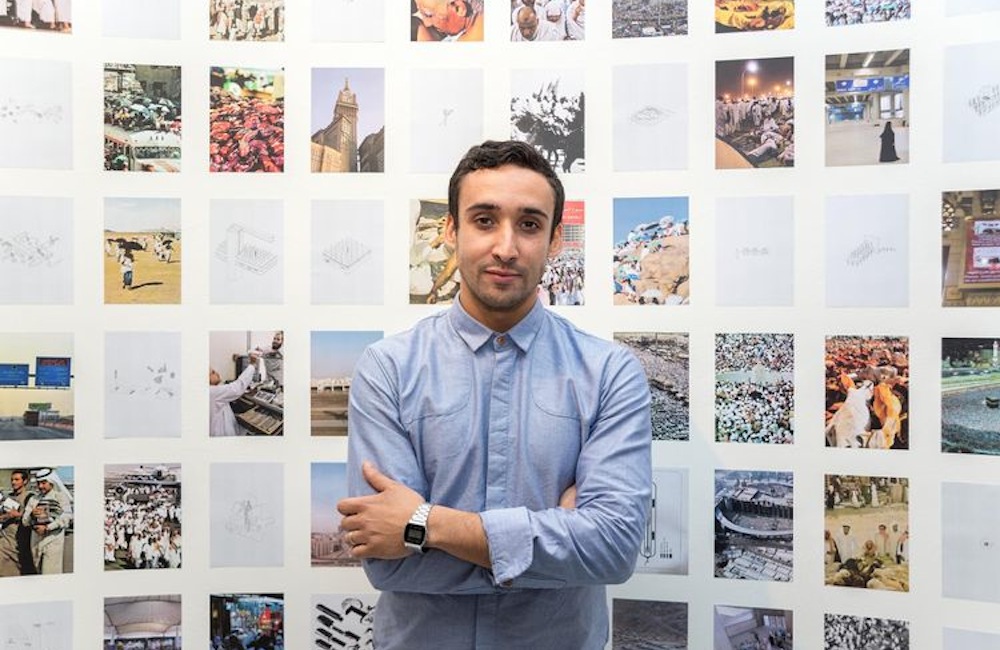 Last updated: 20 November, 2015
ISIS killed the Muslim architect who could've avoided the next Mecca stampede
"All I know is that I am sad, sad at the sight of the portraying of Amine and Moaz as victims of ISIS, not as examples of all those mainstream Muslims fighting ISIS on a daily basis, refusing the barbarism and the lampooning of their religion," writes Idriss Benarafa in this powerful letter on the death of his childhood friend, Amine Ibnoulmoubarak.
Remember the chaotic stampede that befell Mecca a few months ago during the Muslim pilgrimage of Hajj, leaving a death toll of 2,177 people? The good news is that back in 2012, a young Muslim studying at the Paris-Malaquais Architecture School was already devising a meticulous solution to avoid similar catastrophes. Inspired by his faith, he worked in his graduate thesis on an architectural design aiming at securing a "Safe Pilgrimage to Mecca." The young Muslim's hard work was so inspiring and thorough that he was hired as a teacher at the school upon graduation.
That was good news for all Muslims who thrive for a safe pilgrimage to Mecca, and by extension to all humans who thrive for safe and secure gatherings around the world, no matter their belief, no matter their ethnicity. The bad news is that the young Muslim architect is dead; he was killed in the Paris carnage, less than two weeks after presenting another architectural design on "Mecca's Landscape During Pilgrimage Season" in the New South exhibition, located in the well-known Les Beaux-Arts in Paris. The 28-year-old, Amine Ibnolmobarak, had just got married last summer in his hometown of Rabat, Morocco.
When remembering his death, one of his former professors, M. Jean Attali issued a heartfelt remembrance in Amine's honor, referring to him as a "young Muslim intellectual, who blew us away with the amazing graduate study he conducted on the pilgrimage to Mecca: a testimony of his faith, his sense in working on great popular gatherings, and a testimony of his intelligence and accomplishment."

Old photo featuring the swimming team of Le Club De La Justice in Rabat. Amine is the boy raising his hand in the left side of the picture, wearing a red T-shirt.
As a native of the same Rabat neighborhood where Amine opened his eyes and grew up, I remember his youthful face vividly. I remember him joining our football practice in Le Club De La Justice Sport Complex in Rabat, whenever finishing his swimming practices, a sport he excelled at, participating in a myriad of competitions on the national and international level, representing his country, Morocco. I remember Amine's charismatic figure and attractive facial features; he was the kind of person you'll be inclined to like from first sight. Later on I grew up to learn that the Ibnoulmoubarak family (pronounced most of the time as Benmbarek) was one of those well-known Moorish families forced to flee from Spain to Morocco in the 15th century, in the wake of the Reconquista. I thought Amine was the living proof and a product of the beautiful Arabic-Spanish-Berber métissage. I thought how beautiful humanity can be when they exchange in peace, love and collaboration. But that was before the tragic ordeal.

Amine and Maya walked down the aisle last summer in Rabat. Maya was shot three times and is currently hospitalized.
As I'm grieving Amine's death, it reminds me of another young Muslim who sacrificed his life for the sake of fighting terrorists, refusing to let them hijack his religion; the 26-year-old Jordanian pilot Moaz al-Kasasbeh who was set ablaze alive by ISIS. He refused to see his religion lampooned, dirtied. Moaz understood what Islam stands for, of course he memorized the Quran, verse by verse and just a few days before his tragic death, he took a selfie in Mecca, right in front of the Kaaba, one of Islam's holiest shrines.

Moaz perfomed the Omara rituals a few days before his tragic death.
It seems these days Mecca is bewitched. It seems that anyone associated with Mecca is thrown a death spell; from Moaz earlier this year to the 2,177 Hajj pilgrims two months ago, and now to Amine last Friday. Or is it maybe Mecca's way of grieving ISIS lampooning Islam? That I don't know.
All I know is that I am sad, sad at the sight of the portraying of Amine and Moaz as victims of ISIS, not as examples of all those mainstream Muslims fighting ISIS on a daily basis, refusing the barbarism and the lampooning of their religion.
Today, let's not forget the efforts and sacrifices of Amine and Moaz. Let's not mistake the enemy during these tough times when emotions get the upper hand on rationality, during these difficult times when many fail to see straight.
I know Paris is grieving. I know the world is grieving, but remember that Muslims are grieving too. They are grieving the loss of humanity, they are grieving the hijacking of their religion, and they are grieving the growing bias and hate discourse aimed at them.
Please do not mistake the enemy.