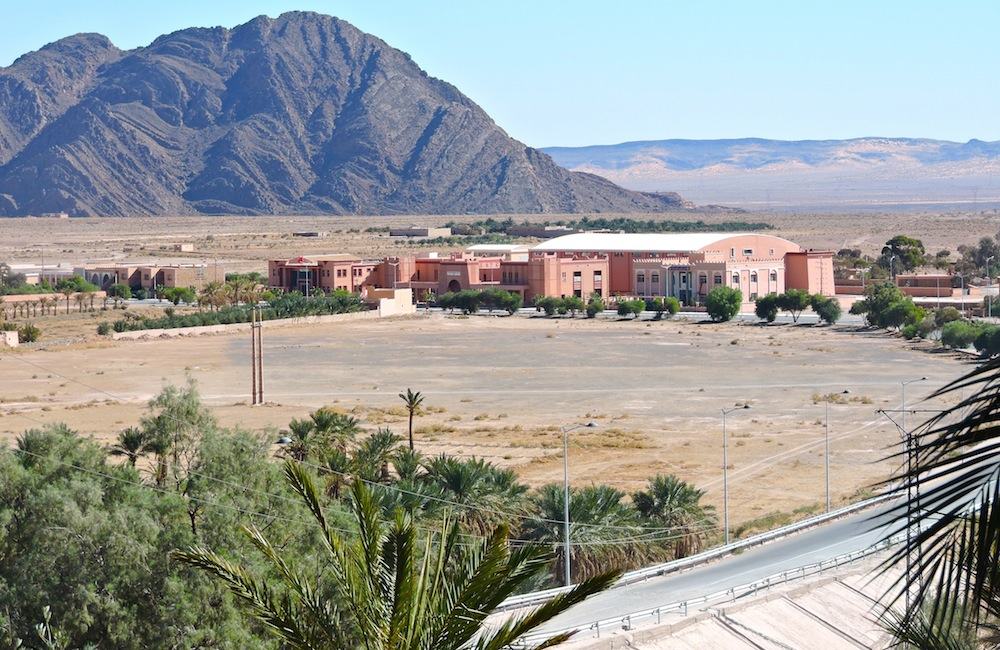 Last updated: 1 December, 2015
Figuig: A troubled home for Morocco's rarest date
Could one fruit serve as the saving socioeconomic grace for this ancient village at the crossroads of the trans Saharan trade routes?
The streets of Figuig are quiet and empty. Dusty rose-colored walls stand as dividing sentinels along the roadways of this eastern Moroccan date oasis, empty during this midweek afternoon. There are few roads to Figuig, and they are lonely at this time of year, save for CTM local transport buses, occasional tourist groups, bleached billboards advertising the village's date palm plantations and military vehicles headed for the closed border with Algeria. Police stationed here know each villager, and pay close attention to strangers. The Middle Atlas mountains insulate and dwarf the village on three sides, while date palm plantations spread far, making up over half of the village's land area.
According to the municipal government, Figuig is plagued by emigration, as the population, officially estimated at anywhere between 11,000 and 12,500 people, shrinks due to lack of employment opportunities. Though nature tourism and the International Festival of Oasis Cultures attract roughly 1,600 tourists a year, many families that once resided here have now moved to neighboring cities like Oujda, and come back only for the holidays, if at all. Fifty-four percent of the village's 2,443 houses are in dire need of renovation. Agriculture, the village's main industry, is threatened by desertification, drought and disease.
Figuig, however, is not yet in danger of becoming a ghost town. This ancient village, located at the crossroads of trans Saharan trade routes dating back over half a millennium, is known for a special variety of date: the Aziza, a yellow-green fruit that can be stored for two years, contains less sugar and water than other date varieties and is rare enough that it can be sold for 120 dirhams a kilo, a price roughly six times higher than that of any other date variety.
Aziza may serve as the saving socioeconomic grace for this village: if the municipal government's plan to expand Aziza production can be implemented, it can create scores of jobs and invest in important infrastructure, like expansion of medical services. Healthcare here is currently limited to two local doctors, and roughly 30 percent of women receive pre- and postnatal care, compared to the government-cited national averages of 92.4 percent and 87 percent.
Aziza is rare for a reason, and the road to expansion will be difficult: according to regional official Jamal Mimouni, Aziza saplings are delicate, and the survival rate for those grown traditionally is close to 0 percent. Offshoots of mature trees have a 10 to 20 percent chance, but take 3-4 years to mature and another four years after transplant to bear fruit.
Mimouni says that the government is therefore looking to a public lab in the southern city of Errachidia, which creates date sapling from heart of palm fragments, giving them vitamins to increase resistance and water absorption, and sheltering them in a sterile environment for two years. This method, he says, ensures that 100 percent of non-Aziza saplings survive, though he is not sure it will work for Aziza. The government, nevertheless, hopes to create a similar lab in Figuig. The cost is high for this experiment: municipal officials call for $600,000 to achieve this goal. But potential benefits are great, due to the high price of Aziza dates, and private labs have been profitable in Meknes, Mohammedia, Marrakesh and Agadir.
For now, local cooperatives focus most of their energy on storing, packaging and exporting dates to other parts of Morocco. One such cooperative, run by the local branch of the Ministry of Agriculture, provides an example for the infrastructure Figuig will need if it expands production: this cooperative, made up of 433 of the village's 2,000 date farmers, provides farmers with storage space, for a small fee, and processes 20 tons of Figuig's 3,500-ton date crop per year. In a place where only 17 percent of association and cooperative leadership is female, this cooperative employs 30 women, depending on the season, and also provides processing equipment to local farmers for olive oil and cow milk.
The cooperative pays 17 dirhams per kilogram for common dates and 90 dirhams per kilogram for Aziza, selling these, in turn, for 120 dirhams to cover its own costs. Costs are especially high for electricity, which the head of the cooperative says could be effectively cut through solar power. This cut, he says, would allow him to employ ten additional people.
Given the delicacy of Aziza saplings, the growth of knowledge capacity is as important as models for physical capacity here. Roughly 30 people in Figuig know how to cultivate Aziza without using a lab. One
of them is Mohamed Mansouri, a farmer from Berkane who works at a private cooperative just outside of Figuig. One of two people at the cooperative who knows how to cultivate Aziza, he works two months at a time, taking 10 days off to see his wife and nine children in his home city. While it is difficult to be away from his kids, he says the bread his job provides is important to their survival.
The cooperative where Mansouri works possesses 100 hectares of land, but uses only 20. Though production focuses mainly on dates, almonds and olives also grow here, he has been able to introduce fig trees.
Despite the profitability of Aziza, many other farmers in Figuig also hope to diversify their crops through almond, olive, pomegranate and fig plantations, which are much less profitable than Aziza but will aid in community self-sufficiency. In Figuig, though, it makes economic sense that 80 percent of agricultural produce is date, and municipal officials agree that the future of Figuig rests with dates, and not almonds.


Ida Sophie Winter is a student at the University of Missouri and project manager with the High Atlas Foundation. She spent 2014-2015 in Morocco as a Critical Languages and Boren scholar.