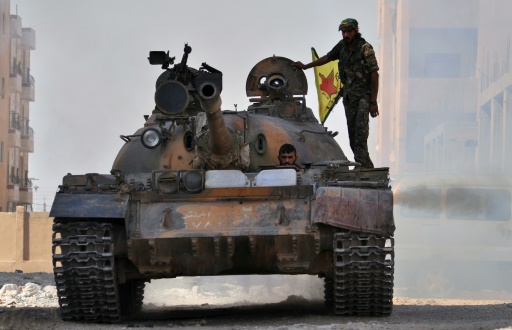 Last updated: 7 December, 2015
Kurds plan Syria summit after exclusion from Saudi meet
Syrian Kurdish factions will host a two-day conference from Tuesday on a vision for Syria's future, after being excluded from a meeting of opposition groups in Saudi Arabia.
Opposition and Kurdish sources said the conference would be held in northeast Syria and include Kurds, the Assyrian Democratic Party, Arab figures and religious leaders from various parts of Syria.
Kurdish conference organiser Sihanuk Dibo said political and military forces would meet in Al-Malikiyeh, a town in Syria's northeastern Hasakeh province.
He said the overlap with the Riyadh meeting which is expected to open Wednesday was "unintentional", but it comes after Kurdish political figures protested their exclusion from the Saudi-hosted talks.
The Saudi foreign ministry has said that all ethnic groups were invited to the Riyadh talks, which are aimed at hashing out a common platform ahead of potential negotiations with the Syrian regime.
But a spokesman for Syria's leading Kurdish political faction, the Democratic Union Party (PYD), confirmed on Monday that they still had received no invitation to the summit.
Dibo said the Hasakeh talks would discuss Syria's future political system — which "must be decentralised" — as well as "a constitutional and just solution for the national rights of the Kurdish people".
Abdel Salam Ahmad, another conference organiser, said the meeting would aim to "develop a single political vision and a political body capable of representing the Syrian people".
The National Coordination Committee for Democratic Change, a domestic opposition group that will also be present at the Riyadh talks, will also attend, its spokesman Munzer Khaddam said.
And Haytham Manna, co-founder of the opposition coalition Cairo Conference, told AFP that members of his grouping had withdrawn from the Riyadh talks and would instead attend those in Hasakeh.
Manna said Saudi Arabia had invited Ahrar al-Sham, an Islamist group allied with Al-Qaeda's Syria affiliate, and was sidelining moderate opposition factions.
The PYD's armed branch, the People's Protection Units (YPG), are also not invited to the Saudi meeting.
Also excluded is the new Syrian Democratic Forces alliance, which groups the YPG with smaller Arab and Christian forces that are fighting the Islamic State group with US support.
The YPG is considered the most effective group fighting IS in Syria, but key opposition backer Turkey deems it a branch of the Kurdistan Workers Party, which it designates a "terrorist" organisation.
The PYD has dismissed the Riyadh talks as "unfair… because it does not represent the full makeup of the Syrian people".
"We are not concerned with the output from the Riyadh conference and we will act like it never happened. No one, whoever they may be, can impose on us any decision in which we did not take part," it said.