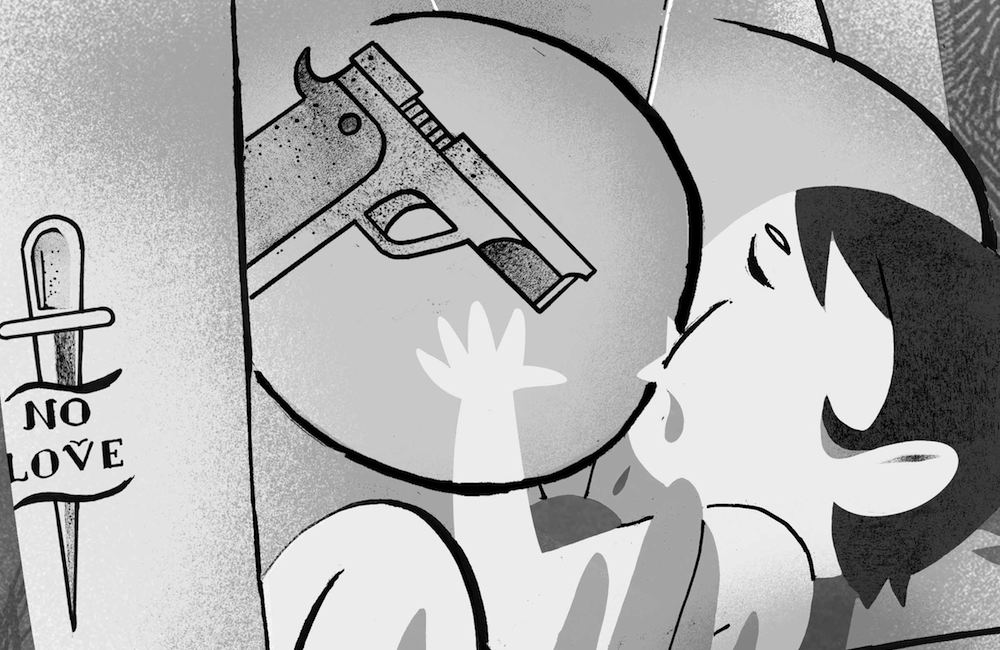 Last updated: 2 January, 2016
In Tunis, a new home for comics
The Arab comics sector is (re)establishing itself. We met Othman Selmi to learn more.
When it comes to Arab comics, Tunisian graphic designer and comics artist Othman Selmi (born in 1977) is an invaluable guide, with his home-studio being a carnival for urban cultural production enthusiasts. Among French and Arabic books on literature and movies, I see collections of old comics from the Arab world, filling the shelves of a large bookcase covering an entire wall. This is where you find the first issues of Majid, a magazine for children that was established in 1979 in Abu Dhabi and still enjoys circulation in the Arab world. Plus stunning glimpses into the rich imaginative life of the Egyptian cartoonist and visual designer Mohieddine Ellabbad and of the Syrian political cartoonist Ali Ferzat. I also notice stories from Tunisia by Moncef Elkateb or the style of Chedly Belkamsa when drawing in the popular children magazine Qaws Quzah (Rainbow), the first founded in Tunisia in 1984 by a private editor.
Holding a degree from the Institut Supérieur des Beaux Arts in Tunis, Othman Selmi has been enjoying some popularity abroad for his editorial illustrations, and was asked by the Italian weekly Internazionale to recount the Tunisian spring in a series of cartoline (literally postcards) using the comics medium.
"In the past, the comic was a popular art in the Arab world, even if it was imported from Europe or the USA. But years of oppression have been harmful to our culture. Many of the publishing houses closed down while books and newspapers were banned from being sold," Selmi says in an interview when I meet him in Tunis. He believes that "having to face a very present censorship, comics as other literary genres have been prevented from entirely expressing themselves."
COMICS AND TUNISIA
In the last year though, Selmi has been witnessing how the Arab comics sector is (re)establishing itself. Depending on the context, the comics art was born, galvanized or invigorated by the protest movements of 2011. Before, it generally attracted a younger audience, but since the mid 2000s and especially after 2011, graphic novels and comics magazines for adults (speaking about sociopolitical issues concerning adults) have emerged in the Arab world and gained a wider readership and attention. When I meet Selmi in Tunis he gives me copies of comics magazines from Morocco (Skefkef), Tunisia (Lab619 and Kousksy Bilaban) and Egypt (Tok Tok). I also receive a copy of a Lebanon-based annual trilingual almanac devoted to the ninth art (a term for comics strips), Samandal, founded back in 2007.

Photo credit: Shefkef
Selmi travelled to Casablanca in February for a workshop with the team of Skefkef, which is named after a typical Moroccan sandwich (made of mysterious ingredients). The project aims to explore the Moroccan social and cultural dimensions through drawings and texts that move between the serious and the satirical. Then, in September, he went to Egypt to join the jury of Cairo Comix, a new festival dedicated to the ninth art which would like to connect comics artists and illustrators from the Arab and other regions.
So, today can comics be called the contemporary literature? "The comic is no longer a simplistic and decorative art. It continues to explore a different narrative and visual paths through graphics and more complex storytelling approaches that only this medium can offer," Selmi says. "A great example is Chris Ware's graphic novel 'Jimmy Corrigan, the Smartest Kid on Earth' which I consider one of the best books in the world for its daring visual and narrative. Taiyou Matsumoto and his fabulous Tekkon Kinkurito, David Mazzucchelli and his humongous Asterios Polyp are further examples.

Cover of Tok Tok magazine (Egypt)
It was in 1966 that comics first appeared in Tunisia in a children's magazine: Irfane. It was entirely in Arabic, according to an article on Africacultures which Selmi gave me. The journal was published by the Tunisian federation of youth organizations, a state dependent institution. Then, in the 70s, 80s and 90s a number of original albums, children magazines and newspaper comics became more popular. Also, new festivals celebrating comics were launched such as the Festival of Tazarka founded in 1997, the oldest of its kind in Africa. In 2000, the very active Bouhaouala Habib organised the 'Festival méditerranéen de BD et de l'image de Tunis' (the Mediterranean Festival of Comics and Images of Tunis) with an exhibition of original artworks by the Italian comics artist Hugo Pratt.
"In Tunisia, Franco-Belgian comics still enjoy popularity, especially within the elite," Selmi says. But then he invites me to attend, on the evening of the same day, the book signing of the newest in terms of Tunisian comics: Lab619. It is a magazine for young adults that every three months publishes black-and-white comics in Arabic and French. The event takes place in a new private space run by the Tunisian photographer Ghozlani Wassim and Olfa Feki: La Maison de l'Image (The House of Images). There, I will meet Noha Habib, just awarded at Cairo Comix for her work in Lab619. In the last issue of the magazine, her comic opens up to a current and sensitive question in the Tunisian society: masculinity and the relationship between a teenager, with a different sexual orientation, and his parents.

Dumb decisions, poster for Boktor magazine
Sometimes Selmi's comments are pervaded by a pessimistic sense of disbelief in the future, even if the object of our conversation is (merely) comics: "Comics in Tunisia and in the Arab world are today a fairly elitist and minor art. Foreign books are very expensive for Tunisians and the Tunisian current production is quite limited and suffering from a poor distribution."
Over the last 25 years the public has changed. Selmi believes that "the new generation is more connected to the screens than to paper. The problem is also global. Elsewhere, press and publishing houses are trying to find ways to vary their production and be read."
FROM PAPER TO PIXELS (AND VICE VERSA)
Much of Selmi's graphic illustrations end up in magazines. He has worked for the Paris-based Arab socio-cultural magazine Rukh, the Beirut-based non-profit publication The Legal Agenda, and for the Lebanese magazine of fashion, illustration and music F I M P. Actually, most of his art now comes from graphic design, including commercial advertising. He is creative associate director at Pointcarre, a Tunisian communication and advertising agency that joined the TBWA network.
Selmi finds in posters a creative medium to express himself, when it is for social utility. He activated a bold mechanism of communication through signs and words using an exuberant visual language when he created – for example – proposals for the theatre poster of Sin of Success, a play written by the Tunisian director and author Meriam Bousselmi.
"We live in a macho country and people still deny it. There is a gap between the law and the official debate and what is actually happening. I wanted the poster to be provocative enough to question such relationship," he says. The play tells the story of a young Arab artist who sees herself cheated out of her festival award by a member of her own theatre group.

Follow Othman Selmi on Instagram @kidsmokk