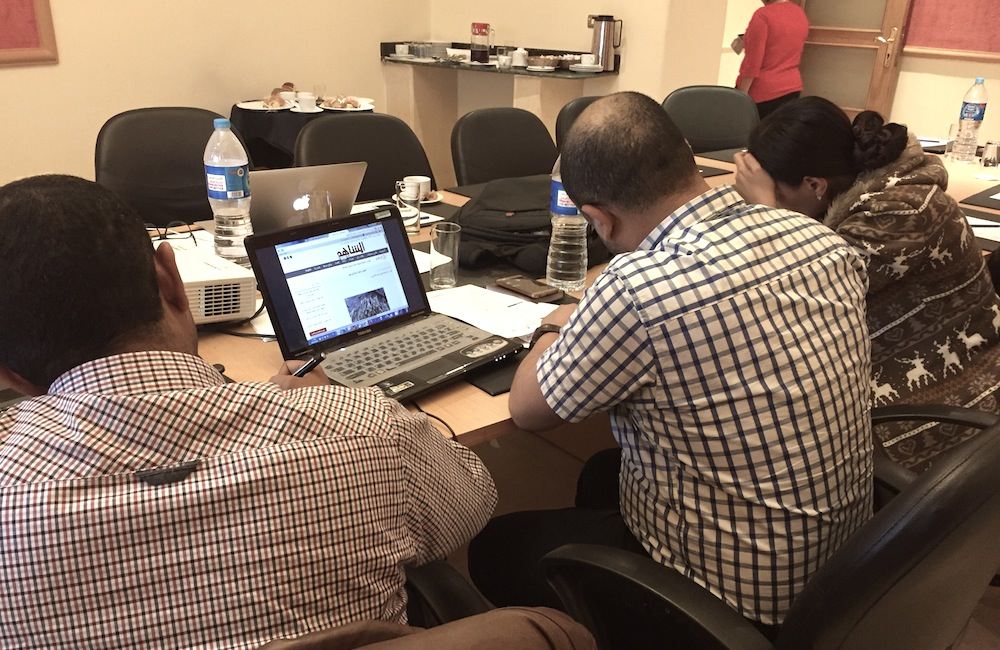 Last updated: 6 January, 2016
New media breaks the silence on Yemen
Launched on 6 January, Almashahid.net aims to provide independent news and human interest stories from inside war-torn Yemen to the information-starved Yemeni population.
"The first casualty of war is always the truth." The words stare down from a whiteboard in the interim editorial office belonging to three Yemeni journalists in a secret location in Cairo.
The three journalists fled Yemen moments before they were arrested for "subversive activities". Now, working in exile from their editorial office in Cairo, the journalists are preparing to launch a new website, Almashahid.net (The Viewer), which aims to provide independent news to Yemenis inside and outside Yemen.
"There are photos of us in the airport in Sanaa. The airport is run by Houthi rebels. They want to arrest us because we are journalists," explains W.A, one of the three journalists behind the initiative.
Before fleeing Yemen to avoid being arrested like several of his colleagues, he worked as a journalist in a big media house. He is clearly moved by the situation in his country, where parts of his family still reside.
"Working conditions for the free press were already difficult before the civil war, but now as a journalist you are kidnapped, tortured and sometimes even killed if you write critically about the Houthis," says M.N., who worked as a journalist on a magazine before fleeing Yemen and becoming a part of the Almashahid online news team.
Far from all journalists made it out of the country in time. In November 2015, nine journalists were kidnapped from Hotel Sahara in the centre of Sanaa. According to W.A., they were at the hotel because internet access had been barred everywhere except in the hotel. Shortly thereafter, nine journalists were kidnapped by Houthi rebels and they are still missing to this day.
"These are now the common, everyday working conditions of journalists in Yemen," he says.
Public journalism
Almashahid.net is based on the principle of public journalism, meaning journalism practiced by "non-journalists". This means that 15 so-called correspondents will be providing information and visual documentation from inside Yemen to the website through the editorial team working out of Cairo.
"This is of course an extremely dangerous task for all our people inside Yemen and for this reason we have ensured that all channels of communication with our staff are safe," says M.N, who will be in charge of processing, editing and verifying the information received before it is published.
Independent stories
The civil war escalated and spread throughout the country in January 2015 after political instability and simmering violence had plagued the country following the so-called "Arab Spring" in 2011. To the detriment of former President Ali Abdullah Saleh, who held office for 33 years, a new President was officially elected in 2012, Abd Rabbuh Mansour Hadi. For this reason, former President Saleh has supported the Houthi rebels while Saudi Arabia supports President Hadi. Also, Al-Qaeda is active in the southern part of the country and like the two main warring parties have no intention of allowing independent or critical media to operate.
"At the moment, media in Yemen is run by either Houthi rebels or President Hadi. No one has any interest in exposing the horrors of this war and meanwhile the Yemeni population continues to suffer and is misled by propaganda. We need to change this," says M.N., who aims to use the website to inform the country's citizens about the realities that lie behind and are taking place in the war.
The Houthis are Shia Muslims. There are three main Shia groupings in Yemen: Imami, Ismaili and Zaydi. The conflict between the Houthis and the elected government is seen as part of a regional power struggle between Shia-ruled Iran and Sunni-ruled Saudi Arabia, which shares a long border with Yemen. The Houthis are also supported by Hizbollah in Libanon. Meanwhile, President Hadi, a Sunni Muslim, is supported by a coalition of countries, including Saudi Arabia, Sudan, Egypt, Jordan, and UAE.
The human consequences of war
On the whiteboard behind the journalists are also a number of stories that the editorial team intends to convey to the Yemeni public through Almashahid.net. These stories are so-called public interest stories about the human consequences of war.
"We have very little gas, fuel, water or food. In fact, people have to queue for water and electricity is shut off on a daily basis. People are now using wood to heat up their homes like in the old days. People across the country need to know that this is the situation we are living with," says W.A.
The list of stories on the whiteboard also includes the newly sought-after commodity on the black market – schoolbooks. According to UNICEF Yemen, 1.8 million Yemeni children are out of school because of the war.
"Most schools are closed and parents are trying to school their children from home. When they do go to school, there are no books available and for this reason parents are trying to buy what they can find on the black market," says H.A., a former radio host and the only female member of the editorial team in Cairo.
She has chosen not to wear the nijab worn by most women in Yemen as prescribed by Sharia law, but instead dons makeup and red nail polish. Her job is now to maintain daily contact with the 15 news website correspondents in the field in Yemen.
"According to the Houthi rebels, women should not work as journalists, but should remain at home. I've been asked countless times by military Houthi rebels to return home and look after my family."
Information for the people
The three journalists are well aware of the challenges they face in producing independent, impartial information in times of war. When asked how they would prevent accusations of impartiality, they answered in tandem:
"We are not partial to the president or the rebels. We're on the side of the Yemeni people. They have the right to know the truth about what is going on in our country," says W.A, and points to the quote The first casualty of war is always the truth.

***
The Almashahid news website goes live on 6 January 2016 with support from International Media Support (IMS). All names and identities of those interviewed for this article have been changed for their safety.
This article is published as part of an editorial collaboration between Your Middle East and IMS.