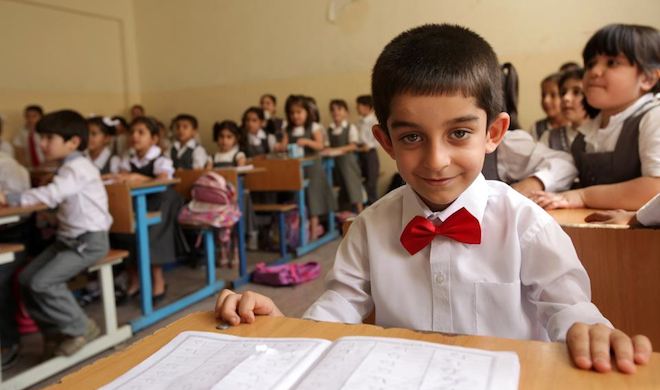 Last updated: 7 January, 2016
Kurdish education: what needs to change?
Aras Ahmed Mhamad wants to understand what's wrong with the Kurdish education system.
Ever since the formation of the first Kurdish parliament in 1992, the Kurdish education system has been based entirely on grades, completely ignoring students' natural talents, abilities, desires, and aspirations.
To learn more about the challenges of the Kurdish education sector and how it should respond to individual and societal needs, Aras Ahmed Mhamad talks to Avan Aziz. She graduated from Royal Holloway and the University of Westminster with a BA and MA in English Literature in 2007. Aziz then taught at the University of Human Development for two years before returning to London to teach English as a Foreign Language.
Aras Ahmed Mhamad: You studied and taught in both England and Kurdistan. How would you compare and evaluate the education system in those countries?
Avan Aziz: In Kurdistan students fall into a degree based on grades they got before, which in some cases may mean students do not necessarily study what they want, but rather what they think they should.
In both (countries), there are students who struggle with the transition from college to university; as the latter necessitates a much greater level of self-discipline and a different style of study. There is more emphasis on reading, self-study and research, for example. I do not think students in Kurdistan are given enough preparation for this, because it seems to me that the whole education system is too heavily reliant on spoon-feeding information and memorization, which I don't think is effective. It serves the purpose of helping students pass exams, but little else.
It could be seen as a criticism of UK universities that in certain degrees, there seems to be a much smaller workload and less contact hours. However, this brings us back to the same idea of self-study. Therefore, although I only had a few hours of actual lectures and seminars everyday – much less than you would find in any Kurdish university – my reading list was long and the number of essays/assignments big! That is not to say that university students in Kurdistan do not have a big workload. They have a massive workload. But a lot of it seems to be remembering details for the exam. I would personally place more emphasis on research, essays, assignments, communication, projects, presentations, and so on.
My most concise answer, however, and also my most diplomatic, is that they both have their own strengths and flaws. I have yet to encounter a perfect education system!
You have probably noticed that the Kurdish education system is more about discipline and accumulating the highest mark and less about engagement, interaction and practice. How can this issue be overcome?
I think that, unfortunately (maybe even tragically), the emphasis in UK universities is increasingly on exam results and league tables, much more than it was in the past. Or maybe I'm looking at the past with rose-tinted glasses? I don't know how this can be overcome; it almost seems like a steam-train of unwanted change that can't be stopped. Of course, it can be argued that exams are the best way to educate and discipline students but I think students deserve more credit, especially if they are there for the right reasons.
Perhaps rather idealistically, I think degrees and masters should largely be studied for the sake of education and self-development. There's nothing wrong with securing and furthering your career, but ultimately it should be driven by a desire to learn. From the university's point of view, it should equally be driven by a desire to teach, not make money. As far as discipline goes, if the Kurdish education system is more about discipline, then again, students should be given more credit. I definitely don't think discipline should still be an issue at that stage of a student's education.
Inevitably, teachers will by the nature of their profession acquire responsibilities beyond teaching. They are mentors as well, and in many cases are expected to offer support, encouragement and strength, beyond the realms of education. That is why they must be approachable. However, universities must be environments of support, safety and inclusion, so the responsibility does not lie solely on teachers. Furthermore, there should be access to help and advice for students, offered by professionals in the field, or at the very least, people they can contact. Students must always have the knowledge that there is someone to talk to.
In an exchange with Dr. Mohammed Shareef, he argues that female student populations are excluded and that law and politics were professions exclusive to male members of society. Based on your experience, how would you comment on that and how can we solve that kind of mentality and create an education environment that is based on intellectual merit and discourse?
Gender equality is an issue that appears in all aspects of society, and it should be addressed in all those aspects too. There is limited use in attaining gender equality in universities, only to find the workforce does not reflect the same equality. It must happen everywhere. But this is a process, and it takes time. Kurdistan, in some respects, is doing very well in this regard, so there's hope for further improvement. I personally noticed lots of females both at universities and in the workforce, and with the latter, in good positions.