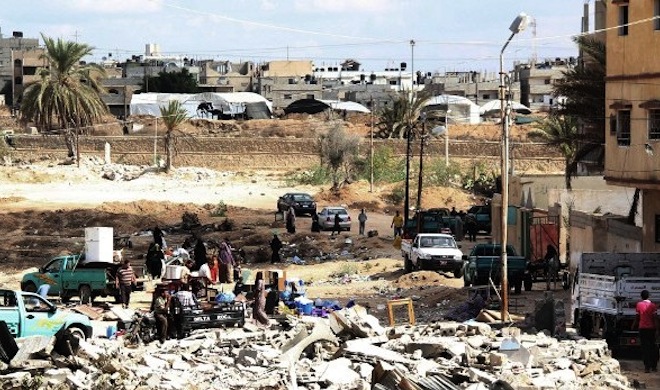 Last updated: 13 January, 2016
Five years on: what Egyptians think about their government
A survey shows widespread dissatisfaction with Egypt's poor public services. But is there room for citizens to act?
As the Egyptian uprisings of 25th January, 2011 near their fifth anniversary, and as the recently elected Parliament convenes for the first time in two years, what should legislators expect to be the main demands from citizens? Could ongoing dissatisfaction with the provision of public services, poor living standards, and lack of opportunities contribute to a new uprising? Policy makers must seek to understand the issues faced by many Egyptians in their day-to-day lives in order to encourage the government to introduce positive changes.
The Egyptian state to date has fallen short in guaranteeing economic, social, and political rights to its citizens. Data from a nationwide survey conducted last summer by Baseera: the Egyptian Centre for Public Opinion Research offers insights into the high levels of dissatisfaction with public services including education, health, electricity, and waste disposal.*
The results of this survey show that an overwhelming majority of respondents (86%) consider the government to be the main entity responsible for meeting the people's basic needs. Yet only around 40% are satisfied with the quality, cost, and availability of public services. Almost a third say that charitable organizations and the private sector are better at providing services than the Egyptian government.
It is difficult for grassroots political entities such as the Muslim Brotherhood to capitalize on this widespread dissatisfaction in order to make gains due to the organizational dismantling and targeted repression they have faced since Morsi's ouster. Further crackdowns on informal service networks and charities linked to the Brotherhood – if not replaced with functioning state services – would risk provoking the very unrest that the regime intends to prevent.
The Baseera survey polled citizens on specific public services such as education, health, household gas, waste management, electricity provision, and corruption. The results confirmed the inadequacies of Egypt's failing and unequal public health system, which is underfunded and understaffed. A majority of respondents (64%) said they would rather go to private clinics and hospitals than use the public healthcare system. Nevertheless satisfaction rates are low for both private and public facilities (43% and 35% respectively). Indeed a Facebook page was recently set up so that citizens could denounce the poor treatment they received in public hospitals. Apart from the quality of treatment, complaints mainly include the cost of medicines and lack of specialized equipment.
With regards to the educational system, an overwhelming 93% of respondents believe that education is a fundamental right for all children. Most Egyptians (86%) have enrolled their children in public schools, but the survey found widespread dissatisfaction with Egypt's public schools. As a result, a mushrooming market for private tutoring has developed, and those who can afford it prefer to send their children to international schools.
"Results confirmed the inadequacies of Egypt's failing and unequal public health system"
In terms of waste disposal and management, the survey revealed that a third of Egyptians dispose of their household waste by dumping it into empty plots of land or canals. Those who have rubbish collected from their homes, whether by state-provided services or sub-contracted informal networks, complain that the streets are often full of piles of uncollected waste. Again it seems to be an informal network that best make up for the State's failures especially in big cities such as Cairo: the widely recognized 'zabaleen' who manage to collect and recycle huge amounts of urban waste.
Power cuts are another common problem in Egypt. Cairo alone is home to 18,772,000 people, which creates pressures on the city's inefficient electricity infrastructure and leads to outages, especially in the summer, due to widespread use of air conditioning units. Almost 50% of respondents suffered electricity outages an average of six times in the space of one week in June 2015. Power outages usually last anywhere from one hour to several hours and disrupt everyday life. Overall, 80% of respondents claimed their daily routines — whether at work or at home — were adversely affected by this problem.
Finally, in an issue cutting across all sectors of public service provision, the Baseera survey polled respondents on corruption. Over a third of respondents (37%) admitted to having bribed officials at some point in order to gain access to public services or enjoy a better quality thereof. A mere 15% of respondents had ever tried to complain about public services, namely due to the lack of channels available to citizens and the ineffectiveness of these complaints.
Whilst lumping all responsibility for poor public service provision onto the state may be the easiest thing to do given Egypt's centralized political system and its failings to date, it is clear that citizens should also be prepared to assume a more active role in holding their government to account when their basic needs are not met across a range of issues from education to health. This is undoubtedly challenging given the lack of political space available to those who seek to criticize the status quo. Nevertheless political participation and peaceful protest are essential if the spirit of popular demands from five years ago is to remain in Egypt's social conscience.

* The nationwide poll conducted by Baseera was financed by the Spanish Agency for International Development Cooperation (AECID) as part of the Masar Citizenship Project in the framework of the regional Masar Programme. Editor's note: Helene previously acted as Project Officer for the Masar Citizenship Project, however, she no longer has any direct affiliation with either Baseera or the AECID.