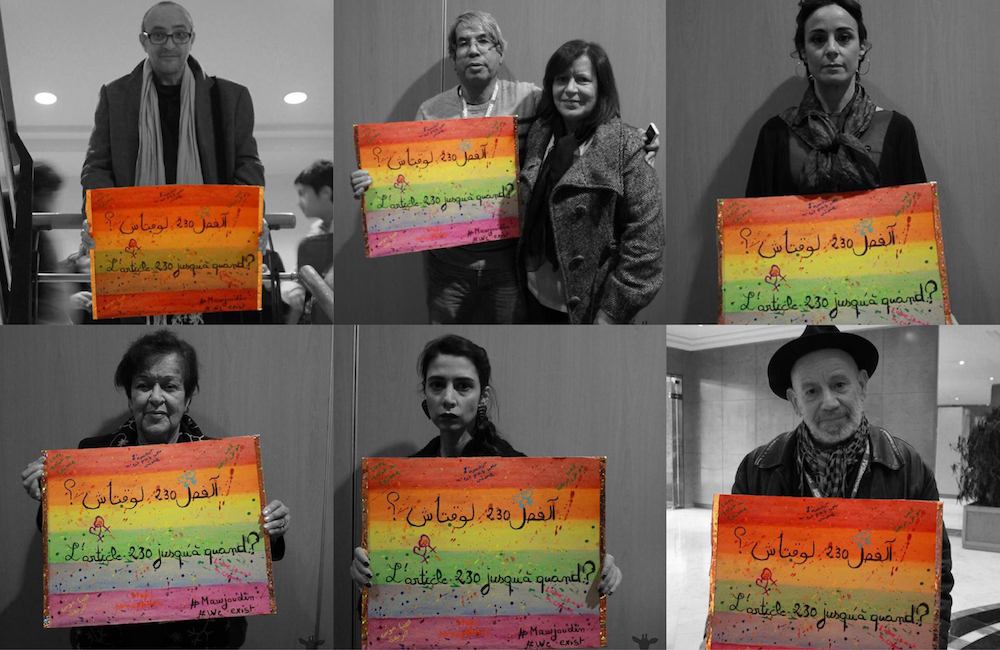 Last updated: 13 January, 2016
Tunisian celebrities demand equal rights for LGBT community
A number of Tunisian celebrities and well-known figures in civil society demand the cancellation of Article 230 of the Penal Code, which criminalizes homosexuality.
Several Tunisian celebrities posed in front of the camera with signs of the LGBT (lesbian, gay, bisexual, and transgender) flag, on which the following phrase was written: "Article 230, until when?"
Among those in support of LGBT rights are Suhair Bin Amara, Sawsen Maalej, Jalila Baccar, Salma Baccar, and Raouf Ben Amor.
Article 230 of the Penal Code was passed in 1913 and later modified in 1964, a year after declaring Tunisia as a one party-state (the Socialist Destourian Party) under President Habib Bourguiba. Private acts of same-sex in Tunisia are illegal between consenting adults and the penalty could reach three years in prison.
Calls for LGBT rights were met with a firm response by President Beji Caid Essebsi in mid-December 2015, as he confirmed his refusal to cancel or modify the penalty against homosexuals. Essebsi retaliated: "I absolutely refuse the cancellation of the penalty against homosexuals and the article 230 of the Penal Code."
http://t.co/CeZwKG3fMa pic.twitter.com/EGgKBCRxfF

— Mawjoudin (@Mawjoudin) September 30, 2015