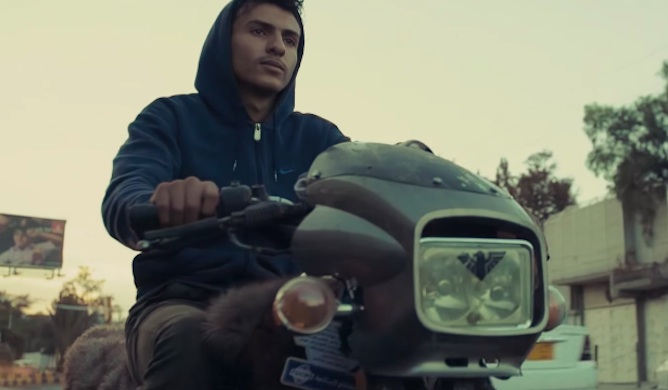 Last updated: 30 January, 2016
Shoot film, not bullets: Yemenis turn to art to cope with conflict
"War is not only an arena for extremists and warmongers, but an instrument that galvanizes artists", Joshua Levkowitz writes.
Yemen's war is a forgotten catastrophe. Peter Maurer, the president of the International Committee of the Red Cross, stated in August: "Yemen after five months looks like Syria after five years." All too commonly, civilians are bearing the brunt of the violence in Yemen. According to the United Nations, more than 2,700 people have been killed and more than 5,000 wounded. Schools, hospitals, and roads have been destroyed by the Saudi-led air campaign. The Houthis and other fighting groups have attacked neighborhoods, recruited children, and kidnapped hundreds of civilians in different parts of the country. Conflict of this magnitude is new to Yemen, but Yemeni civilians have found ways to cope with the horrors they have had to endure.
Yemen has long had a tradition of community-based dispute resolution outside of the state, and a historical precedent exists for Yemenis using creative self-expression as a way to interpret or mitigate conflict. For example, Yemenis have cultivated an ethos of poetry for over 15 centuries. Oral tradition and the Quran have kept poetry alive and potent in large parts of Yemen. Steven Caton in his ethnographic work "Peaks of Yemen I Summon" documents the traditional role of poetry in resolving tribal conflict inside the country. In one example, Caton describes how both mediators and combatants of two Khawlani tribes employed poetry to convene and settle a dispute over a meadow that both sides had claimed as pasture for their sheep.
The post-Arab Spring transition in Yemen led to an even more intense fracturing of state control over security. This tradition of community-based initiatives, including art, are now even more important for future dialogue and dispute resolution. Yemeni organizations and individuals have been using art to help their neighbors and countrymen address, blunt, forget, or escape their difficult reality. As of now, the different art initiatives provide a coping mechanism for Yemenis. Yet, they are also instilling a sense of community, which sets the stage for reconciliation the day after the fighting stops.
ART IN THE BASEMENT
One such civil society organization is the Basement Cultural Foundation. Members of Basement organize events on the development of arts, culture, and community responsibility. Its founder, Saba al-Suleihi, believes the organization has proven resilient to the current conflict. "This insane war is destroying everything, but not our dreams. Our building was damaged by airstrikes, but we cleaned up and continued our activities. We will do this each time war strikes until there's no more war," he said.

Photo credit: Basement Cultural Foundation
Two recent events at Basement turned to the topic of war. In November 2015, artist Nabeel Kassem exhibited "Moments of Fear." Kassem displayed over 200 sketches he has drawn since the war began. The exhibit's inspiration came when continuous electricity blackouts deprived Kassem from creating his art, making him afraid even of his own shadow. He eventually decided to start sketching his shadow, using basic materials he could find in the dark such as A4 paper, pencils, markers, and pieces of wood. The exhibition visualized Kassem's unique interpretation of the common fear that all Yemenis are currently living through.
The second event, Shathaya (which means shrapnel in Arabic), occurred in December 2015. The Basement team trained 13 artists to express their views on the war through music, painting, photography, and writing. Approximately 130 people attended on opening night to hear music and view art dealing with the effects of war. Aziz Morfeq, one of the event's organizers, said that Shathaya and other artistic outlets can "help us during this war to forget our hard lives."
He later expressed skepticism at arts ability to bring peace and believes that only a political solution can create real change. Still, dialogue and art initiatives at Basement are helping at the grassroots level to spark and cultivate the peaceful relationships that must underpin any long-term solution to the fighting.

Photo credit: Basement Cultural Foundation
GUERRILLA FILMMAKING
Film in Yemen has mushroomed during the war and drawn in outside attention while creating a message of hope for its people. The #SupportYemen cooperative, which was established in 2011, leads this movement and now highlights issues including the war and community resilience through short films. Members of the cooperative have tried to express art that displays Yemenis coming together to be happy despite their difficulties.
Abdurahman Hussain, one of the filmmakers of #SupportYemen, believes film is needed now more than ever to create opportunities for Yemenis to begin the healing process. "While it has always been riskier to hold a camera than to hold a weapon, it was still possible to continue filming," he said.
One of Hussain's short films, "The Melody of our Alienation," is about the tolerance that residents of the capital Sana have extended to people of diverse backgrounds ever since the 4th century BC. The film reminds citizens not to forget their courage as a neighborhood, city, and country during these trying times and to come together as agents for peaceful change. "The Color of Injustice," another short film by Hussain, displays only black and white to represent the death and destruction Yemenis must endure on a daily basis. In creating his art, Hussain is most appreciative of young Yemeni men and women coming from the community, who braved daily bombardment, to help him finish filming.
International donors have also seen the potential for film in reaching conflict-ridden Yemen. Over the summer #SupportYemen and the British Council, an international charity, partnered to make the Comra camp. Twelve aspiring filmmakers were trained on guerilla filmmaking during an intensive two-week workshop. Trainers taught the participants how to translate emotions through imagery. The films produced during the workshop grappled with the fluid nature of war. Even during war, the team of young filmmakers prove to other Yemenis that creation and artistic expression is possible and helpful to help build bridges amidst the country's deepening divisions.
OUT OF THE RUBBLE
Sara Ishaq, a Scottish-Yemeni filmmaker, was one of the instructors of the Comra camp. While filming the aftermath of an airstrike in the old city of Sana, Ishaq saw children playing among the rubble of their homes. The children collected old bits of furniture and bricks to rebuild miniature versions of them.
"The enjoyment expressed in their faces, as they immersed themselves in their creative activity against the contrasting backdrop of their demolished homes, broke my heart, but then made me realize the power of art and creativity in coping with tragedy and trauma," she said. Ishaq decided to bring children into a safe environment and to use art to help treat the stress they had suffered.
Ishaq's decision led to the workshop Out of the Rubble, which brought together nine children to initiate psychological healing through artistic expression. The workshop was meant to provide a small group of children a few days of escapism, fun, and emotional relief while drawing attention to how art can help manage the post-traumatic stress of children in war zones.
Out of the Rubble: Healing Trauma with Art ~ Sana'a, Yemen 2015 from Setara Films on Vimeo.
Ishaq observed that the children were initially reserved in their drawings. Yet, gradually, they came out of their shells and their artwork became vibrant. "There was a lot of laughter, and despite the jets hovering overhead, nobody seemed to care," Ishaq noted.
Art provides an escape, but it can also provide a voice for peace. Murad Subay, dubbed the "Banksy of Yemen" said, "I believe that art has the ability to send strong and influential messages especially in these times." Apart from the capital, Subay's paintings have appeared in other Yemeni cities including Aden, Taiz, and Hodeidah.
Subay launched his fifth art campaign "Ruins" in May 2015, two months after the beginning of the war. He paints on what remains in areas where civilians have been killed in order to commemorate the victims and highlight the consequences of continuing the war. And he invites other artists to participate in the collective and collaborative process. When asked about the campaign's impact, he said, "Yemenis support what we do in the streets. Many people come to us while we paint, offering any kind of help they can give." Subay vows to keep painting in the streets as long as the war continues: "This is how I fight in this war."
CALL TO DISARM
The above examples show how art can help people feel the waste of war. Yet, art also has the potential to mobilize people into militarism. Jihadi recruiters are attempting to use poetry as a vessel to preach dissidence and militancy in a much more eloquent manner. Elisabeth Kendall wrote in "Yemen's al-Qa'ida and Poetry as a Weapon of Jihad:"
"The power of poetry to move Arab listeners and readers emotionally, to infiltrate the psyche and to create an aura of tradition, authenticity and legitimacy around the ideologies it enshrines make it a perfect weapon for militant jihadist causes."
Still, Yemen's oral poetry has been used for centuries for people to resolve disputes and manage conflict. This aspect of Yemeni culture provides opportunity to strengthen alternative dispute resolution methods for citizens instead of exacerbating the country's extremist margins.
War is not only an arena for extremists and warmongers, but an instrument that galvanizes artists. The above art initiatives demonstrate that joint collaboration and innovation are not only possible, but successful in times of war. Yemenis will continue to find ways to persevere and reject war, in the hope that the guns soon fall silent.
*****
This article was first published by the Arts & Culture Program at the Middle East Institute, a think tank in Washington, D.C.
Joshua Levkowitz is a research associate at the Arab Gulf States Institute in Washington DC. His work has been featured in The Atlantic, USA Today, The Kurdish Globe, and the Center for Mediation in Africa.