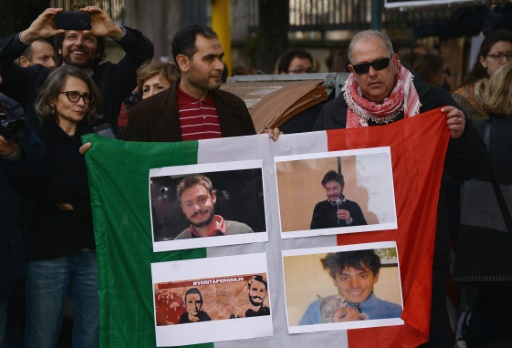 Last updated: 10 March, 2016
EU parliament demands Egypt's cooperation on Italian student's death
The European Parliament on Thursday called on Egyptian authorities to cooperate in probing the "torture and assassination" of an Italian student in Cairo, while lamenting that it was "not an isolated case" in Egypt.
saying it came within a context of deaths in custody in Egypt.
Giulio Regeni, a Cambridge University PhD student who was researching Egyptian labour movements, disappeared on January 25 and his badly mutilated body was found a week later.
MEPs voted overwhelmingly in favour of a resolution saying that the parliament in Strasbourg, France, "strongly condemns the torture and assassination under suspicious circumstances of EU citizen Giulio Regeni."
There were 588 votes for the resolution, 10 against and 59 abstentions.
The resolution "calls on the Egyptian authorities to provide the Italian authorities with all the documents and information necessary to enable a swift, transparent and impartial joint investigation into the case of Mr Regeni".
It urged Egyptian authorities to make "every effort" to bring Regeni's killers to justice.
But MEPs also noted "with grave concern that the case of Giulio Regeni is not an isolated incident, but that it occurred within a context of torture, death in custody and enforced disappearances across Egypt in recent years."
The European Parliament further urged the EU's 28 member states to stick to the bloc's rules on the export of military technology and surveillance equipment to Egypt.
The rules were adopted in 2013 after the ousting of Islamist president Mohamed Morsi by then-army chief and now President Abdel Fattah al-Sisi.
Regeni went missing on the fifth anniversary of the start of the uprising which overthrew longtime autocrat Hosni Mubarak in 201. Police had been deployed across the city to prevent demonstrations.
His death has chilled relations between Rome and Cairo, with Italian Prime Minister Matteo Renzi last month warning Egypt its friendship was on the line over the investigation.
Regeni's slaying while he was in Cairo doing research for his doctoral thesis has also become a cause celebre amongst academics around the world and has turned the spotlight on what rights and opposition groups say are increasing abuses by security services under the military-backed government in Cairo